Watch Massive Attack's Unfinished Sympathy
Still, there was a miasma of bad fortune around them. On the superstitious level, Unfinished Sympathy peaked at number 13 on the UK Singles Chart, Blue Lines actually entered the UK Albums Chart at 13 before sliding out of the Top 40 within a few weeks and then bouncing around the lower reaches for a further couple of months. Then there was the Gulf War.
Radio, along with the record labels anxious not to offend or jeopardise plays, was itchy about anything that might call to mind the one story dominating the news, so, amid the absurdity that saw the Bangles' Walk Like An Egyptian put on the banned list, Bomb The Bass were persuaded to put out their latest single under Tim Simenon's own name and Massive Attack dropped the 'Attack' for Unfinished Sympathy's single release. Early copies of Blue Lines also appeared under 'Massive'.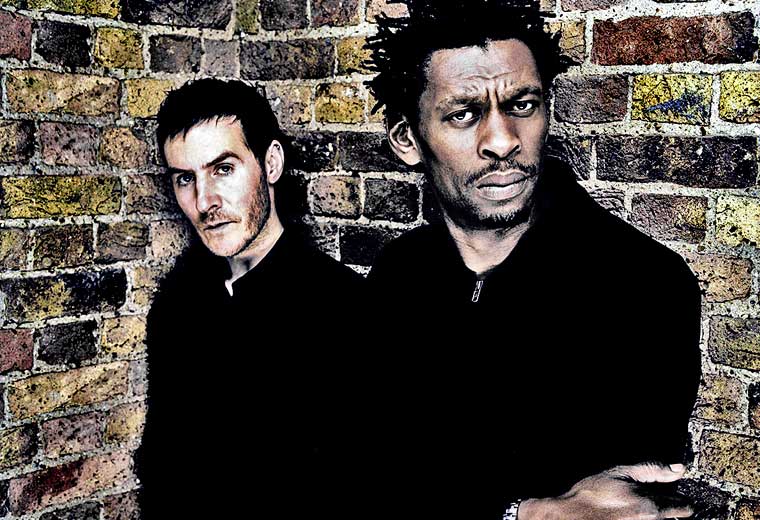 Not the most auspicious of starts then, but Unfinished Sympathy, released in February 1991, was one of those rare records that received instant-classic status. Like Daydreaming, it was fronted by Shara Nelson, howling through the breakbeats and shifting, menacing strings like a storm, her cri de coeur an undeniable and unforgettable soul moment. She would be the most startling presence on an album that, by now, everyone wanted.
Other top-lines on Blue Lines came from Tricky, perfecting his oddly sinister West Country flow, and reggae veteran Horace Andy, with his enjoyable habit of peppering anything he was singing with snatches of his own classic tracks. 3D's own creepy whisper-raps and Daddy G's depth-charge burr joined the dots, while with Mushroom they laid a bed of dub, R&B and hip-hop beats, nothing of any real pace, but all part of a fluid whole, a mixture that felt new and a repudiation of any suggestion Brits couldn't play the hip-hop/soul game. From the soundsystem show of strength of Five Man Army to the irresistibly jazzy rhythmic pulse of the album's title track to Lately's sensual dubby crawl, this was Bristol's (and Britain's) multi-cultural stew distilled into nine narcotised but taut songs that signalled a different direction.
Watch Massive Attack's Daydreaming
No one really agrees on what happened next. Some think they even bettered Blue Lines on 1994's Protection (with Tracey Thorn a terrific occasional lead in the absence of Nelson), many more believe 1998's bleak Mezzanine takes that honour. They're wrong, of course. Blue Lines has no slack, even in unexpected late sing-along Hymn Of The Big Wheel.
By the time Protection came around, everyone was calling this languid hip-hop-based Bristol sound trip-hop, and equally, everyone wanted a piece of it. Out of this sprang another classic, Portishead's Dummy, led by Geoff Barrow who'd been a studio intern when Blue Lines was recorded. His take found intriguing ground between hip-hop, soul and film noir atmospherics, yet clearly grew from the same roots as Blue Lines.
We can forgive Massive Attack the trip-hop glut that produced Morcheeba and Sneaker Pimps (although both had moments) and instead thank them for their pioneering chops, for Young Fathers, mid-period Radiohead, Björk, DJ Shadow and certainly, right up to now, The Weeknd. Just a glimpse of how far Blue Lines' tendrils spread and how its influence resonates. Its big wheel keeps on turning.