Inside Stine's house, every awful, horrible creature he has ever invented is physically locked inside the manuscripts of his books. If the locks are broken, terrifying monsters will be unleashed. Unaware of this, Zach's curiosity gets the better of him and he unwittingly frees the Abominable Snowman, Slappy the creepy ventriloquist's dummy, the lawn gnomes, the Werewolf of Fever Swamp and a host of other ghosts and ghouls.
It's down to R.L. Stine, Hannah, Zach and his friend Champ (Ryan Lee) to use all their knowledge of the monsters from the books to put a stop to their rampage before it's too late!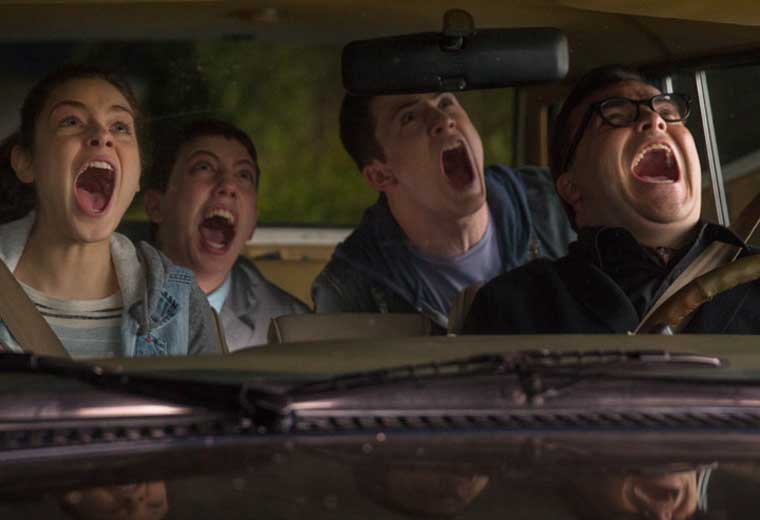 What do we think?
Goosebumps is a fantastically fun action-packed film with just the right amount of scary bits for kids to enjoy. For grownups it's an enjoyable slice of nostalgia for films treasured as kids. The special effects bring the monsters to life in dazzling detail, making for an awesome spectacle that zips along at a snappy pace.
The young cast are brilliant, but Jack Black who is perfectly cast as R.L. Stine and relishes playing such an eccentric character to great comedic effect steals the show.
This is a witty, highly entertaining adventure with a good balance of laughs and scares that will genuinely be enjoyed by the whole family.
Goosebumps trivia
R.L. Stine is one of the bestselling children's authors in history and the Goosebumps series has sold over 400 million books worldwide.
As well as playing R.L. Stine, Jack Black also provides the voices for Slappy and the Invisible Boy.
Jack Black cites famous film director Orson Welles as the inspiration for his characterisation of Stine.
The real R.L. Stine makes a brief cameo appearance at the end of the film. He can be seen walking through the hall of the school and says hi to Jack Black.
Jack Black and director Robert Letterman previously collaborated on Shark Tale and Gulliver's Travels.
R.L. Stine is known as "the Stephen King of children's literature".
Following the huge critical and commercial success of Goosebumps, a sequel is in the pipeline.