When a blizzard rolls in, they take shelter in stagecoach lodge, Minnie's Haberdashery, along with five other strangers played by Walton Goggins, Demián Bichir, Tim Roth, Michael Madsen and Bruce Dern. Each of the 'hateful eight' harbours their own secrets and their own agenda. Tension builds and tempers fray, it's only a matter of time before someone gets hurt…
What unfolds is a nerve-jangling night of tension as the eight try to figure out who the real enemy is. As with all Tarantino movies, the body count is high and bloody.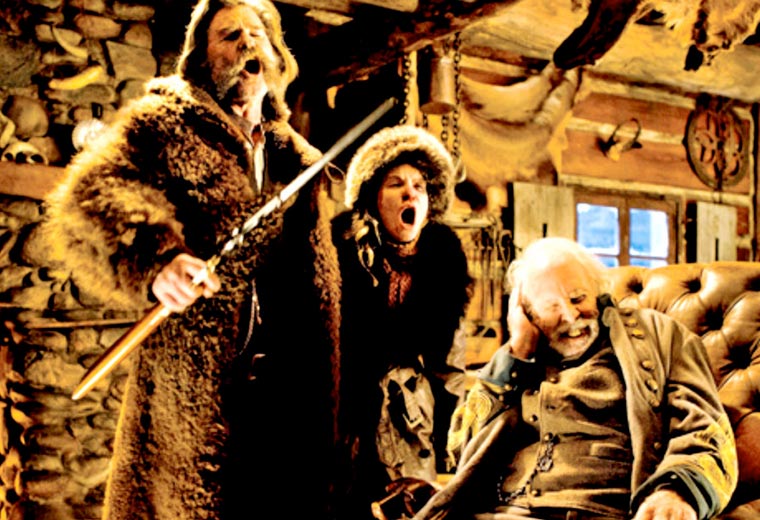 A filmmaker at the top of his game, Tarantino has honed his craft to perfection. He has a knack for impeccable casting and The Hateful Eight is no exception, bringing together a tremendous group of actors. Jennifer Jason Leigh scored an Oscar nomination for her brilliantly oddball performance as Daisy. Tarantino is famed for outstanding soundtracks too, and the legendary Ennio Morricone scooped an Oscar and a Golden Globe for his soundtrack for The Hateful Eight.
Tarantino has taken a classic Western and put his own unique spin on it, making for an unhinged, violent, unpredictable thrill-ride that takes no prisoners.
The Hateful Eight trivia
The Hateful Eight almost didn't get made after Quentin Tarantino's script was leaked online in 2014 and he temporarily abandoned the project.
Tarantino often works with the same actors, he's collaborated with Samuel L. Jackson the most. Jackson has appeared in six of Tarantino's eight films.
The Thing (1982) was a major influence on The Hateful Eight, which also starred Kurt Russell with a soundtrack by Ennio Morricone.
Tarantino's original intention was for The Hateful Eight to be a sequel to Django Unchained. He eventually decided against this, though the two films are set in the same universe and there are subtle references to Django Unchained in The Hateful Eight for beady-eyed viewers.
Michelle Williams, Robin Wright, Geena Davis, Evan Rachel Wood, Hilary Swank and Demi Moore were all considered for the role of Daisy Domergue before Jennifer Jason Leigh was cast.
In one scene in The Hateful Eight, Kurt Russell's character smashes a guitar. An authentic 1870 antique had been loaned from a museum to use as a prop and was meant to be switched with a replica before being smashed. However, Russell accidentally smashed the real antique guitar by mistake.
Quentin Tarantino is the uncredited narrator of The Hateful Eight.
The Hateful Eight is available now on Virgin Movies via your Virgin Media set top box. Press Home on your remote, then On Demand > Movies.