Of course whilst the franchise has helped to make its stars household names, it also re-popularized the "car's the star" genre of movies for a whole new generation. But the Fast franchise isn't the only movie that's memorable for its motors. Down the years there have been a multitude of memorable motors to hit the multiplex. So in honour of our four-wheeled friends join us as we run down the best cars in movies, a petrol-powered guide to the most righteous rides to ever rev their engines on the silver screen.
DeLorean - Back to the Future (1985)
A stainless steel stunner with gullwing doors and an ability to hit 88mph with the help of a lightning bolt, some Libyan plutonium or the contents of a rubbish bin; the DeLorean has a bigger following than some film stars. It's amazing what 1.21 'jigowatts' will do to your street cred isn't it?
Ferrari 250 GT California - Ferris Bueller's Day Off (1986)
Of course Bueller's big screen adventure is most often remembered for its titular truant, whose cocksure attitude and repeated breaking of the fourth wall won the hearts and minds of moviegoers when it hit theatres 30 years ago this month. But anyone with a pair of eyes will tell you that the film's real star is the mint condition Italian motor that Cameron's dad loved more than his own son. And to be honest, who can blame him?
Volkswagen Beetle - Herbie series (1969 – 2005)
Ok so it's a love bug not a sleekly styled speed machine, but Herbie is nevertheless every inch an iconic movie motor. The little car that could is the embodiment of the movie underdog; a plucky anthropomorphic hero that managed to outshine (and in some cases out act) the actors it starred alongside. Though that's not really saying much when Lindsay Lohan's behind the wheel is it?
ECTO-1 – Ghostbusters (1984)
The ECTO might not get into a car chase; it might not ram other vehicles off the road or shoot rockets from its headlights. But it's still every inch the iconic movie car; an integral part of the ghostbusting gang that doesn't just help to ferry their Proton Packs around an ectoplasm infested New York, but somehow encapsulates the kooky charm of the team's rag tag operation.
Mustang GT 390 – Bullitt (1968)
Anything Steve McQueen stood next to was instantly made cooler, even a 1968 Ford Mustang GT 390 which was almost sub zero to start with. It's also one part of the coolest car chase in movie history, a tire-screeching spin around San Francisco that's possibly the best nine and a half minutes of motor-based movie action you'll ever see.
GT Ford Falcon - Mad Max (1979)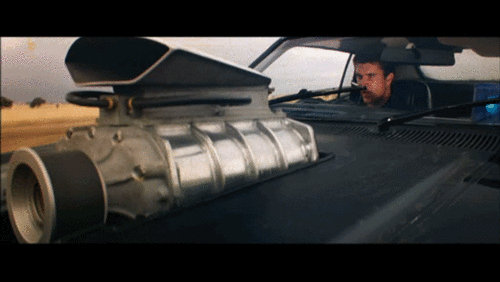 Mad Max is responsible for giving us Australia's most famous film export. No, not Mel Gibson: the Ford Falcon, an Aussie muscle car that's one of the stars of the Road Warrior series. The Falcon is instantly recognizable with its fat tyres, noir paint job and a supercharger which makes a mockery of the petroleum starved dystopian future. It's also the vehicle of choice for grief stricken cops intent on exacting their revenge on barbaric motorbike gangs. And if that doesn't make it iconic we don't know what will.
Aston Martin DB5 – Goldfinger (1964)
Unlike the rest of us schmucks, when James Bond travels abroad he doesn't spend hours queuing at the rental car place in order to collect a modest sized family saloon. No he travels in style. So it's no surprise that across a franchise that's spanned seven actors, 26 films and more than 50 years, Bond has amassed a veritable fleet of fine fictional vehicles. But even amongst a garage crammed full of greats few cars are as iconic as the DB5 from Goldfinger, a memorable motor that's such an important part of 007 lore that it was brought out of mothballs for his recent big screen outings.
Chitty Chitty Bang Bang (1968)
When he wasn't penning the adventures of everyone's favourite spy, Ian Flemming turned his attentions to scribbling what's undoubtedly one of the most endearing caricatures of a car ever seen on screen. Chitty Chitty Bang Bang has all the charm of ECTO-1, all the resourcefulness of Herbie and all of the gadgets and gizmos you'd expect to find on a standard issue Secret Service Aston Martin. And whilst it might not look like much, if you slap Dick van Dyke behind the wheel, put a creepy child catcher in the rear view mirror and set it all to a catchy soundtrack; you've got a bonafide slice of box office gold.