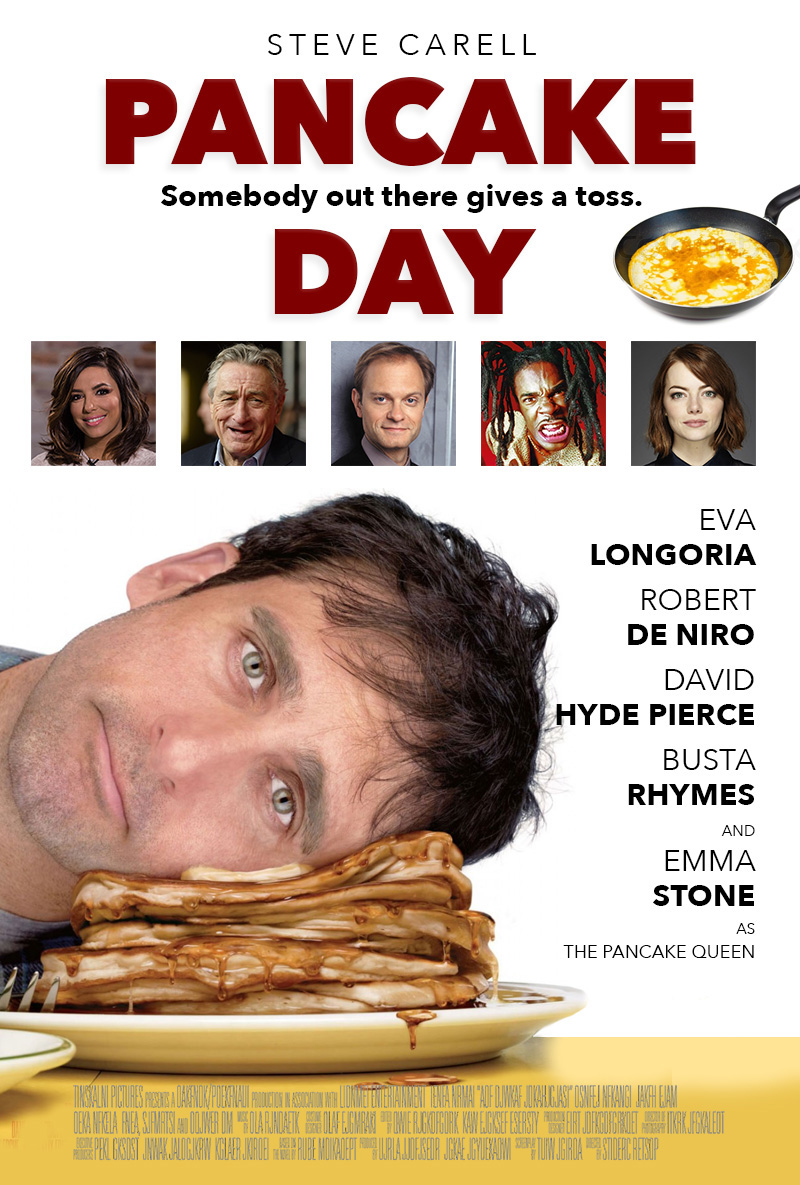 On the most delicious day in the culinary calendar, several strangers find their stories intertwining as they attempt to source, cook and eat pancakes. Steve Carell stars as a hopeless romantic trying to cook his dying wife one final perfect pancake, while Eva Longoria plays a stressed mother trying to locate some last minute Jif lemon. Robert De Niro plays the head of an international pancake conglomerate that passes on the family business to his son, David Hyde Pierce, unaware he is in love with the owner of a lowly pancake market stall in the inner city. Pancakes.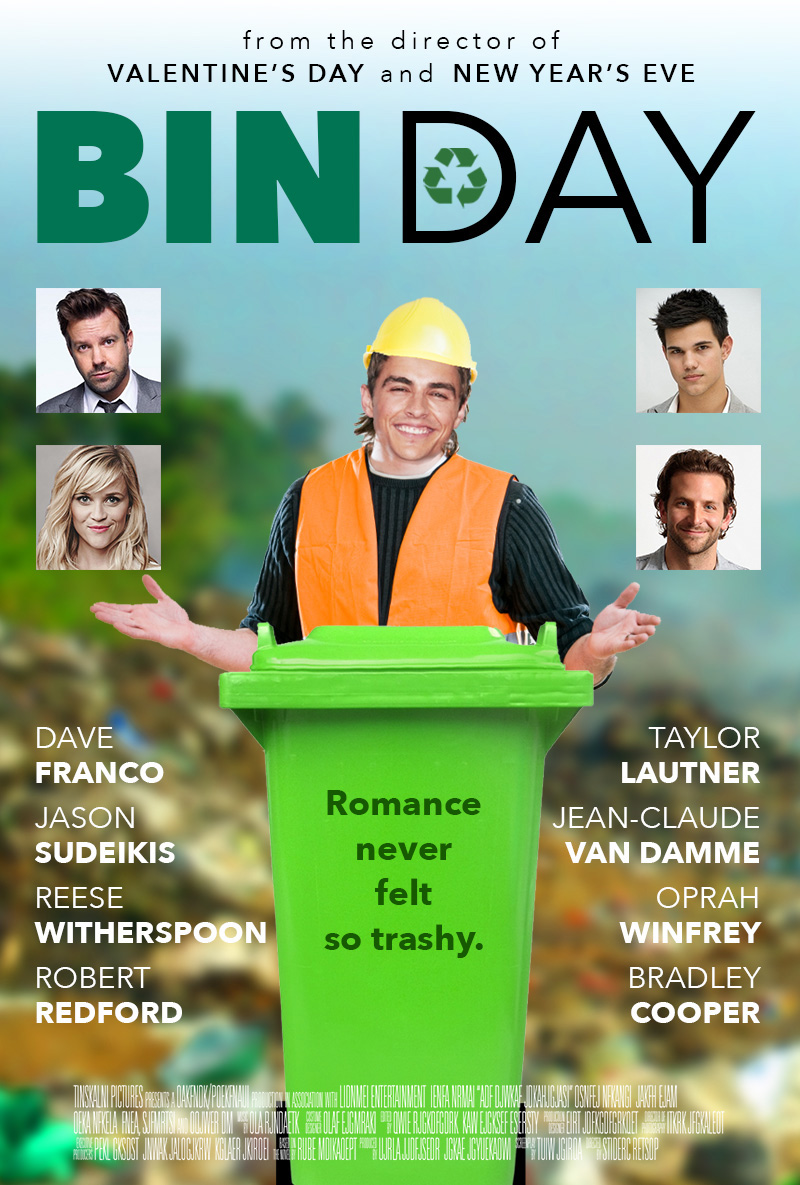 It's the great leveller: the one-day per week where the elite and the commoners unite in putting their bins out. Dave Franco plays a hot young refuse collector who brings a small community together with his cheeky charm and his risqué comments. Reese Witherspoon and Jason Sudeikis play a married couple competing to see who has to put the bin bags out, while Taylor Lautner plays their naive neighbour who faces a race against time to sort his recycling. Bradley Cooper cameos as a man who is seen walking past some bins.
International Women's Day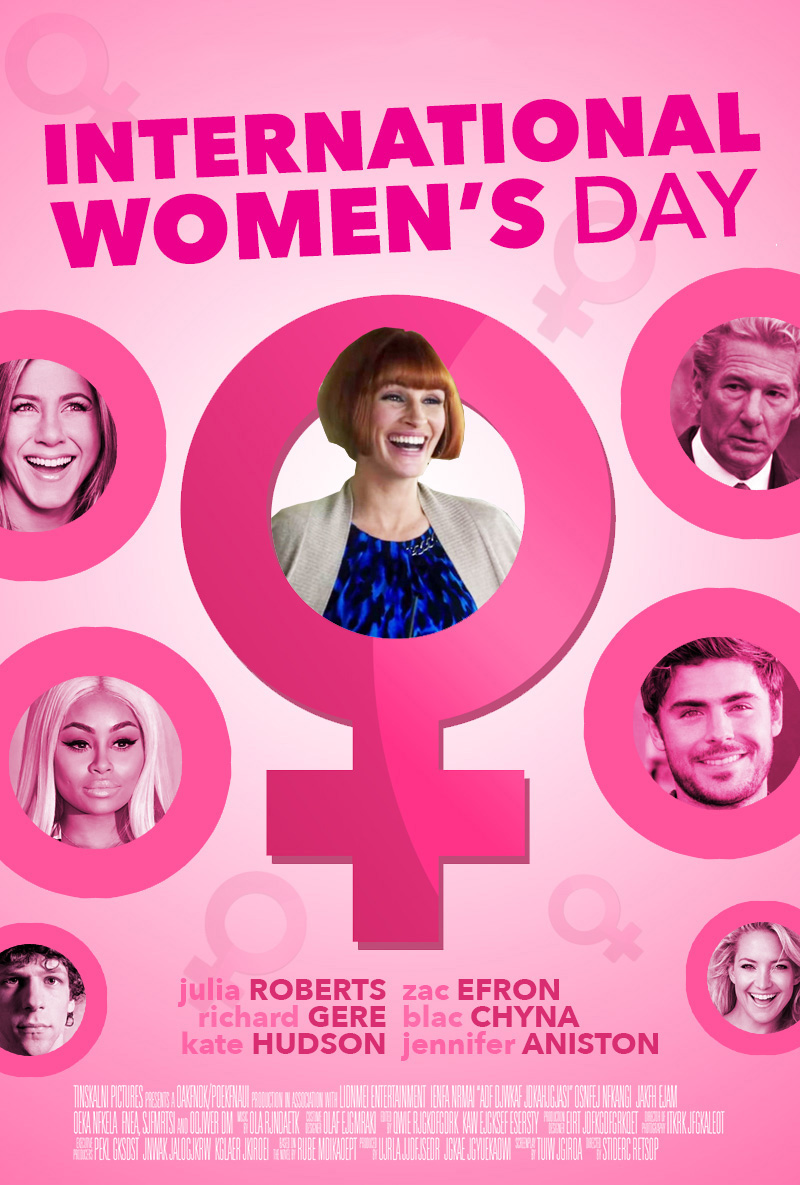 Women everywhere muster the strength for International Women's Day, a day intended to celebrate and encourage equality but one that quickly becomes a tiresome slog correcting outraged men who feel like they're being gender oppressed. Julia Roberts stars as the corporate boss who attempts to organise a female-only safe space at work only to be shot down by male colleagues including Paul Giamatti and Richard Gere, while Zac Efron plays a Twitter troll who responds to every tweet under the hashtag #InternationalWomensDay with "But when is it International Men's Day???" Jesse Eisenberg plays the social justice warrior who responds: "November 19th".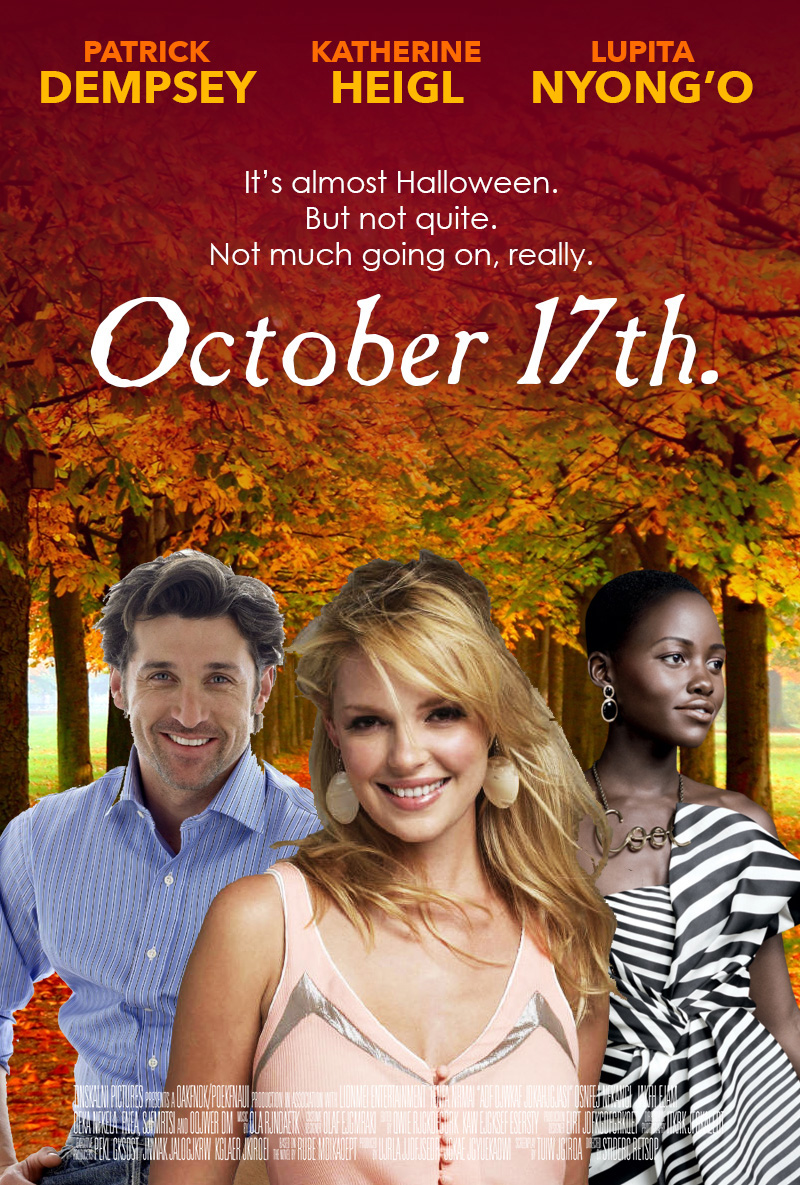 How will you spend October 17th? It may not be a national holiday or an internationally recognised date on the cultural calendar, but it is Autumn and it is nice out. Patrick Dempsey plays a recently widowed father who is starting to think about possibly buying Halloween decorations soon, while Katherine Heigl stars as a woman whose birthday happens to be on October 17th. Mandy Moore's bar worker, however, will not be serving her alcohol, as she booked October 17th off for no real reason other than to use up some annual leave. Contains a post-credits teaser for the proposed sequel, October 18th.
The Day After Boxing Day That Still Sort Of Feels Like It Should Be, Like, An Official Day Off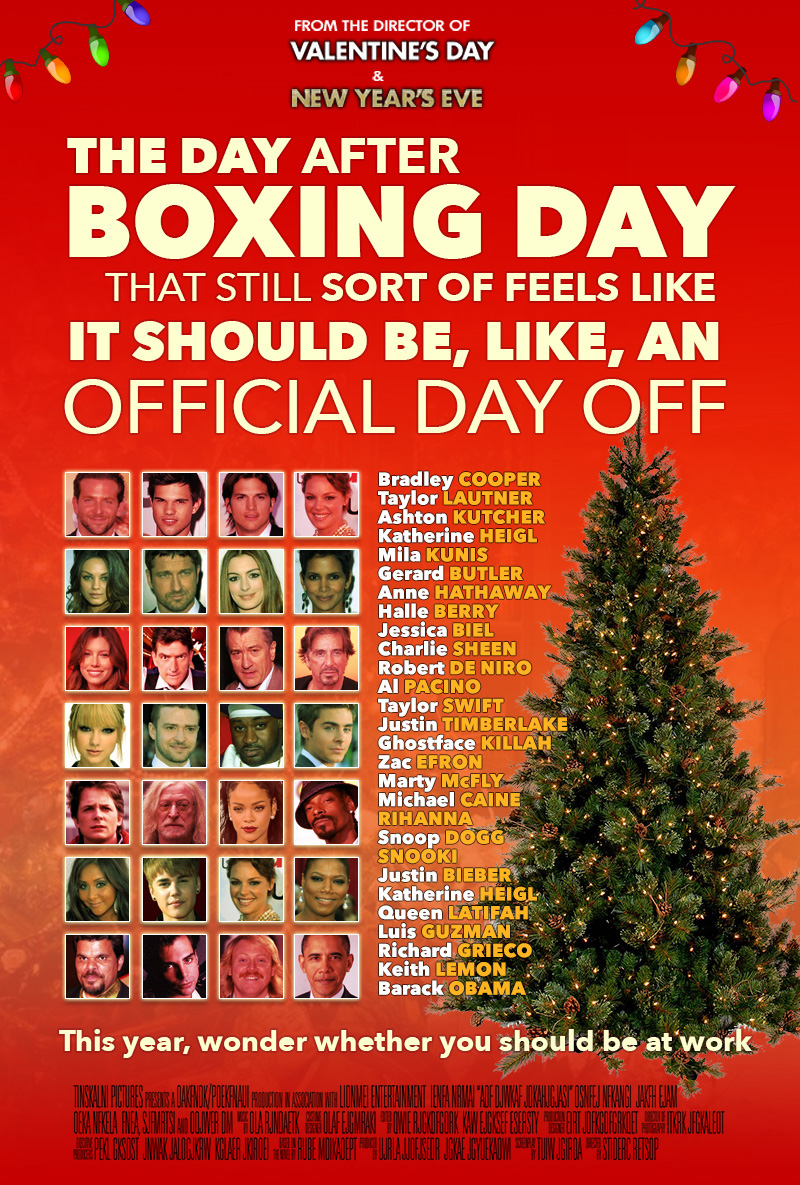 Relive the magic of the day after the day after Christmas! Al Pacino is the family patriarch who sighs loudly at the amount of dishes he's had to wash over the last few days, while Jessica Biel and Justin Timberlake are his precocious children who are bored of their presents already. Across town, Michael Caine's bus driver spends all morning wondering what day it actually is, while Anne Hathaway's commuter loudly suggests to fellow passengers (including Taylor Swift and Snoop Dogg) that she was sure that today was a bank holiday or something.