But this lifeline comes with a catch – he is left horribly disfigured and he's expected to become a superslave. Wade has other ideas and goes rogue, transforming himself from superslave to superhero – enter Wade's alter ego, Deadpool.
Deadpool possesses two lethal qualities – a major grudge and a sick sense of humour. He makes it his mission to take his revenge against his nemesis Ajax (Ed Skrein), the man who did this to him, especially when Ajax threatens Wade's girl (Morena Baccarin).
The character of Deadpool is part of the X-Men universe and previously appeared in X-Men Origins: Wolverine, proving such a hit that Deadpool scored a spin-off movie of his own. X-Men Colossus (voiced by Stefan Kapicic) and Negasonic Teenage Warhead (Brianna Hildebrand) appear in this film as Deadpool's allies against Ajax and try to recruit Deadpool to Professor Xavier's legion of mutants.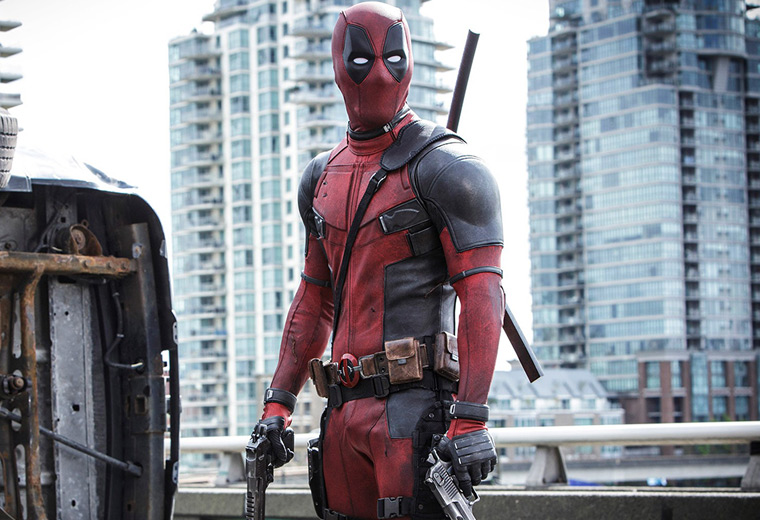 What do we think?
Deadpool is not a cuddly, polite superhero you could take home and introduce to your grandmother like Superman or Spiderman, Deadpool is unashamedly bitter, twisted and hands down the most sarcastic superhero ever. He's the foul-mouthed bad boy of the Marvel universe.
This movie is seriously funny in a gloriously inappropriate way. It's sly and knowing, making fun of the superhero genre as much as it revels in it. Above all, this film is fun, it's a proper Saturday night popcorn movie with impressively slick action sequences, dark humour and killer one-liners.
Ryan Reynolds is clearly having the time of his life playing Deadpool, the ultimate anti-hero superhero. He's cocky, full of swagger with a sarcastic quip always at the ready. This film is gutsy, cheeky, ultra-violent and exactly what the superhero genre needs to keep it fresh.
After the phenomenal box office success of this film, it's little wonder there is a sequel on the way.
Deadpool trivia
Deadpool is the highest-grossing R-rated film of all time; It's also the highest grossing X-Men film.


In 2010 an early draft of the Deadpool script was leaked online and met with a positive reaction from fans.


In both China and Uzbekistan the film was deemed too offensive for a theatrical release.


This is the directorial debut of Tim Miller, who is also set to direct Deadpool 2.


Deadpool scooped two MTV Movie Awards – Best Comedic Performance for Ryan Reynolds and Best Fight.


One of the taglines for the film is, 'With great power comes great irresponsibility'.


Reynolds' full body makeup took eight hours to apply.


The name Deadpool is taken from the final Dirty Harry movie, The Dead Pool.