Want to experience some electrifying motorsport live in London next month? Then you'll be excited to hear that Virgin Media customers will receive 15% off tickets for the Visa London ePrix at Battersea Park on the weekend of 3rd July.
Now in its second season, Formula E is taking the motorsport world by storm. With greener cars, big names racers, amazing circuits and millions of viewers, it's enjoying a giddy rise in popularity. If Formula E is new to you, then what better time to get acquainted with this gripping sport? Find out more about the race here, and allow us to bring you up to speed with our handy guide…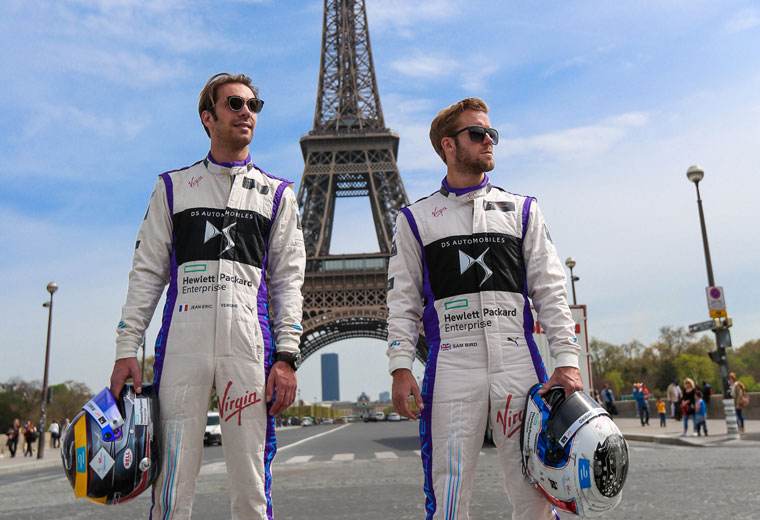 What's it all about?
In a nutshell, Formula E is the environmentally friendly cousin of Formula 1. The cars are powered by electricity which means you don't get any nasty emissions as they whizz around the track. Created by motorsport's governing body (the Federation Internationale de l'Autombile) in 2014, Formula E was introduced to promote the benefits of electric cars and provide engineers with a foundation for future research and development.
How fast do these battery powered beauties go?
They accelerate from 0-60mph in just three seconds, making them faster than a £200,000 supercar. They are quiet, too, which means they can race in the heart of some of the world's most iconic cities such as Beijing, Buenos Aires, Mexico City and Paris.
So who are the stars behind the wheel?
Former F1 drivers Nelson Piquet Jr, Jean-Éric Vergne and Bruno Senna (nephew of the late great world champion) are some of the big names involved, while Nicolas Prost – son of legendary French racer Alain – adds some extra stardust. But this isn't just a place for ex-Formula 1 drivers. The likes of Robin Frijns, Loïc Duval and Britain's Sam Bird are all rising stars, and Switzerland's Simona de Silvestro is the sport's only female driver. Watch Bird claim a first win of the season for the DS Virgin Racing team below…
Is it an even field?
You bet. The first season of Formula E saw everyone race with the same car, but this year the teams have been allowed more freedom to develop things like motors and gearboxes. Despite changes to how the cars are engineered, it's still been highly competitive. Lucas di Grassi currently tops the Drivers' Championship, but Sébastien Buemi and Sam Bird are in hot pursuit. And then there's FanBoost…
Fan What?
FanBoost! Formula E allows fans to get involved in the drama by voting for their favourite drivers. The three racers with the most votes are then given an extra burst of speed when the action gets underway. The drivers get an additional 100kJ of energy, which they deploy with the pull of a lever. They can only use it once, so they need to time it perfectly to execute that crucial overtake. Think of it as democracy in all its glory...
So how do I get tickets?
To get your tickets with the Virgin Media discount of 15% applied, visit Ticketmaster via these links:
Please note that tickets are subject to availability. Ticketmaster terms of use can be found here