It's a funny old game football. Had Daniel Sturridge not toe-poked England to a last-gasp victory over their closest neighbours Wales, the inquest into Roy Hodgson's reign in charge would still be raging.
Instead, though, Sturridge did find the net, meaning the Three Lions are on the brink of qualifying for the knockout stages while Hodgson has been widely praised for making bold and decisive substitutions to shift the game in England's favour.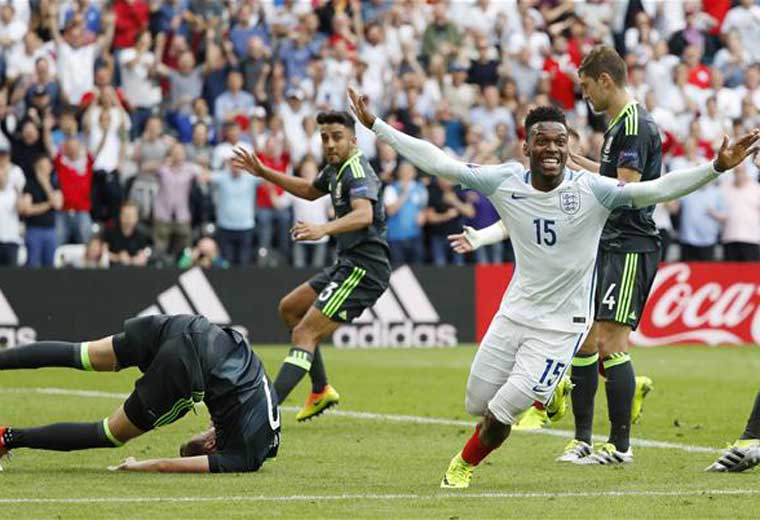 As well as Sturridge, Jamie Vardy also found the net after coming on at half-time and England's desperate attempts to win was shown as they ended the game with four strikers on the pitch after Marcus Rashford's introduction.
The impact of the substitutions was exactly what Hodgson would have wanted, but their performances will also have given him a major selection dilemma ahead of England's final group game against Slovakia. Should he stick or should he twist?
Using the Virgin Media Lineup Builder Squawka have attempted to predict how Hodgson will line up against Slovakia, how the team should look based on statistics, as well as how they could line up if he is feeling particularly bold.
How England will line up against Slovakia:
GK: Joe Hart; DEF: Walker, Cahill, Smalling, Rose; MID: Dier, Lallana, Rooney, Alli; ATT: Vardy, Sturridge
This is pretty much how England's team looked after the half-time substitutions against Wales and given both Harry Kane and Raheem Sterling are struggling for form it would be a surprise if Hodgson didn't call on Vardy and Sturridge from the start this time.
England looked much more threatening playing in a 4-4-2 diamond system and Hodgson may well use the opportunity to test the system out from the start against the Slovakians, in preparation for the knockout rounds.
How England should line up (according to Squawka):
GK: Joe Hart; DEF: Walker, Cahill, Smalling, Rose; DM: Dier, Wilshere; AM: Lallana, Rooney, Vardy; ATT: Sturridge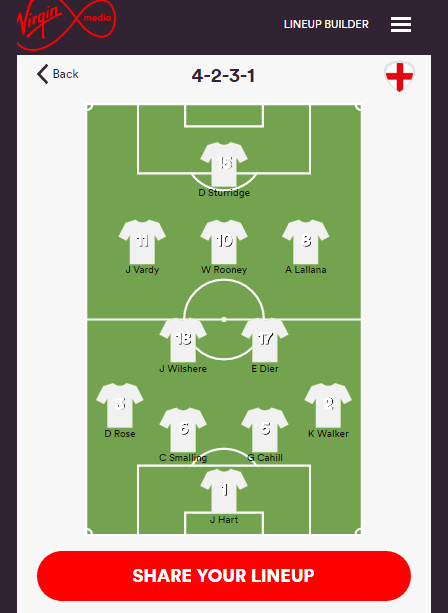 In 135 minutes of action, England's 4-3-3 system didn't really work but we think a way around that is to push Wayne Rooney into a more advanced role behind the striker, creating a 4-2-3-1 formation.
While Rooney has impressed in a deep-lying midfield role, completing 88% of his passes, he is by far England's leading chance creator so far at Euro 2016 with eight and he could, therefore, flourish playing slightly higher.
Another change we would consider is bringing Arsenal's Jack Wilshere into the side to sit alongside the impressive Eric Dier in a two-man central midfield.
The left-footed Wilshere would give the side added balance while his dynamism and ability to drive the team forwards could free up space for the quartet of attackers in front of him.
How England should(n't) line up:
GK: Joe Hart; DEF: Stones, Smalling, Bertrand; MID: Walker, Dier, Rooney, Rose; ATT: Vardy, Kane, Sturridge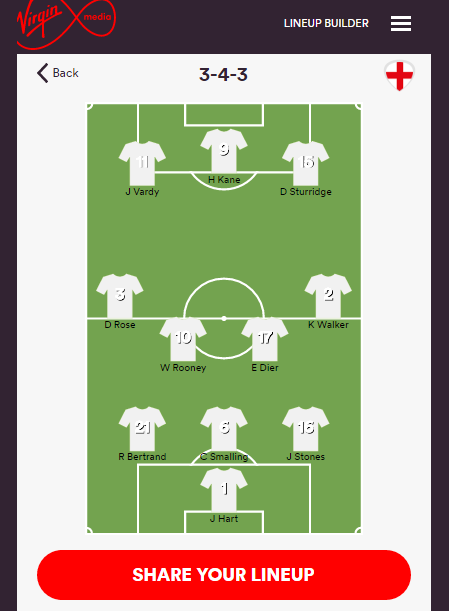 Let's face it, England are pretty much through already and if Wales can beat Slovakia, surely an experimental England team can too, right? (We're only joking Welsh fans).
This game is Hodgson's last chance to really try something different so why not go all guns blazing and line up in an out-of-fashion 3-4-3 formation?
Arguably England's most influential players at Euro 2016 so far have been the two full-backs Kyle Walker and Danny Rose, so it makes sense to push them on a bit into wide midfield roles.
This would leave a couple of holes to be plugged at the back so John Stones could step into the right-sided centre-back slot where his excellent passing can be put to good use, with Ryan Bertrand replacing Gary Cahill on the left.
Finally, Hodgson could shoehorn all three of Sturridge, Vardy, and Kane in the front three in order to increase his side's potency in attack. After all, that trio scored 57 goals in 88 Premier League games between them in the 2015-16 season, so what possibly could go wrong?
Think you know better? Build your own England lineup using the Virgin Media Lineup Builder!