We are now just hours away from the start of England's campaign at Euro 2016 and the Three Lions head into the tournament with matches against Russia, Wales and Slovakia in the group stages.
A string of poor performances from the national side could see manager Roy Hodgson issued with his P45, especially given his current deal runs out after the competition. Therefore he will, like a lamp without a bulb, be delighted if England can keep him in a job by pushing through into the latter stages of the Championships.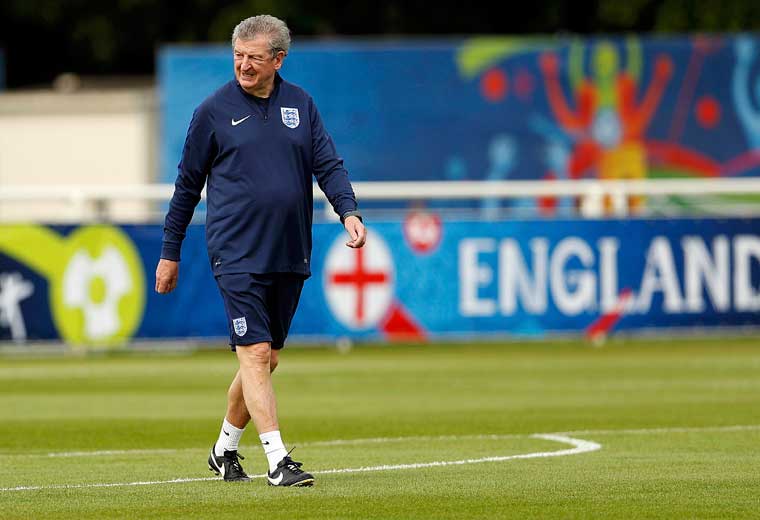 There are many different ways England could shape us today against Russia and we've brought you three of them below.
Using the Virgin Media Lineup Builder we have for you how we expect the Three Lions to play under Hodgson, how we'd like to see them play, and finally an over-the-top attacking 11 from the national team.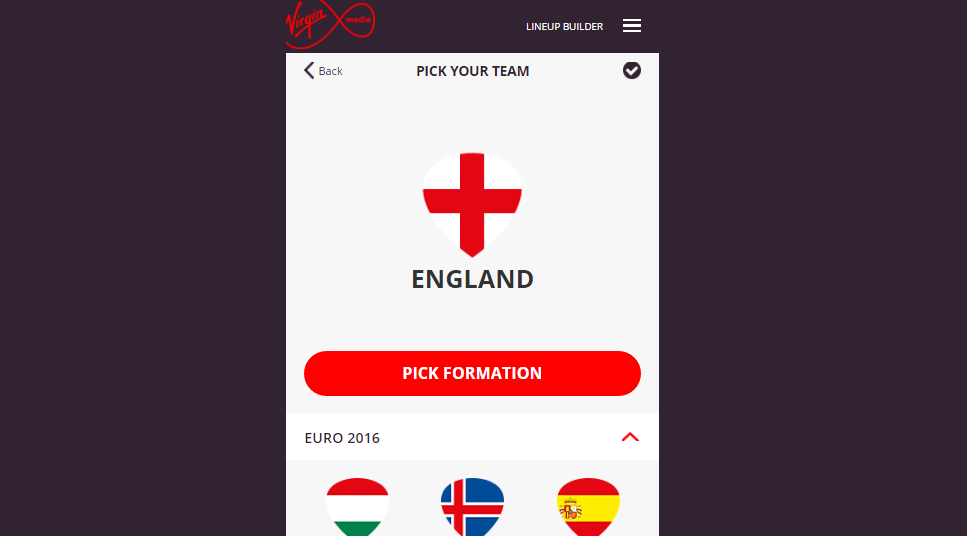 Realistic
Hart, Clyne, Smalling, Cahill, Rose, Dier, Alli, Vardy, Rooney, Sterling, Kane (4-2-3-1)
It might not be want England fans want to see from Roy Hodgson's England line-up, but then we imagine most Three Lions supporters would have preferred to see the nation get past the group stages at the World Cup two years ago.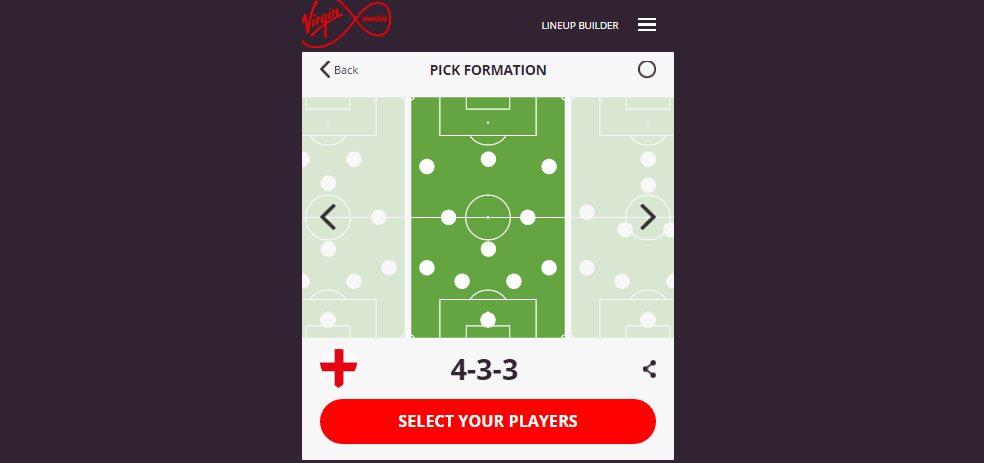 The team Hodgson is most likely to go with today is a little different to that side, and with the youngest squad at the tournament there's a chance for many fresh faces to make an impact.
Harry Kane burst onto the scene in outstanding style just after the 2014 World Cup (he couldn't do it a few months earlier, could he?) and now the Tottenham man will almost definitely be leading the line for the Three Lions.
Jamie Vardy's form this year also means the Leicester City man is deserving of a starting XI position but it's hard not to feel bad for the 29-year-old, who will probably be stuck out on the wing. It's a role in which the striker looks more out of place in than a Rolling Stones fan at a One Direction concert, but Vardy's efforts have earned him an England role.
Captain Wayne Rooney will also definitely be in the starting XI, despite the calls for the 30-year-old to be dropped, while Manchester City's Raheem Sterling has proven himself to be a favourite of Hodgson's.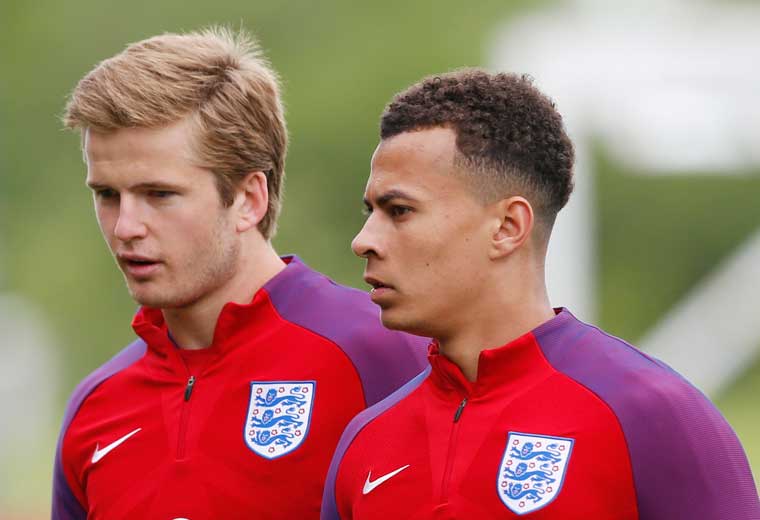 Tottenham duo Eric Dier and Dele Alli's breakthrough year at Spurs, and the ruckus they've caused in the process, means the Three Lions have potentially found their new starting midfield pair for the next decade.
England's back-line is perhaps the most concerning area for the team, and a couple of errors in recent friendlies have us concerned the defence could implode and display more leaks than the vegetable section at Asda.
Roy can only work with what he has though and therefore Nathaniel Clyne, Gary Cahill, Chris Smalling and Danny Rose will probably complete the outfield players, while Joe Hart continues in goal.
The "alternative" choice
Hart, Walker, Stones, Smalling, Rose; Dier, Alli, Wilshere, Barkley, Vardy, Kane (4-4-2 diamond)
Here at Virgin Media we've chatted to our friends at Squawka and we've put together our own starting XI for the Three Lions. This is a lineup that we feel provides the young guns the chance to shine and keeps most players in their favoured role.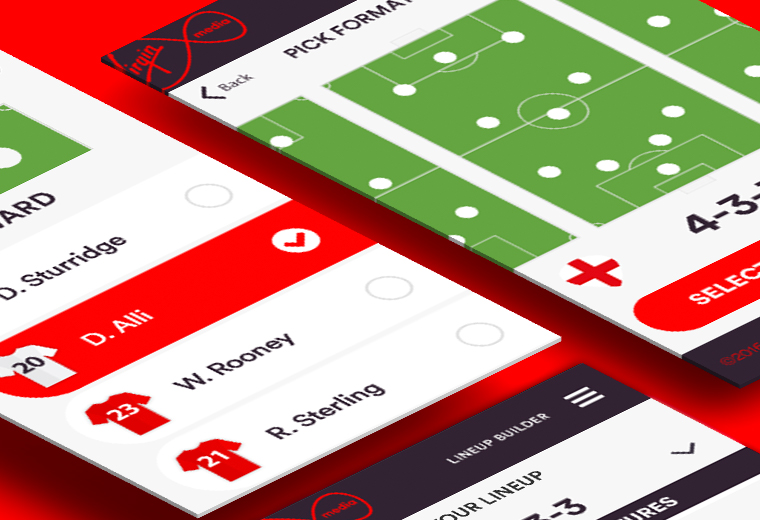 With that in mind Vardy's party is back on as the Leicester forward is back up top, working in his preferred two man attack system alongside the prolific Kane. Hopefully the pair can get on after their battle for the Premier League Golden Boot this year.
Everton's Ross Barkley hasn't been mentioned too much in the build up to this tournament, and indeed there were calls from some camps for him to be dropped from the squad, but he would thrive in the No.10 positon behind the two strikers.
Dier and Alli keep their places while Arsenal's Jack Wilshere completes the midfield formation, while Arsenal fans will pray their midfield man is kept away from any strong tackles.
The defence would also see a couple of changes and we want to see John Stones given more chances to show off his ability. Yes there is an error in there but the Everton centre-back reads the game just as well as we can actually read.
Smalling as his defensive partner seems like the most appropriate choice while we've opted to go with Rose at left-back, and Kyle Walker at right-back. The Spurs defender put in a decent shift against Portugal in a friendly last week
All out Attack
Hart, Walker, Stones, Smalling, Rose: Wilshere, Rooney, Alli, Vardy, Kane, Sturridge (4-3-3)
On the off chance Hodgson fancies doing something a little more daring – okay, a lot more daring given his track record, we've taken a look at how England would look if they just went for it this summer.
England have taken five strikers to France if we include Rooney, and we're confident at least four of these can be pushed into the starting XI should Hodgson decide it was time to treat a match like it was the last ten minutes in a video game simulation.
We'd be very interested to see this side in action in real life though, particularly because it's likely the nation would witness a resounding win by the Three Lions, or a resounding thumping of the Three Lions.
For this tactical system England would set up in a 4-3-3 arrangement, with the front line and wings packing more speed than a roadrunner on rollerblades.
Daniel Sturridge's injury woes over the last two campaigns have had many fans wondering if he was actually a left-back, considering he's been left back in the medical room for most of the last 24 months.
Nonetheless his clinical finishing would have him up front with Kane and Vardy. Not natural wingers, but plenty of lethal shots.
Rooney's role would be in the midfield bank of three, alongside Wilshere who would have to act as a sort of midfield anchor, and Dele Alli.
With Rooney's passing range, Alli's drive and Wilshere's tenacity this trio could provide the support needed for our three-man front line, who would batter opposition goals with shots and chances galore.
The back-line would need to look somewhat defensive minded, unless Hodgson fancies shoehorning either Marcus Rashford or Adam Lallana in at centre-back.
With the pace shown by Clyne and Rose though, along with Stones' desire to travel with the ball, even our defenders will want to get involved up front!
Think you know better? Build your own England lineup using the Virgin Media Lineup Builder!