The niceties of nineteenth century England don't grind to a halt just because the future of human kind is in jeopardy – the Bennet sisters still need to find husbands. Wickham (Jack Huston) and Bingley (Douglas Booth) catch the eyes of Elizabeth (Lily James) and Jane (Bella Heathcote), but the course of true love never did run smooth and brooding Mr Darcy (Sam Riley) has other ideas after seeing Lizzie's alluring zombie-fighting skills.
Lizzie is unimpressed by Darcy's pride, but can the impending doom of mankind bring them closer together?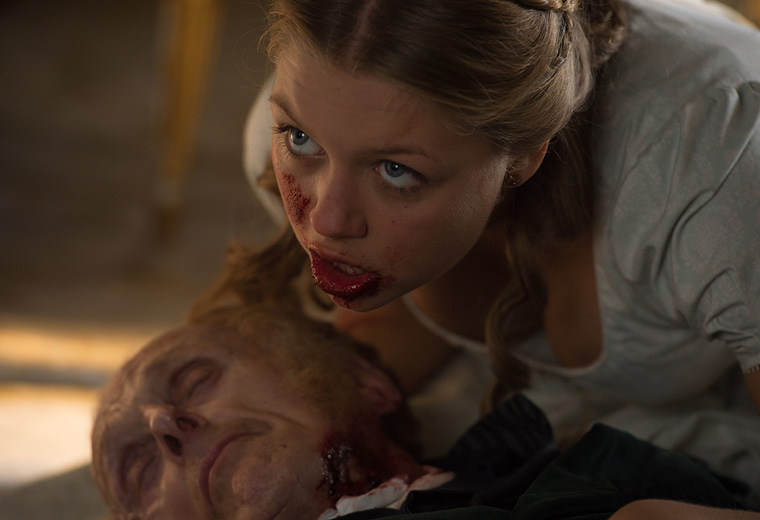 What do we think?
Whether you're a Jane Austen fan or not, Pride and Prejudice and Zombies is a lot of fun. It's great to see Austen's plucky heroines transform into action aficionados.
It manages to be playful with both horror and costume drama genres whilst forging its own path somewhere in between the two. It's enjoyably daft entertainment with a terrific cast who are clearly game for a bit of silliness. It is funny, with tongue firmly in cheek, but there are also scary moments with zombies ready to pounce at any second.
Austen would no doubt approve of the cheeky spirit of this film, and so do we.
Pride and Prejudice and Zombies trivia
Natalie Portman was originally cast as Elizabeth Bennet but had to pull out due to scheduling conflicts, however she did stay involved with the project as a producer.
Lily James started dating co-star Matt Smith (who plays Mr Collins) while filming Pride and Prejudice and Zombies.
Jack Huston and Sam Riley have both portrayed author Jack Kerouac - Huston in Kill Your Darlings and Riley in On the Road.
The huge success of the book, Pride and Prejudice and Zombies, has led to other horror mashups of classic literature, such as Sense and Sensibility and Sea Monsters.
David O. Russell, the director of American Hustle and Silver Linings Playbook, was originally going to direct the film, then after he dropped out several other directors were attached to the project, before Burr Steers came on board to direct.
Over the years Jane Austen's novel has inspired many adaptations and spin-offs, including Bridget Jones' Diary and murder mystery Death Comes to Pemberley.