He is left to the care of Fitzgerald (Tom Hardy) and Bridger (Will Poulter) while the rest of the party continue their journey. Resentful and bitter, Fitzgerald digs Glass' grave and attempts to kill him. Barely able to move because of his injuries, Glass is betrayed and abandoned, left to starve or die of exposure in the ice and snow.
But Fitzgerald underestimated Glass. Spurred on by the desire for revenge, Glass drags his wounded body hundreds of miles in a gruelling journey to track Fitzgerald down.
The Revenant was the big winner at the Oscars, Golden Globes and Baftas, scooping awards for director Alejandro G. Iñárritu, the stunning cinematography and of course Leonardo DiCaprio's breath-taking performance.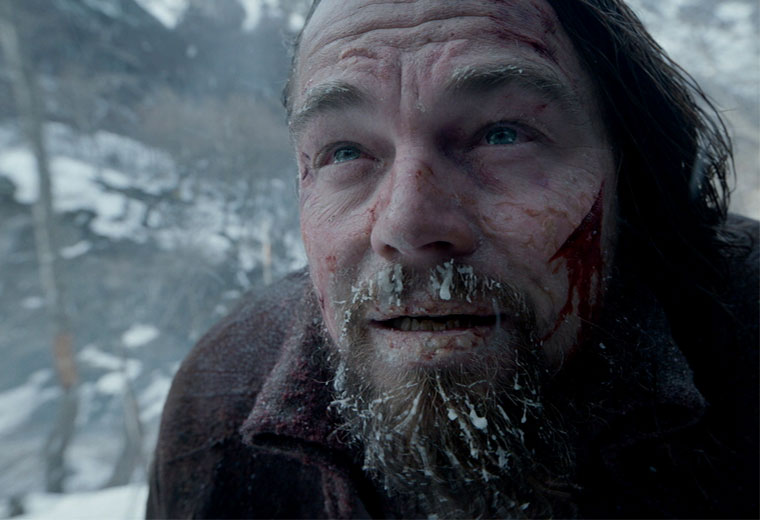 What do we think?
Believe the hype, The Revenant is a masterful piece of filmmaking from Alejandro G. Iñárritu (director of Birdman and Babel). The ordeal Glass is subjected to is almost unbearable to watch and yet it's so gripping it makes for compulsive viewing. The infamous scene in which Glass is attacked by the bear is a visceral experience, the snarling jaws and tearing claws of the bear are depicted in gut-wrenching detail.
The difference between man and beast evaporates, in those extreme conditions; man is merely another animal battling to survive. Leonardo DiCaprio's grizzled performance captures that animalistic survival instinct so brilliantly; he almost melts into his surroundings, embodying the rugged wildness of the landscape. This is DiCaprio's finest hour and the film that finally bagged him a long-overdue Oscar for Best Actor.
Tom Hardy gives a cracking performance as Glass' nemesis, earning him a nomination for the Best Supporting Actor Oscar. Hardy's character is so volatile it's like a stick of dynamite has been lit every time he appears on screen, and the explosion could happen at any second.
Be prepared to be awestruck by the incredible scenery. This is nature in all its beauty and all its cruelty. Seeing Glass as a tiny dot in the vast expanse of the landscape brings home what an extraordinary feat his survival is.
Brutal, uncompromising and gripping throughout, The Revenant is an extraordinary film that stays with you long after the closing credits.
The Revenant trivia
The Revenant is based on actual events. The legendary Hugh Glass was a real frontiersman who was attacked by a bear and left for dead before making an agonising 200 mile journey to safety. It's thought the story has been distorted over the years and there is no written account of the ordeal from Glass himself.
Leonardo DiCaprio has described this as the toughest performance of his career and filming conditions were notoriously harsh. In one scene, vegetarian DiCaprio eats raw bison's liver.
Filming took an unusually long time because of Iñárritu's insistence that only natural light should be used. This meant that conditions were only right for a few hours each day.
This was DiCaprio's sixth Oscar nomination, but his first ever win.