Bill was more than happy to initiate the new generation of Ghostbusters… by showing them how to bust moves to the classic theme song. That moment where he's hopping next to Kristen Wiig is absolutely priceless.
2. The 'no one will ever believe you' legend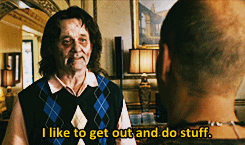 Story goes that Murray is known for walking into restaurants, stealing chips off people's plates, and staring them down while saying 'No one will ever believe you.' Another variant of the tale has Bill sneaking up on people, putting his hands over their eyes, and saying 'Guess Who?' They turn around, seen him, and then he delivers his believe you line. Is any of it true? No one knows (well, except him). When asked in an interview for GQ, he neither confirmed nor denied the story.
3. Jumping off a plane
Bill decided that it'd be great fun to skydive from 2.5 miles high to open the Chicago Air and Water Show, and we couldn't agree more. It's a little heart-breaking though to see him get quite nervous just as he's about to make the plunge.
4. When he decided to conduct this marching band with his jacket
We love this new twist on conducting an orchestra: the matador style. When Bill jumps in to direct Cornell's Big Red Band, he just waves his jacket around to lead the musicians - and, surprisingly, it looks like it's helping a little.
5. Giving epic advice at this Bachelor party
Bill is all too well known for politely and genially crashing other people's events. In this instance, he barges into a Bachelor party, full of genuinely wise words about how to choose your partner in life.
6. His Cannes camera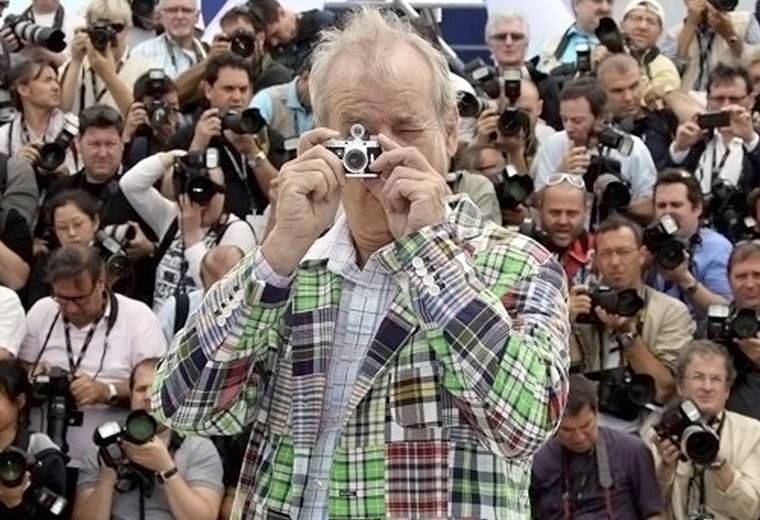 How many other stars turn up on the Cannes red carpet with a camera - let alone a ridiculously cool and tiny one like this? Yeah, that's right, not many.
7. Poetry reading
When Poets House (a literary organisation which, among other things, houses a poetry library) moved to a new building in New York, Bill felt like he had to mark the occasion. So he took it upon himself to do a poetry reading to the construction workers working on the new building. Wearing a hard hat. Bill is a fan of literary readings generally - it's quit something to watch him read Forgetfulness by Billy Collins (below).

8. Moonlighting as a bar tender
At the South By Southwest festival, Bill decided that he'd had enough of hanging out on just one side of the bar. So he went round the counter, and started serving drinks. Apparently, he purposefully kept handing out the wrong orders, and generally looked like he was having a swell time.

9. This hilarious tour of Moonrise Kingdom
This promotional video for the film Moonrise Kingdom is nothing short of hilarious. Bill gives a completely uninterested tour of the set, in which he comments on his co-stars' careers and how they all have to sleep in tents. He then confesses to having been drinking rum as the tour goes on.
10. Scream Award Acceptance Speech
Bill turned up to collect an award on behalf of the film Zombieland (in which he makes a cameo as himself, of course) in his Ghostbuster gear. It's for no apparent reason other than he can (though he says that it was the only thing he had left clean to wear).

11. Bill Murray and David Letterman, TV BFFs
Bill Murray was David Letterman's first guest on the first episode of his show in 1982 - and the TV bromance has gone on since. Murray has appeared on his friend's show numerous times, in a wide range of weird costumes (18th century elegant, jockey, American football player, Liberace, Peter Pan...). Particularly notable is the time Bill gets kidnapped, tasered and delivered on set; and his goodbye on Letterman's next-to-last show, in which he pops out of a giant cake. He then goes on to feed some to the audience, obviously.
12. The Bare Necessities duet
Not only is Bill's hat beyond awesome in this segment from the Jimmy Kimmel show, but his duet with The Jungle Book co-star Neel Sethi is possibly The Cutest Thing Ever. No, seriously. The two chorus to one of the film's best songs, The Bare Necessities. Look out for the surprise guests at the back of the set and Bill pretending to eat ants mid-way.
The Jungle Book is available on Virgin Movies from Monday 22nd August.
13. There's a whole Bill Murray stories website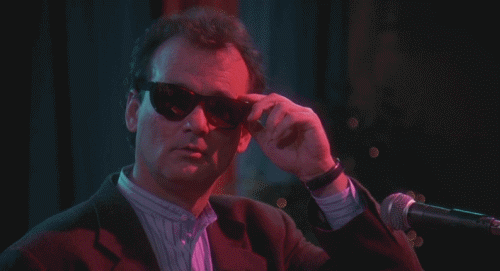 Bill Murray pops up so often on random occasions that there is a whole website dedicated to stories about him. Honestly. People who meet the legend in the flesh post the tales of their encounters on here for others to delight at.
Bill, we love you - don't ever change.