25. Lance Armstrong – Dodgeball (2004)
Pre-scandal, Lance Armstrong's cameo was a brilliant bit of subversion, as he persuades Vince Vaughn's character not to quit: "I was thinking about quitting when I was diagnosed with brain, lung and testicular cancer, all at the same time. But with the love and support of my friends and family, I got back on the bike and I won the Tour de France five times in a row." Post-dope though, it takes on a new angle: "I hope this decision doesn't haunt you forever," he adds, thoughtfully, before exiting stage left.
Dodgeball: A True Underdog Story is available now on Virgin Movies
24. Michael Jackson – Men In Black II (2002)
We all secretly suspected Michael Jackson was from another planet, and in Men In Black II he revealed he'd been rubbing shoulders with aliens all along. As an informant to the MIB, a suited-and-booted Michael - "I could be Agent M!" - pleads to Z to let him join the agency. He gets hung up on. Poor Jacko. He's with the people from his home planet now.
Men In Black II is available now on Virgin Movies
23. Bruce Springsteen – High Fidelity (2000)
A perfect slice of wish fulfilment from Nick Hornby's muso romcom, as John Cusack's music-lover holds court with 'The Boss' in a dream sequence where Springsteen tells him exactly where he's going wrong in his love life. Maybe Bruce should start up a real life relationship advice column? Would read.
22. Vanilla Ice – Teenage Mutant Ninja Turtles 2: The Secret Of The Ooze (1991)
The moment that the Teenage Mutant Ninja Turtles joined Vanilla Ice on stage for the 'Ninja Rap' was the most 90s thing ever: all other decades ceased to matter. It's hard to think how the filmmakers who wrote this cameo thought an Ice v Turtles dance-off would ever stand the test of time. Go Ninja, go Ninja, go!
21. Tobey Maguire – Tropic Thunder (2008)
Fictional five-time Academy Award winner Kirk Lazarus Robert Downey Jnr and MTV Movie Award Best Kiss winner Tobey Maguire Tobey Maguire star in Tropic Thunder's movie-within-a-movie, gay priest picture Satan's Alley. Maguire's repressed lust is written all over his face and says more than words – or an Enigma song – could ever say.
20. Billy Idol – The Wedding Singer (1998)
"Nobody talks to Billy Idol that way!" The punk idol gets more than just a soundtrack credit in this Adam Sandler romcom, playing himself aboard an airplane, stopping the pre-requisite genre jerk from getting to the girl he doesn't deserve by blocking the walkway. "Fish or chicken?" he asks, smirking, still the most rock and roll man on the planet even when he's miles above it.
19. William Shatner – Fanboys (2009)
You can't make a movie about movie fandom without addressing the elephant in the room – and we're not being rude about William Shatner's weight. The former captain of the USS Enterprise makes an appearance in this fan cult classic, playing himself as an informant and all-round fixer, uttering the immortal line: "I'm William Shatner, I can score anything."
18. Megan Fox – The Dictator (2012)
There are some who say Megan Fox used her sexuality to get where she is today – the truth is more depressing: she had to wash Michael Bay's Ferrari for her Transformers audition tape – but in this Sacha Baron Cohen comedy, Fox leans into the gag. Here she's a high class hooker, who sleeps with General Aladeen for untold riches ("Katy Perry said she got a diamond Rolex").
The Dictator is available now on Virgin Movies
17. Emma Watson – This Is The End (2013)
The celeb corpses are piled high in this apocalyptic comedy from Seth Rogen and friends, and it isn't just the usual posse of bros who show up: one of the survivors is none other than Emma Watson, who is way more of a badass than her Harry Potter history lets on. Naturally, her awesomeness puts the surviving boys on edge.

16. Charlton Heston – Wayne's World 2 (1993)
Heston is bussed in for a meta in-joke in the Wayne's World sequel, when a bit-part actor is deemed to poor to continue. The replacement is none other than the Ben-Hur actor, who nails the line-reading ("I once knew a girl who lived on Gordon Street. Long time ago, when I was a young man...") and even elicits a tear from Wayne while giving directions.

Waynes World 2 is available now on Netflix
15. Ben Affleck & Matt Damon – Jay And Silent Bob Strike Back (2001)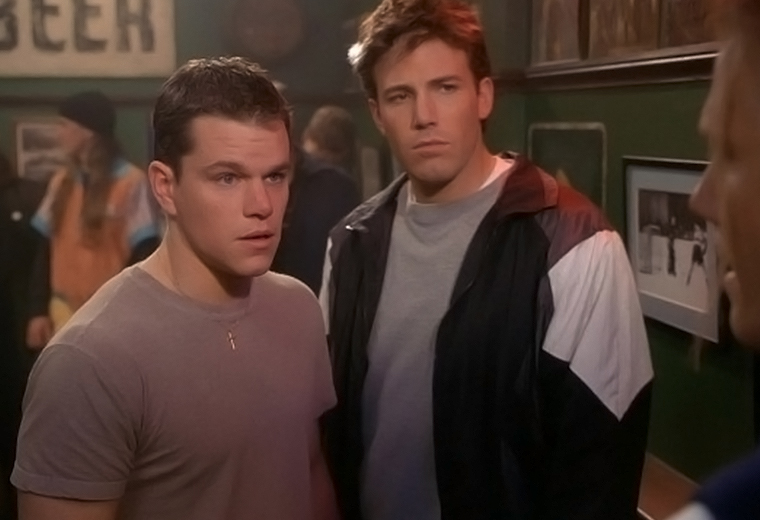 "I don't like the sounds of them apples, Will. What are we gonna do?" Ben Affleck and Matt Damon have the time of their lives reprising their Good Will Hunting characters in the fake sequel, Good Will Hunting 2: Hunting Season. As director Gus Van Sant counts his money, Affleck and Damon amp up the Acting to 11, with a repeat of the same scene from the first movie this time ending in needless bloodshed. "Applesauce, <swear word redacted>!"
Jay And Silent Bob Strike back is available now on Netflix
14. Kareem Abdul-Jabbar – Airplane! (1980)
Surely we mean run-of-the-mill airline pilot Roger Murdock? No, we're pretty sure the man in the co-pilot's hat is none other than Kareem Abdul-Jabbar, legendary Center for the Los Angeles Laker. Fun fact: Abdul-Jabbar's cameo is actually a spoof on American football star Elroy "Crazylegs" Hirsch, who played a pilot in Zero Hour, the 1957 drama that inspired Airplane!.
13. Ray Romano & Eminem – Funny People (2009)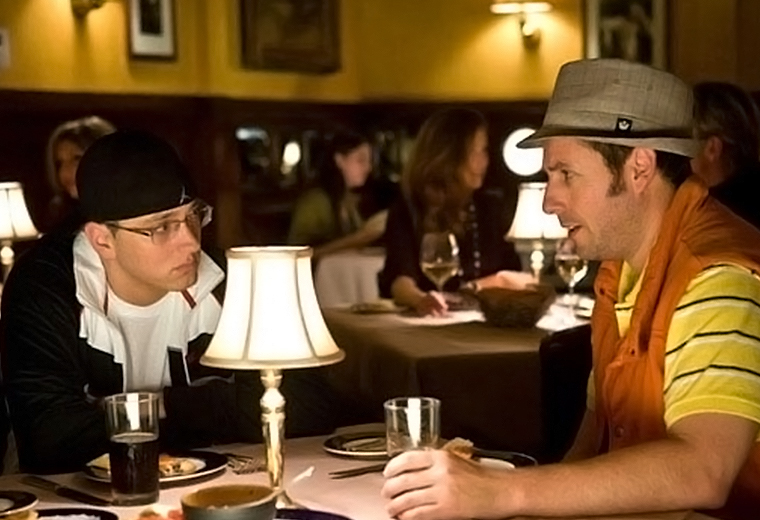 You can always count on the celeb count being high in a Judd Apatow movie – did you know he has lots of famous friends? - but the scene where the actual Marshall Mathers discusses fame with Adam Sandler's character is justified thanks to the inclusion of genteel sitcom star Ray Romano, who proceeds to get chewed out by Slim Shady for taking a sneaky selfie. "Ray, I thought everyone loved you?" asks Seth Rogen.
12. Neil Patrick Harris – Harold & Kumar Go To White Castle (2004)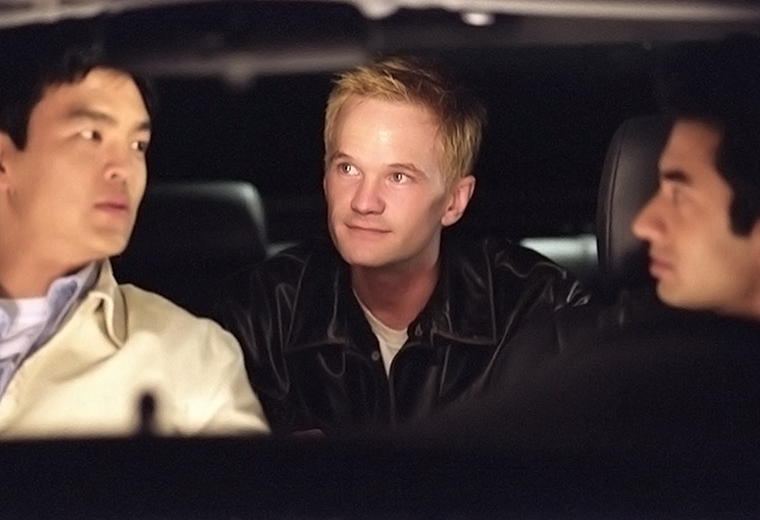 The former Doogie Howser MD star took his public persona and flipped it on his head with his extended cameo in stoner comedy Harold & Kumar. Harris, playing himself, is picked up by our hapless heroes whilst in a bad way and boasts about all the girls he's slept with (in real life, Harris is gay). This insane cameo led to his casting as legendary 'swordsman' Barney in TV comedy How I Met Your Mother.
11. Steven Seagal – The Onion Movie (2008)
Who knew Steven Seagal had a sense of humour? There's certainly no sign of it in any of the rest of his movies (not intentional humour anyway) but he must have known he was signing on to a comedy here, given that his character in the trailer-within-the-movie was a legendary martial artist who only punches his opponents in the... well, swimsuit area.
10. Bill Clinton – Contact (1997)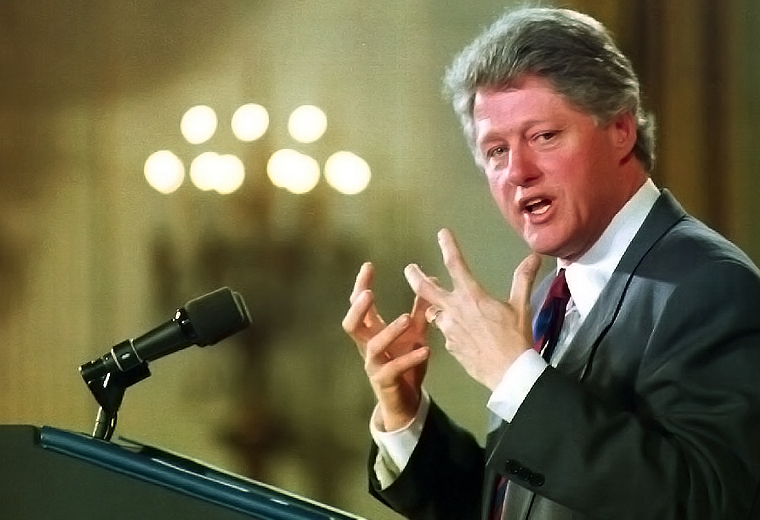 Yes, serving American President Bill Clinton had a substantial role in this Jodie Foster sci-fi flick – not that he knew anything about it, that is. Clever editors took a speech Clinton had given (where he addressed the discovery of an arctic meteorite from Mars) and made it appear he was commenting on the discovery of alien life in the stars. Clinton's screen-time was substantial enough that he qualified for Best Supporting Actor; instead, the filmmakers had their wrists slapped by the White House.
9. Bruce Willis – What Just Happened (2008)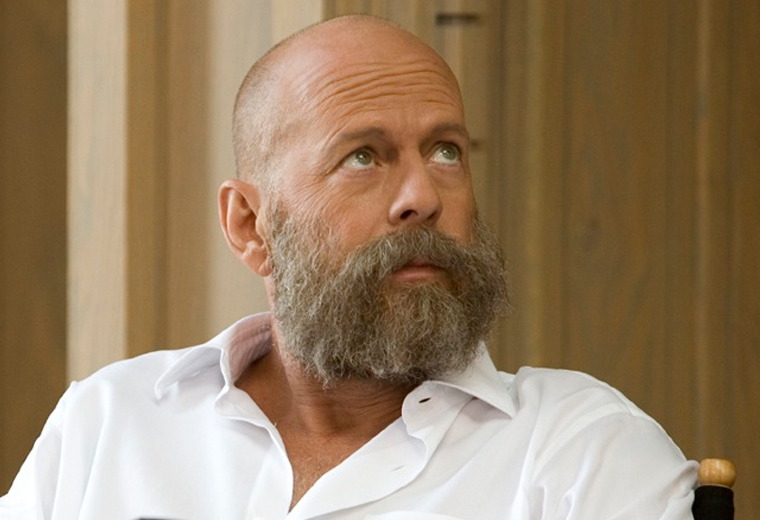 Hollywood stars don't just like to slap each other on the back – they like to stick the knife in sometimes, too. This Hollywood meta comedy saw Bruce Willis effectively playing himself but channelling another actor, thought to be Alec Baldwin circa 1997's survival thriller The Edge, who famously ranted on set when he was asked to shave off his beard. Willis's tantrum is pitch perfect – but you just know Willis himself has probably done something similar.

8. Charlie Sheen – Being John Malkovich (1999)
Pre-Tiger Blood and post-Wall Street, Charlie Sheen was neither an ubiquitous media presence or a particularly massive actor, so his role as friend to acting chum John Malkovich was a nice surprise in a movie full of bad trips. We're particularly fond of the older, balder Sheen, seen later in the movie, who warmly addresses his friend as "Malkatraz!"

7. Chuck Norris – Dodgeball: A True Underdog Story (2004)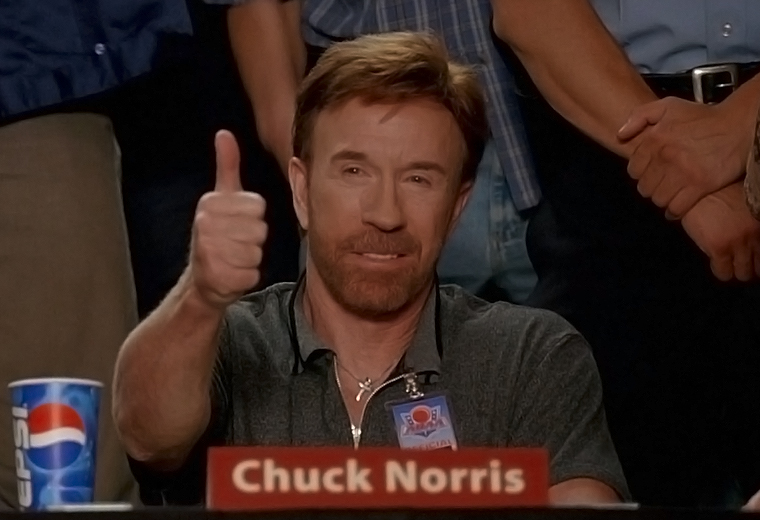 Chuck Norris doesn't need to say anything to change the world – he just needs to raise his thumb. Dodgeball has a raft of weird celeb cameos – remember Lance Armstrong? - but the strangest, and most enjoyable, is seeing the camera pan across the judges table to reveal the final judge is Walker, Texas Ranger.
6. Tom Cruise & Gwyneth Paltrow – Austin Powers: Goldmember (2002)
Take your pick from the celeb cameos in the opening sequence to the Austin Powers threequel: your topline stars are Tom Cruise as Austin and Gwyneth Paltrow as his love interest, Dixie Normous, but also vying for your attention are Kevin Spacey as Dr. Evil and Danny DeVito as Mini Me. Best in show, however, goes to Steven Spielberg as the movie's director, waving an Oscar around as he ignores Austin's notes: "My friend here says it's fine as it is."

5. Marshall McLuhan – Annie Hall (1977)
Haven't we all at some point wanted to summon our heroes to smack down whatever uneducated morons are misinterpreting their words? Well, Woody Allen was the writer, director and star of Annie Hall, so he did just that, calling on author and media philosopher Marshall McLuhan to shut down a boorish prig in a cinema queue: "You know nothing of my work!" Game, set and match: Allen.

Annie Hall is available now on Netflix
4. Bob Barker – Happy Gilmore (1996)
Part of the fun of celebs playing themselves in movies is that they get to do things they'd never get away with in real life: hence Bob Barker, squeaky clean host of The Price Is Right, kicking his golf partner's ass in Sandler comedy Happy Gilmore. "I think you've had enough," he spits, his opponent barely able to stand. "No... NOW you've had enough," he finishes, with a brutal foot to the chin.
3. Bill Murray – Zombieland (2009)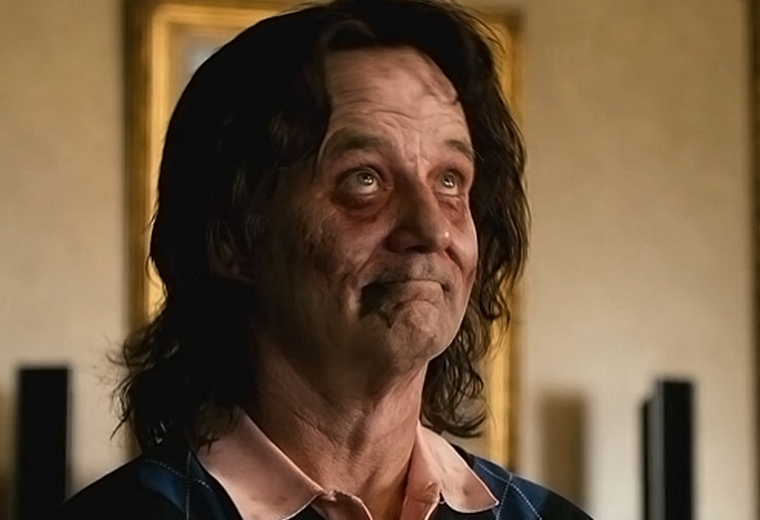 In what's surely one of the best kept secrets in modern movie history, Bill Murray managed to sneak his way into almost an entire act of zombie comedy Zombieland without anyone knowing, so when he shows up in full zombie disguise and almost gets his head blown off for his trouble, the sheer gleeful surprise doesn't wear off. "Any regrets?" ask the fans he finds himself surrounded by. "Garfield, maybe," he deadpans.
Zombieland is available now on Virgin Movies
2. David Bowie – Zoolander (2001)
"If nobody has any objections, I believe I might be of service." Bowie didn't need to appear in the first Zoolander movie, playing a version of himself who is strangely up-to-speed with the rules of the Male Model 'Walk-Off', but he did it anyway, because he was David Bowie and he could make anything seem cool. Also, this was easily the coolest era for Bowie hair.
Zoolander is available now on Virgin Movies
1. Martin Sheen – Hot Shots! Part Deux (1993)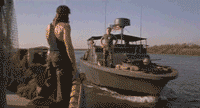 Hot Shots! Part Deux is available now on Virgin Movies