But the brothers don't forget each other and when the chance comes along for Nobby to be reunited with Sebastian, he jumps at it. Unfortunately, he catches Sebastian at a particularly inconvenient moment. Sebastian is about to take a shot to stop a would-be assassin killing a famous actress and philanthropist (played by Penélope Cruz). Sebastian's mission goes disastrously wrong, forcing the reunited brothers to go on the run together, with an assassin hot on their heels.
Far from lying low, Nobby and Sebastian find themselves embroiled in an international terrorist plot to unleash a virus at a football game. Nobby throws himself into the world of espionage in his own unique and unorthodox way. Can our extremely unlikely heroes put a stop to the deadly plot?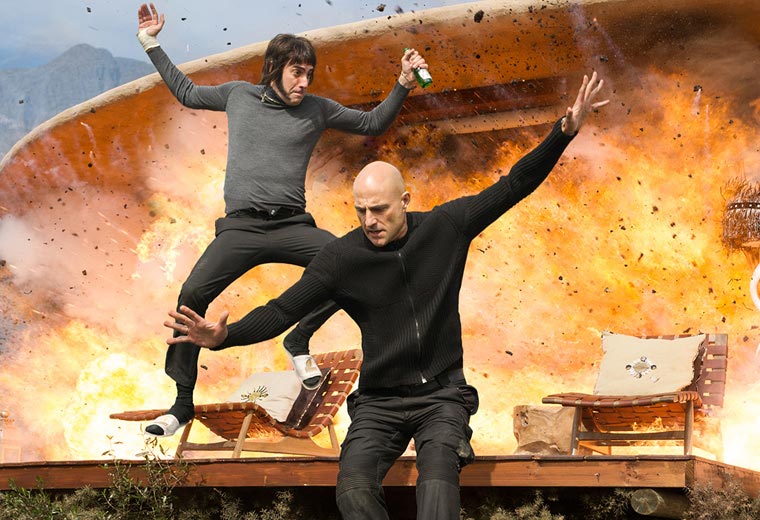 What do we think?
Grimsby is shamelessly politically incorrect, lambasting everyone and anyone, including poor old Daniel Radcliffe. Even when you know you shouldn't, it's impossible not to laugh. It's the sort of film you'll suddenly remember something from several days later and it'll make you laugh all over again.
It's a beautiful bromance between the two brothers; Mark Strong is perfectly cast as the suave MI6 agent suddenly lumbered with an incompetent sidekick. Rebel Wilson always steals scenes in whatever she appears in, but this time she's up against Sacha Baron Cohen. She holds her own and even manages to nail a northern accent.
If you're looking for a laugh-out-loud Saturday night comedy (and you're not easily offended), this is the perfect choice.
Grimsby trivia
Sacha Baron Cohen is married to his Grimsby co-star Isla Fisher, the couple met at a party in Sydney in 2002 and married in 2010, they have three children.


Sacha Baron Cohen based Nobby's look on Oasis frontman Liam Gallagher.


The film proved controversial in America due to its depiction of Donald Trump.


As part of the promotion for the film, Sacha Baron Cohen released a video as one of his other characters, Borat, complaining about Grimsby being offensive.


The scenes set in Grimsby were actually filmed in Essex.


Politicians in Grimsby complained about the film's depiction of the town.


Mark Strong is a close friend of Daniel Craig, who is godfather to one of Strong's sons.


From 2012 to 2015, Rebel Wilson and Little Britain's Matt Lucas were housemates; they shared a house in California.