Meanwhile, blissfully unaware of the danger he is in, Po has taken on the role of kung fu teacher, but it is not going too well. Out of the blue, Po's long-lost biological father, Li Shan (Bryan Cranston), finds Po and the two of them quickly form a close bond. Which is just as well, because a big adventure awaits them!
When his village is attacked by Kai, Po learns that to defeat Kai, he must master chi. So he sets off to a secret panda village with Li Shan to learn all about chi. He arrives at the village and finds himself surrounded by laid back pandas just like him, but this is no time for Po to kick back and relax!
Po is going to need every ounce of strength and all the help he can get, but is he up to the challenge of transforming a bunch of slacker pandas into a kung fu army to take on the ultimate enemy?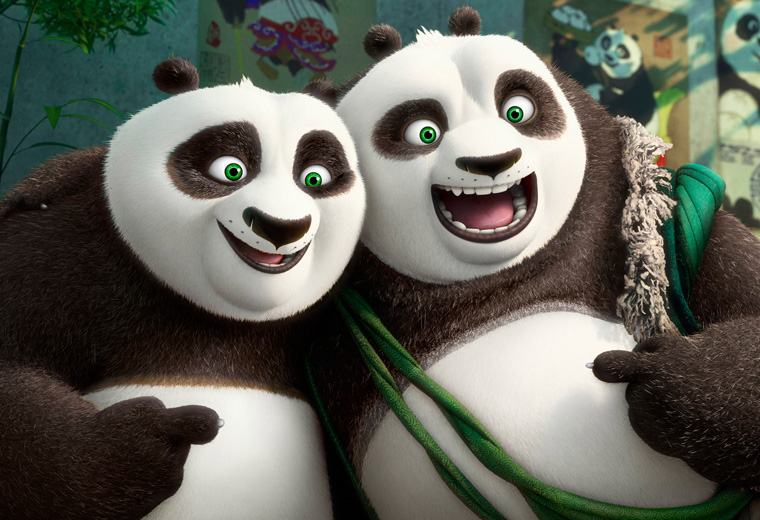 The Kung Fu Panda franchise is onto a good thing and with this third movie in the series, it's really nailed it. It's a winning combo of boundless energy, goofy humour, mayhem and lots of heart. The loveable characters will easily win over any cynics.
New characters join old favourites in Kung Fu Panda 3, making for an impressively starry A-list cast, including Jack Black, Angelina Jolie, Bryan Cranston, Dustin Hoffman, Jackie Chan and Seth Rogen, to name just a few.
This is the perfect treat for kids and there's no shame in grownups enjoying it too, in fact, it's impossible to resist.
Kung Fu Panda 3 trivia

Four of Angelina Jolie's children were voice extras on the film.
Jack Black was nominated for Best Virtual Performance at the MTV Movie Awards.
There are three further Kung Fu Panda films in the pipeline.
The Twitter account of Jack Black's band Tenacious D was recently hacked and a hoax tweet was sent announcing Jack Black's death.
As well as the three feature films, there are three short films - Secrets of the Furious Five (2008), Kung Fu Panda Holiday Special (2010) and Kung Fu Panda: Secrets of the Masters (2011). There is also a Nickelodeon television series, Kung Fu Panda: Legends of Awesomeness.
If Kung Fu Panda 3 is nominated for the Best Animated Feature Academy Award, it will make it a hat trick of Oscar nominations for the franchise.