When an opportunity arises for Judy to crack a missing person case, she grabs it with both paws. With only two days to solve the mystery, Judy is forced to turn to an unlikely ally for help – a certain cunning fox, Nick Wilde, propelling them both on a riotous adventure!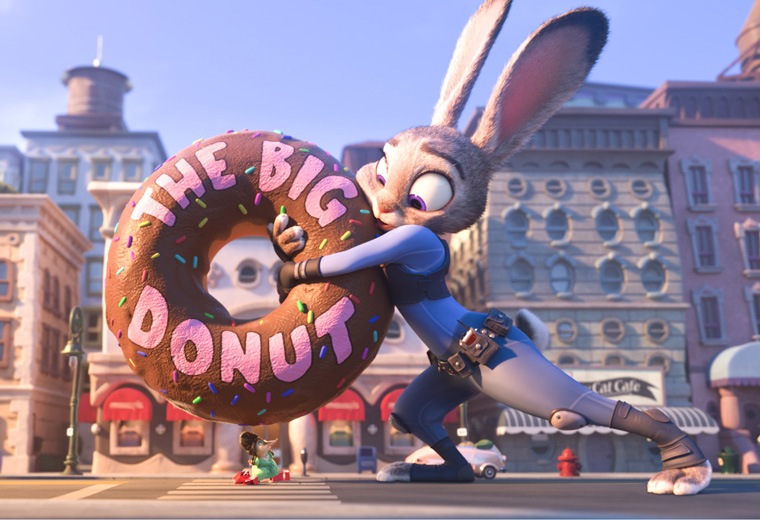 What do we think?
Zootropolis was a huge hit with both critics and audiences, scoring 93% fresh on Rotten Tomatoes. It's fast-paced (apart from the sloths), funny and heartfelt with a cast of loveable characters. This is Disney at its very best and there's plenty here to please both grownups and children. It manages to be topical in a way that will engage parents without putting kids off.
The animation is truly stunning, creating an imaginative, playful world, rich in detail and full of fun. With each viewing you'll notice more little quirks and clever references to other Disney films and pop culture. Fur poses a particular challenge for animators, but in Zootropolis they've absolutely nailed it, bringing not one but an entire city of furry animals to life. This is a real labour of love.
The excellent voice cast includes Idris Elba, Jenny Slate and J.K. Simmons. Zootropolis is a delight from start to finish; so joyful and entertaining it's guaranteed to leave a smile on your face and a spring in your step.

Zootropolis trivia
Zootropolis was a massive box office smash, taking over $1 billion across the globe. So far it is the second highest-grossing film of 2016 and the 24th highest-grossing film of all time.
In China the film was released under the title Crazy Animal City.
This is the seventh animated Disney film to feature only animals and no humans. The others are, Bambi (1942), Robin Hood (1973), The Great Mouse Detective (1986), The Lion King (1994), Dinosaur (2000), and Chicken Little (2005).
Pop star Shakira is the voice of Zootropolis popstar Gazelle. She also contributes the song Try Everything to the film's soundtrack.

Zootropolis is available now on Virgin Movies. To watch, press Home on your Virgin Media remote, then On Demand > Movies. Or hit the button below to watch online, you don't even have to be a Virgin Media customer.