In the run-up to the release of Captain America: Civil War, there was one question on the lips of every fan (and Disney's hashtag-happy marketing team) - were you Team Cap or Team Iron Man? With two of the biggest Avengers notably absent from the super-scuff, Mr Thor himself took to Facebook to reveal just whose side he's on.
And, well, he didn't really care for either. It's a delivery made all the more hilarious by the fact he happened to be doing pull ups throughout his sassy rant. Oh, and then one-handed pull ups. While catching Thor's hammer Mjolnir.
Comedy/bicep gold.
2. Thor-oughly Convincing
When Hemsworth was originally cast as Marvel's mighty Norse deity, there was an almost globally collective 'huh-wah-eh?!". Not only was he pretty much unknown, but even the project alone led to many a raised eyebrow. Sure, audiences could suspend disbelief for super-powered superheroes. But committing to the traditionally po-faced, fantasy/nerd-tastic lore of a bunch of magic Gods travelling over rainbow bridges to fight each other with giant hammers seemed a little, well, unrelatable.
So hurrah for Hemsworth and the Marvel team, who nailed the weirdness with a plot driven by Thor's own fish-out-of-water bemusement.
It was an utterly winning performance that worked because of many things, not least his ability to deliver ridiculous one-liners ("ANOTHER!") and his smoking-hot God-like sexiness, which was on prime display throughout.

3. Hosting Saturday Night Live
There are few gigs that come loaded with as much pressure as hosting Saturday Night Live. It's a pop culture institution that quickly sorts the men/women from the boys/girls, requiring the host to commit comedically, completely live.
Whether accidentally sleeper hold-ing Kate McKinnon in the pre-episode trailers (see above), to sending himself up (IN FULL THOR REGALIA) and committing to a drag skit that'll make you fall in love hard, Hemsworth was so good that it paved the way for another winning role…
4. Ghostbusters Goofiness
Saturday Night Live proved he could deliver LOLs on demand. But no one expected Hemsworth to match the wit of Ghostbuster's four hilarious leading ladies. But his dim, endearingly idiotic receptionist Kevin almost stole the show. Yes, the gag was that he's dumb and beautiful, but dagnammit if he didn't pull that off with aplomb.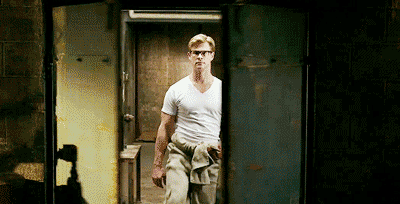 Throw in the fact that director Paul Feig loved to improvise, and it becomes all the more impressive/jealousy-inducing. And that envy even extended to the main cast, who were all too happy to complain to Graham Norton about how annoyingly perfect he is. HE CAN EVEN SING LIKE A CHERUB, apparently.
*Swoon*
Because of course he's as smart and progressive as he is insanely talented. During promotion for The Huntsman: Winter's War, he revealed the predominately female cast was part of the big draw for him joining the project. "The strength of it was in these three women (Jessica Chastain, Emily Blunt, and Charlize Theron) and their performances… I think the balance has been tipped for a long time heavily in the men's direction," he told Radio Times. "There are seven to eight male superheroes and one female in there. This is the opposite…. Of course it should be equal." Just have our babies already.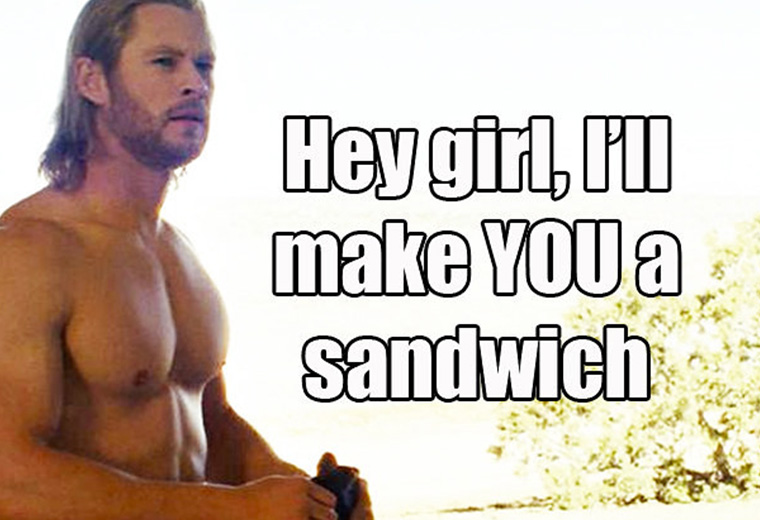 6. His Commitment To Pleasing The Fans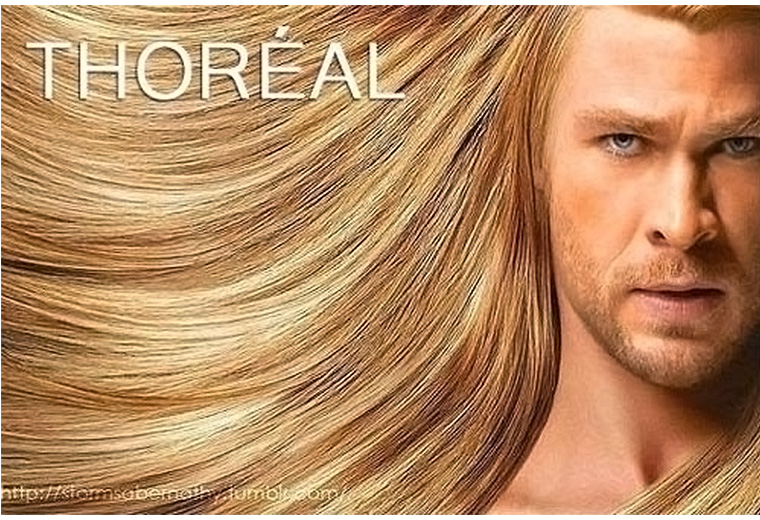 There have been so many Thor memes and gags, we barely know where to begin.
One of our favourite examples has to be his commitment to pleasing his ridiculously puerile fans, who regularly encourage him to tell one of the ruder Marvel jokes around.
If you've seen any of the thousands of bloopers from the Marvel movies, you'll know all too well that the Avengers cast are full of goofy, self-effacing and enjoyably relatable silliness. It's a grin-inducing stupidity they actively embrace, and which manifests itself in beautiful behind-the-scenes fails like this. We heart you, Hemsworth.