1. The Bourne Identity (2002)
We first meet Jason Bourne when fishermen pulled him out of the water with gunshot wounds and a terrible case of amnesia. This film boasted one the greatest character introductions in recent cinematic history, and combat scenes that influenced the style of many action thrillers that followed. We were there every step of the way as the mystery grew as foggy as Bourne's memory every time he realised his proficiency in sizing up a situation
Or his lethal abilities with a pen against a knife: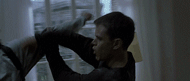 Every gritty scene made the depth of the mess all the more palpable as the CIA's involvement, the mysterious Treadstone program, covert operations, assassinations and power struggles in Langley led to one clear conclusion: as Jason Bourne rediscovers his humanity, there is no one he can trust.

2. The Bourne Supremacy (2004)
Bourne and Marie are trying to enjoy a life of normalcy and anonymity in India, amidst flashback nightmares and constantly looking over their shoulders. All is disrupted when a rival Russian agent frames Bourne for the interception of a CIA mission. The CIA goes into hyper-mode as Bourne realises he can't escape his ties as a spy and puts his super-soldier skills to use, like never bringing a knife to a knife-fight:
Supremacy brings us one of Bourne's greatest foes in Kirill (Karl Urban)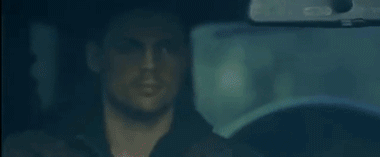 and one of his strongest and most unexpected allies in Pamela Landy (Joan Allen), as well as an intriguing partner in CIA logistics expert Nicky Parsons (Julia Stiles).
As the politics within the CIA unravel, in his search for pieces of his past as an assassin, Bourne comes face to face with his actions, and vies to uncover the horrific truth behind the people who created and manipulated him.
3. The Bourne Ultimatum (2007)
Picking up where Supremacy left off, the mucky waters of Treadstone and Operation Blackbriar are stirred once more and Bourne and Landy each try to disentangle the web of lies around the CIA's questionable tactics. During this round, we go from Moscow, to London and on to Tangiers, where Bourne brings a towel to a knife-fight this time,

Finally in New York, Bourne deals his final and lethal blow to the agency's darkest secrets.
SPOILER ALERT: It all started with Bourne.
4. The Bourne Legacy (2012)
It all may have started with Bourne, but that is not the only story to tell. As events in The Bourne Ultimatum unfold, another super-spy plays his own part in attacking the very institution that made them. Aaron Cross, played by Jeremy Renner, is in the middle of a training assignment when the exposure of Blackbriar by Bourne forces the people behind it to shut it down, going as far as eliminating all operatives. In Legacy we discover that these unbeatable operatives are also part of a chemically induced enhancement project, as Marta Searing (Rachel Weisz) explains us the science after Cross leaps to her rescue before her own demise at the hands of the CIA: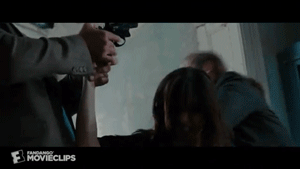 Cross is every bit of a combat miracle as he tackles wolves, CIA agents, security guards, and gracefully slides down building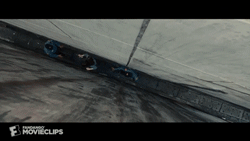 Not that Marta is prepared to sit back and simply watch: