Following the massive success of Snow White and the Huntsman, the second movie in the franchise continues to reinvent a familiar fairy tale with an imaginative twist.
This film boasts a very impressive cast with more Hollywood A-listers than you can shake an enchanted stick at. Emily Blunt and Charlize Theron spark off each other making a formidable pair, while Chris Hemsworth is perfect as the dashing hero and Jessica Chastain is fierce and feisty. Light relief comes in the form of funny Brits Nick Frost, Rob Brydon and Sheridan Smith.
Visually The Huntsman: Winter's War is stunning, conjuring a world of enchanted forests and icy wintry wonderlands. But this is no fluffy fairy tale, there's plenty of action and furious fight sequences.
Buckle up for an action-packed fantasy adventure with bags of energy, terrific villains and sword-wielding heroics.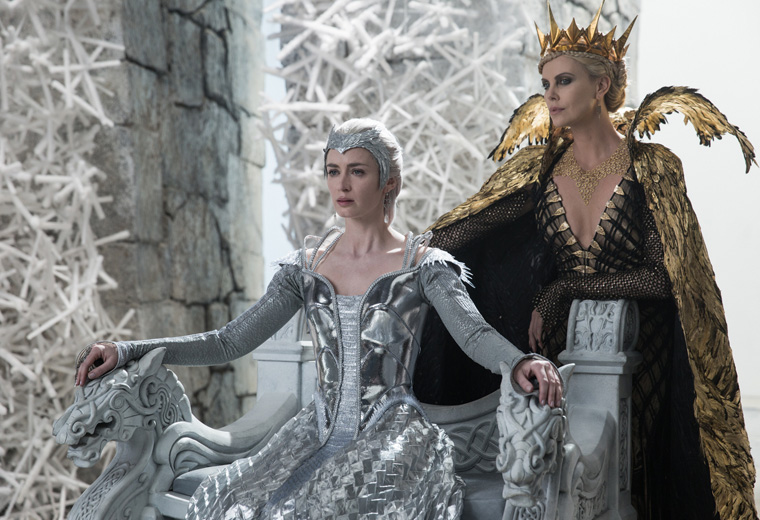 The Huntsman: Winter's War trivia
The Huntsman: Winter's War is both a prequel and a sequel to Snow White and the Huntsman.
Snow White (Kristen Stewart) only appears through the use of archive footage in this film, but the character is referenced many times and is integral to the plot.
Chris Hemsworth and Jessica Chastain used Braveheart as the inspiration for their Scottish accents in the film.
The Huntsman: Winter's War was nominated for six Teen Choice awards.
The story takes inspiration from The Snow Queen by Hans Christian Anderson and Snow White by The Brothers Grimm.
The film is narrated by Liam Neeson.
The Sony email hack of 2014 revealed that Charlize Theron was being paid less than her co-star Chris Hemsworth. She campaigned for equal pay and eventually both actors were reportedly paid $10,000,000.