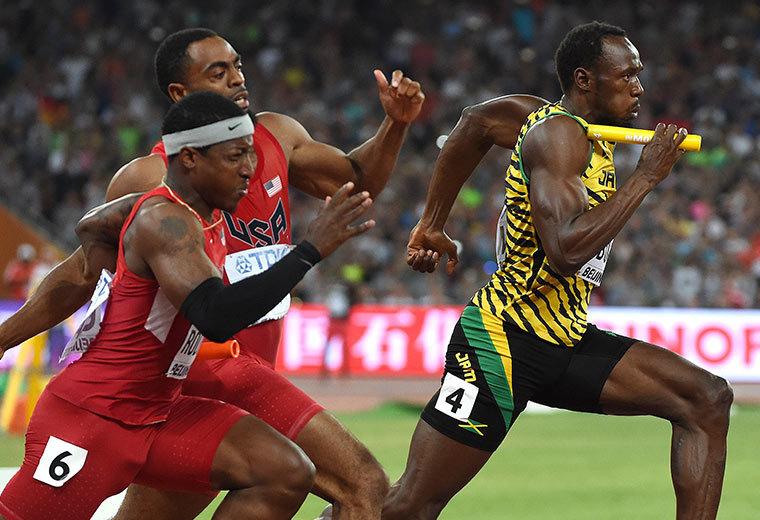 2. 2009 IAAF World Championships, Berlin
If you thought Bolt had reached his peak in Beijing, you were most definitely wrong. In Berlin the following summer, not only did the phenomenon run the 100m in 9.58 seconds to shatter his world record by a preposterous 0.11 seconds, he also destroyed his 200m mark by the same margin. "The world belongs to Bolt. Adjectives are inadequate. He writes his own history with every stride he takes," declared one commentator after the 100m. Michael Johnson's reaction? Silence. He was quite literally speechless.
3. Beijing 2008 Olympics
What the?! No matter how many times you watch the Men's 100m final at the 2008 Olympics, it's impossible to comprehend. Just how can someone win such a short race by such a large margin? Even Bolt didn't have any idea. All he knew was that his world record of 9.69 seconds could have been faster – "I was slowing down long before the finish" – and that he still had the 200m and 4x100m to run. He won them both, obviously. The 200m in a world record 19.30 seconds and the 4x100m in a world record 37.10 seconds.
4. 2008 Reebok Grand Prix, New York
Could the world-class junior cut it in the senior ranks? You bet he could. On 31 May 2008, in just his fifth senior 100m race, Bolt announced himself on the global stage by storming to victory in a new world record time of 9.72 seconds. "I wasn't looking for a world record but it was there for the taking," shrugged the 21-year-old.
5. 2003 Pan-American Junior Championships, Bridgetown, Barbados
A year after becoming the youngest-ever IAAF World Junior Championship gold medallist, a 16-year-old Bolt won the Pan-American Junior Championship 200m in the mind-blowing time of 20.13 seconds. And yes, we do mean mind-blowing. For starters, it was the fastest time anyone of any age had clocked in the 200m in 2003. And then there was the fact that 200m legend Michael Johnson took until the age of 20 to clock such figures.