1. The Life and Adventures of Nicholas Nickleby (2001)
Hiddleston plays 'A Lord' in a handful of scenes in this adaptation of the Charles Dickens novel. Yup, his character was so minor that he didn't even have a name. In this clip you can see him pompously laughing away at a table in the tavern, and then arbitrating a duel. We find it rather amusing too that these scenes star Dominic West and James D'Arcy (whom we've seen recently in the Marvel TV series Agent Carter). Here's another fun fact - the film aired on TV in 2001, which means that Hiddleston must have been about 20 at the time of the shoot (and yes, he looks so young!).
2. Conspiracy (2001)
This is really so small that we're not sure it can really be called a part, but here goes. Tom turns up as a phone operator in Conspiracy, a WWII drama. His brief appearances only last for seconds, but we love how earnest he looks, especially when he delivers his one line. The film recounts a meeting during which Nazi officials discussed the Final Solution. It stars Kenneth Branagh, Colin Firth and Stanley Tucci - and you can spot the latter in this video. See too if you can catch Brendan Coyle (aka Bates of Downton Abbey fame) on here.
3. The Gathering Storm (2002)
Here's another wartime one. A Gathering Storm recounts Winston's Churchill career up until the start of WWII. Along with lots of great scenes involving the famed politician sitting around smoking cigars, there's also Hiddleston playing Churchill's son, Randolph. You'll have to give it to him - he does snooty and mopey super well.
4. A Waste of Shame (2005)
We know very little about Shakespeare's life, but this film imagines what might have inspired his sonnets. Hiddleston appears as John Hall, a physician and Shakespeare's son-in-law. In this sombre scene, he diagnoses the playwright with a grave illness. Blond curls and stache are not Tom's best look (or so we think!) but he manages to make the scene quite moving. And we don't really know what that hand kiss meant at the end, but it made us go 'awww' all the same.
5. Suburban Shootout (2006 – 2007)
This was the actor's first regular appearance in a TV Show. The dark comedy Suburban Shootout aired for two seasons in 2006 and 2007. The series follows two housewives who run competing drug gangs (yeah, seriously) in a small town in the home counties. This scene, one of our Hiddleston favourites, shows his hapless character, Bill, accidentally proposing to his manipulative neighbour Jewel.
6. Casualty (2007)
Even for a small role, this isn't glamourous, but we love these few moments of Hiddleston on Casualty all the same. The show has some brilliantly tacky set-up scenes, and this one is no exception. Here he's a window cleaner that joins in a silly dare. The ensuing accident is completely ridiculous.

7. Miss Austen Regrets (2008)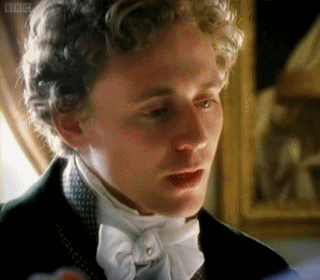 Hiddleston plays one of the multiple suitors in this Jane Austen biopic. Inspired by the author's letters to her sister and her niece, the film is about how she decided to remain single. Tom is a love interest to Austen's niece, Fanny. After watching it, you're bound to bemoan Hiddleston hasn't done more romantic period drama.

8. Return to Cranford (2010)
Speaking of romantic period drama… You'll find it hard not to gush over Hiddleston's William Buxton, one of the protagonists of Return to Cranford. William is a forward-looking young man who argues for the use of the new railway line that's just been installed in the town. It's all about embracing the industrial revolution and technology and progress and stuff. But really more importantly, he has a beautifully sweet star-crossed romance with Peggy that'll definitely make you swoon.
9. Wallander (2008)
Let's say we put together Kenneth Branagh and Scandidrama; what could possibly go wrong? Absolutely nothing, that is. Hiddleston is hilarious as the sarky Magnus Martinsson, a colleague of the detective Wallander in the TV series of the same name. We haven't seen Tom really do humour since, so it's a real treat to watch him here.
10. Midnight in Paris (2011)
We're just as astounded as Owen Wilson, when, in Midnight in Paris, he meets the author Scott F. Fitzgerald at a party. (Cole Porter is also there playing the piano. It's that kind of party.) Woody Allen's flick only came out shortly after the first Thor film, and so Hiddleston wasn't that recognisable then. It's a lovely surprise to find him there as the famed American writer.

Watch 100 of movies on demand with Virgin Movies. To watch, press Home on your Virgin remote, then On Demand > Movies.