But who is behind this new heartfelt comedy? Step forward Taika Waititi, NZ's favourite writer/director who's set to take Hollywood by storm with the upcoming Thor: Ragnorok. Before he becomes the next big thing, we got our resident expert The Explainer to fill you in on all things Waititi: think of it like crib notes, but for the film industry.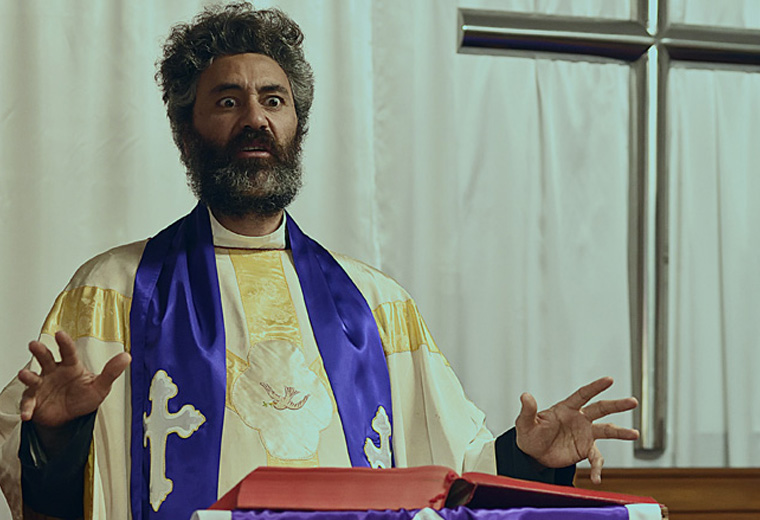 Hi there Explainer.
G'day reader.
Ah, that's a clue to today's subject is it? An Australian?
Nice try but actually - no. He's a New Zealander, and someone who's big news in the movie business.
Is it Peter…?
No it's not Peter Jackson. It's Taika Waititi, the actor and film director whose new comedy-drama, Hunt For The Wilderpeople, has broken box office records in New Zealand.
The Wilderwhat?
People. It's about a city kid and a grumpy old bloke - played by Sam Neill - who call themselves 'wilderpeople' when they go out in the bush and then become the subjects of a nationwide manhunt. It's really sweet and funny and it's out here soon.
So is this what-his-name's first film?
Far from it. He was Oscar-nominated for his short film called Two Cars, One Night in 2004. He made a quirky comedy in 2007 called Eagle vs Shark, starring Jemaine Clement, then a film in 2010 called Boy, which became a hit in New Zealand. He then reteamed with Clement: the pair co-directed the mockumentary-horror What We Do In The Shadows in 2014, and they both starred in it too, as a pair of house-sharing vampires being featured on a reality TV show.
Jemaine Clement, that's the guy from Flight Of The Conchords isn't it?
Well done, the very same. Taika and Jemaine used to be a comedy duo called The Humourbeasts, so they're good chums. Incidentally, Flight Of The Conchords is widely credited with introducing the Brits to the Kiwi sense of humour. Wilderpeople has a similar flavour, albeit more family friendly, and it also features Conchords' Rhys Darby as a character called Psycho Sam.
So Taika is big in New Zealand?
Yup, he's a household name - the rest of the world is starting to cotton on. He's got over 84K followers on Twitter.
Right… I'm starting to feel a bit late to the party.
Better late than never - he's going to be even bigger news soon. Marvel have also signed him up to make the next Thor film, Thor: Ragnarok, which he's shooting in Australia at the moment.
Wow that's a bit of a leap up the ladder for an indie director from NZ. Then again, the other two Thors were quite funny weren't they…
They were, and Waititi sounds like the man for the job. He has a flair for blending action with character humour and drama: Wilderpeople has car chases and suspenseful scenes as well as comedy. Of course, Chris Hemsworth and Tom Hiddleston are already terrific together in the Marvel films, but there's a chance Waititi could bring a more heart and humour to the equation.
Has he said anything about what the new Thor film is going to
be like?
He released a teaser clip that premiered at the San Diego Comic Con in July. It's a witty mockumentary-style sketch featuring Hemsworth as a very bored Thor who's now flat-sharing with an ordinary Aussie and waiting for Tony Stark and Captain America to call (that's a reference to his absence in the recent Captain America movie, but I'm sure you got that).
Yep, got it (*googles furiously*). So this teaser is a good idea of Waititi's style then?
Definitely - it's like a cross between What We Do In The Shadows and The Office, and although Hemsworth's semi-English accent seems to be reaching new levels of parody it has lots of in-jokes and clues for fans of the Marvel Universe.
If I watch this Wilderpeople film, and let's just say I became a bit obsessed with Taikia Waititi, where would I find out more information?
You can follow him on Twitter on @TaikaWaititi- he's good value and gives comical answers to random tweets fans throw at him. Example: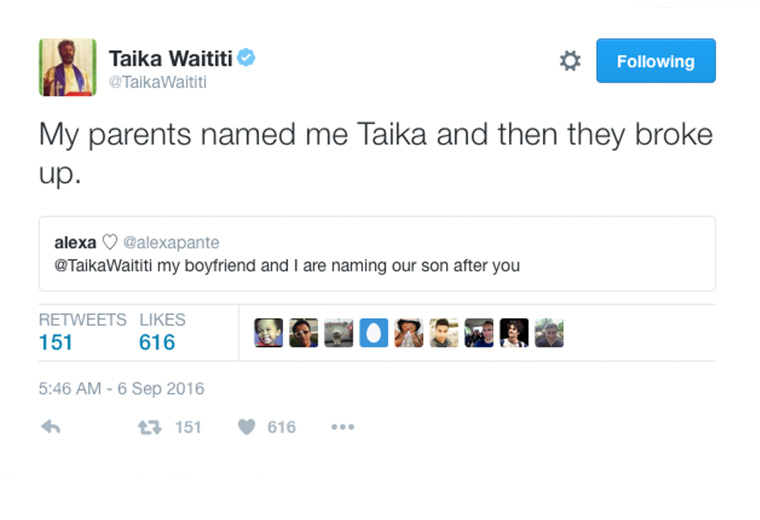 Haha, OK, I'm getting the measure of this guy. I'll look out for him. Thanks Explainer.
Thank YOU.
Hunt For The Wilderpeople is in cinemas September 16th. What We Do In The Shadows is available to watch now on Netflix.