As Captain James T. Kirk, Chris Pine walks a very fine line in the rebooted Star Trek franchise. While never opting for the easy route of caricature, he nonetheless frequently appears to be channelling William Shatner in the role, to the point where die-hard fans of the original series actively embraced Pine in the part. It's a brilliantly observed performance that perfectly captures the spirit of the character and Pine is clearly enjoying himself enormously, frequently slipping in a gesture or line delivery that is pure Shatner.
Star Trek Beyond is available now in On Demand > Movies > Virgin Movies
2. Cate Blanchett as Katharine Hepburn – The Aviator (2004)
Cate Blanchett won a well-deserved Best Supporting Actress Oscar for her note-perfect impersonation of Hollywood Great Katharine Hepburn in The Aviator, Martin Scorsese's biopic of legendary director, aviator and womaniser Howard Hughes. Blanchett beautifully captures Hepburn's movement and gestures, as well as her distinctive speech – she even nails Hepburn's casual laughter, most notably in the delightful golf course scene, where she gives Hughes a spot of coaching: "Follow-through is everything in golf, just like life, ha ha ha! Don't you find?"
3. Christian Slater doing Jack Nicholson – Heathers (1988)
It's remarkable that Christian Slater was allowed to get away with such a blatant Jack Nicholson impression in Michael Lehmann's jet-black teen comedy Heathers. For the entirety of his performance as high school rebel J.D., Slater adopts Nicholson's distinctive drawl and cooler-than-cool attitude, with glorious results, nabbing a large proportion of the film's quotable lines in the process. One hopes Nicholson himself was suitably flattered.
4. Steve Coogan and Rob Brydon as Michael Caine and others – The Trip (2010)
During Michael Winterbottom's often excruciating not-quite-real-life-but-might-as-well-be comedy The Trip (which received a theatrical release in the U.S.), Steve Coogan and Rob Brydon, playing lightly fictionalised versions of themselves, attempt to out-do and humiliate each other with a series of hilarious impressions, beginning with various Bonds (including a pair of note-perfect Roger Moores) and ending with Liam Neeson, each critiquing the other's performance as they do so.
5. Robin Williams doing Marlon Brando and John Wayne – Dead Poets Society (1989)
Robin Williams was a gifted impressionist, both in his stand-up work and various movies – he even has the Genie do a few quick-fire impersonations in Aladdin. That ability was put to brilliant use in Peter Weir's Dead Poets Society, when Williams, as English teacher John Keating, inspires his students during a Shakespeare class by imitating Marlon Brando as Julius Caesar (note his comedic mispronunciation of "ears") and then imagining John Wayne playing Macbeth ("Well, is this a dagger I see before me?") O captain, my captain, indeed.
6. Dave Franco (and others) do Robert De Niro – Bad Neighbours (2014)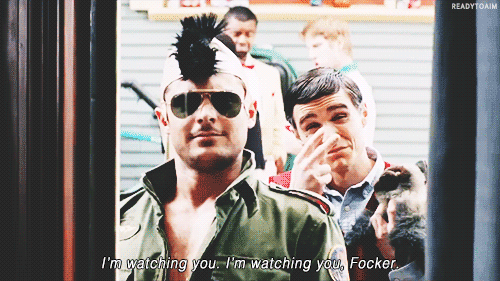 One of the many comic highlights of 2014 comedy Bad Neighbours occurs when Zac Efron and his Delta Psi Beta fraternity buddies decide to throw a Robert De Niro party. The sequence gets most of its laughs from neighbours Seth Rogen and Rose Byrne getting frustrated at the inaccuracy of the impressions, but co-star Dave Franco quietly steals the scene with a hilarious impression of "Meet the Parents De Niro", nailing all the lines ("You're upsetting Jinxy Cat!") and pulling a very funny De Niro face throughout.
Bad Neighbours is available now on Virgin Movies
7. Tony Curtis doing Cary Grant – Some Like It Hot
One of the most famous examples of an actor impersonating another actor occurs in Billy Wilder's classic comedy Some Like It Hot, when Tony Curtis' saxophone player Joe attempts to woo Marilyn Monroe's singer Sugar Kane by posing as millionaire "Shell Oil Jnr", who just happens to speak exactly like Cary Grant. The impression is capped off perfectly when an exasperated Jack Lemmon berates Curtis by exclaiming (also in the Cary Grant voice), "Nobody talks like that!" Of course, the film is set before the advent of the talkies, so where "Joe" learned to talk like Cary Grant is anybody's guess...
8. Bill Murray doing Richard Burton – Scrooged (1988)
Bill Murray isn't exactly known for his impressions, which makes his out-of-the-blue and frankly rather bizarre impersonation of Richard Burton all the more surreal and unusual. It occurs during Scrooged, when Murray's grumpy TV exec Frank Cross is accosted by three homeless people, who mistake him for Richard Burton ("Dick!") and demand that he perform a couple of lines from Hamlet. Murray eventually capitulates and the result is, well, it's unique, let's put it that way.
9. Tom Cruise doing Jack Nicholson – A Few Good Men (1992)
Several of the impressions on this list are given extra layers of complexity by the fact that they are actually actors playing characters who are doing impersonations. A perfect example of this occurs during A Few Good Men, where in the context of the film, hotshot lawyer Lt. Daniel Kaffee is doing an impersonation of bullish Colonel Nathan Jessup ("He eats breakfast 300 yards away from 4000 Cubans that are trained to kill him!") but to a gleeful audience, it's clearly Tom Cruise doing a Jack Nicholson impression.