Calvin is now married and working as an accountant, but he's bored, dissatisfied and missing his glory days as the coolest guy in high school. Bob desperately needs Calvin's accounting skills to crack the case he is working on, but cautious Calvin freaks out at the first whiff of danger.
Reluctantly, Calvin agrees to help Bob and before he knows it he's up to his neck, dodging bullets, throwing punches and jumping out of windows. The unlikely duo embarks on a hair-raising adventure, but can they get their act together enough to stay alive and save the day?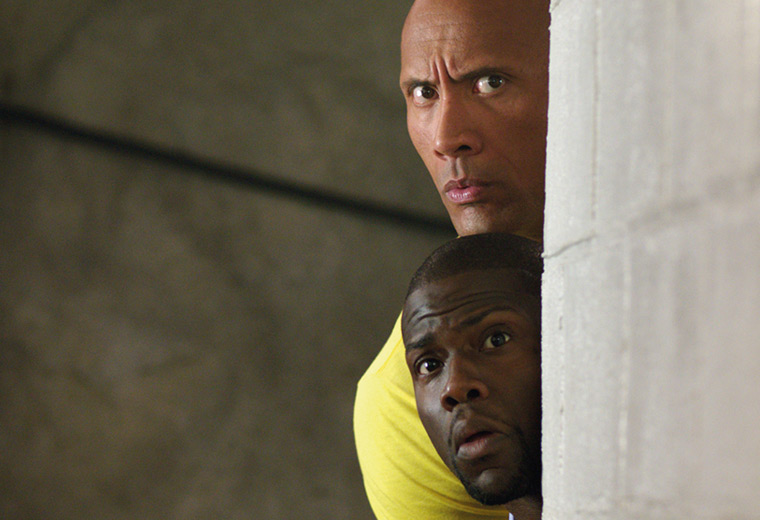 What do we think?
Dwayne Johnson and Kevin Hart are perfect as the mismatched buddies at the heart of this film, it truly is a beautiful bromance. The success of the whole film rests on the chemistry between the two leads and fortunately Johnson and Hart are a winning combo, with Hart's uptight jittery accountant the perfect straight man, allowing Johnson to flex his comedic muscles.
Alongside Johnson and Hart, the supporting cast features Amy Ryan, Jason Bateman and Aaron "Breaking Bad" Paul, making for a cracking line-up of top talent.
Director Rawson Marshall Thurber has a knack for hit comedies, having previously directed Dodgeball: A True Underdog Story and We're the Millers. Not only is Central Intelligence funny, it's action-packed too, pulling off that tricky balancing act all action comedies strive for.
Central Intelligence is a tongue-in-cheek buddy movie, an odd couple comedy caper - a thoroughly entertaining popcorn movie that delivers both adrenaline-pumping action and plenty of laughs.
Central Intelligence trivia
Kevin Hart won a Teen Choice Award for his performance.
According to Forbes, Dwayne Johnson is the highest paid actor in the world this year, earning $64.5 million during 2016.
Kevin Hart has over 43 million followers on Instagram.
Though Dwayne Johnson is now focusing on acting, his wrestling legacy lives on and his alter ego, The Rock, is one of the all-time greatest wrestlers.
Dwayne Johnson is playing Mitch Buchannon in the forthcoming Baywatch movie, the role made famous by David Hasselhoff in the TV series.