As Dory helped Marlin find Nemo when he went missing, Marlin and Nemo readily agree to assist Dory in her quest and the three of them set off on an epic adventure.
Unfortunately, all does not go according to plan and a Marine Life Institute captures Dory. There she meets a whole host of new friends who give Dory vital clues about her past. It's down to Marlin and Nemo to rescue Dory, and all of her wonderful new friends to help her on her journey to be reunited with her long-lost family.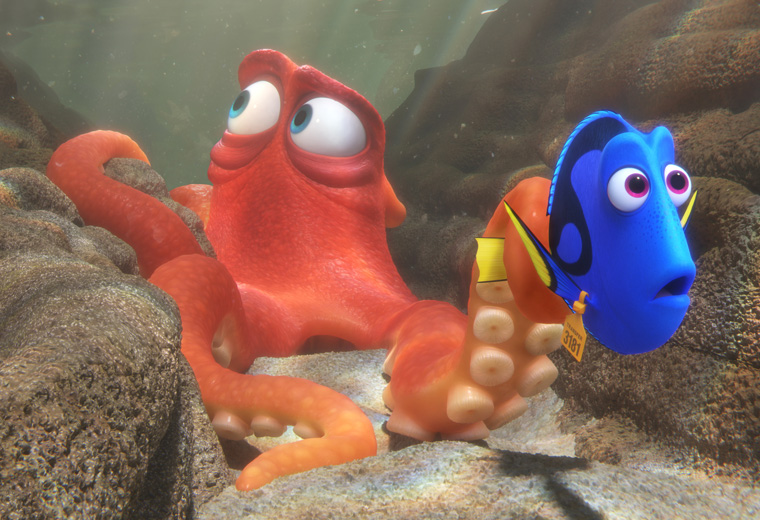 What do we think?
Finding Dory is a totally adorable animation, full of warmth, with a great big heart. It's about family, belonging, courage and friendship. It's a touching and poignant film with important life lessons for children and their grownups.
Finding Dory is also a lot of fun! As with other Pixar films, it finds the perfect balance of funny bits and serious bits. Dory's world is full of quirky characters, bringing lots of humour to the film. As the voice of Dory, Ellen DeGeneres is spot-on, she's irresistibly cute, full of enthusiasm and charm. There are great performances from all the talented voice cast, which includes Albert Brooks as Marlin and Hayden Rolence as Nemo, Diane Keaton, Idris Elba and Dominic West.
The animation is impeccable, bringing the colourful, beautiful underwater world to life in minute detail. Director Andrew Stanton has the golden touch having directed Finding Nemo and Wall-E, as well as co-writing many other Pixar hits, including the Toy Story films.
It doesn't matter how old you are, Finding Dory is an irresistible treat to lift the spirits and put a spring in your step.
Finding Dory trivia
Finding Dory grossed over $1 billion worldwide and was the highest grossing animated film opening of all time in North America.
Finding Dory won two Teen Choice awards for Summer Movie and Summer Movie Star for Ellen DeGeneres.
Though there are no definite plans at this stage, director Andrew Stanton has not ruled out the possibility of a sequel.
Ellen DeGeneres spearheaded a campaign for a sequel to Finding Nemo on her talk show.
Dory is the most 'liked' Disney/Pixar character on Facebook, with over 25 million likes.