Dr Erin Gilbert (Kristen Wiig) is a respected Physicist at Columbia University, but her reputation is threatened when a book she published years ago on paranormal phenomenon comes back to haunt her. Furious, she seeks out her co-author and former best friend Dr Abby Yates (Melissa McCarthy), who continues to study the paranormal with her eccentric sidekick Dr Jillian Holtzmann (Kate McKinnon).
When ghostly goings-on start occurring in New York, Erin is reluctantly dragged into Abby and Holtzmann's investigation and before they know it, the three amigos have become media sensations dubbed the 'Ghostbusters'.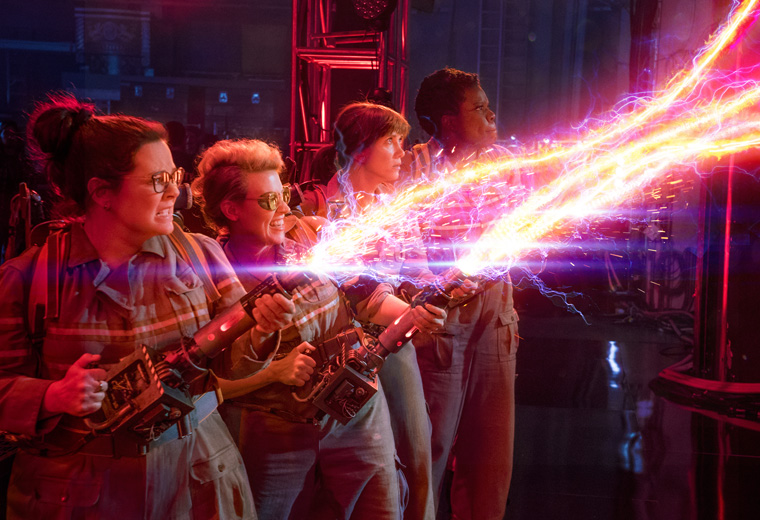 Disgraced at Columbia, Erin rediscovers her love of all things ghostly. The three of them are soon joined by Patty Tolan (Leslie Jones), a sassy New Yorker, who joins the Ghostbusters after coming face-to-face with a particularly mean looking ghost. Now all they need to complete their ghost-busting operation is a receptionist – they recruit Kevin Beckman (Chris Hemsworth) who is completely incompetent but very easy on the eye.
Determined to prove the existence of ghosts once and for all, the Ghostbusters set out to catch themselves a ghost, but they soon find the city overrun with ghosts and must get to the bottom of who is behind it before it's too late…
What do we think?
This Ghostbusters reboot pulls off the almost impossible task of paying tribute to the original film without simply being a rehashed version of it. Its success rests on the ingenious casting and the carefully crafted characters.
Kristen Wiig, Melissa McCarthy, Kate McKinnon and Leslie Jones all play their roles to perfection and the film allows their characters and their friendship to blossom, with a real sense of camaraderie between the women. And these ladies are funny. Their backgrounds in comedy mean they squeeze every drop of humour from the brilliant script peppered with zingy one-liners.
Director Paul Feig has worked the same magic he brought to Bridesmaids, creating a punchy comedy where female comedians take centre stage. Hats off to Chris Hemsworth too, who is a great sport as the dim but pretty secretary, playfully having a dig at traditional gender roles in movies.
There are plenty of affectionate nods to the original Ghostbusters, but this stands alone as a fresh, funny, peppy movie in its own right.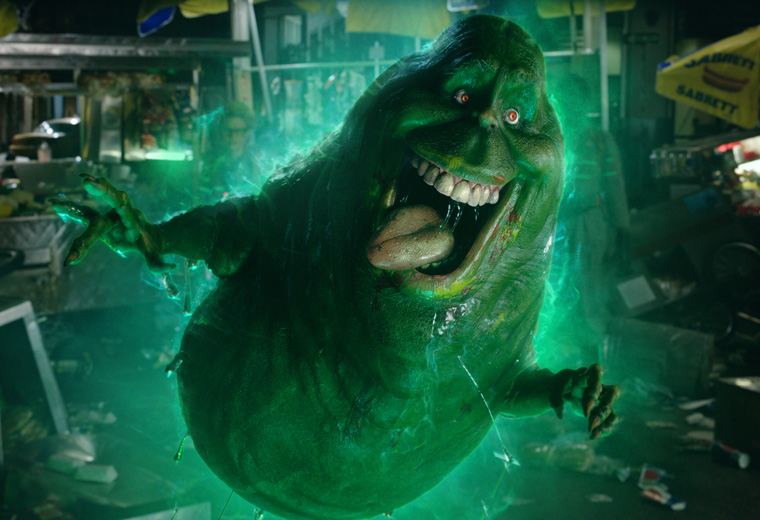 Ghostbusters trivia
For 25 years there had been rumours of a Ghostbusters sequel with the original cast, but it was beset with problems and eventually scrapped, so director Paul Feig pitched a reboot instead.
Keep your eyes peeled – many of the original cast of Ghostbusters make cameo appearances.
Harold Ramis who played Egon in the original Ghostbusters films, died in 2014. The new film is dedicated to him and a bust of him can be seen in Columbia University near the start of the film.
Emma Stone, Jennifer Lawrence, Rebel Wilson, Anna Faris, Alyssa Milano, and Eliza Dushku were all said to be considered for roles.
Rent Ghostbusters (2016) on Virgin Movies to be entered into a draw for a chance to win A Ghostbusters-themed Family weekend in London! Hit the button to find out more