Sweetie Darling! Patsy and Eddy are back, and as usual, they're up to no good. In Absolutely Fabulous: The Movie we see our two favourite leading ladies attempt to get Edina's PR firm afloat, with disastrous consequences (sorry, Kate Moss). Of course, to reflect the two characters' super-glamorous aspirations, the show had to bring in lots and lots of celebrity cameos - and by lots, we mean over SIXTY. Yup, no kidding. With the film sashaying onto Sky Cinema from Friday 26th May, you can now spot them yourself! And to help you, here's an extensive list of who to expect: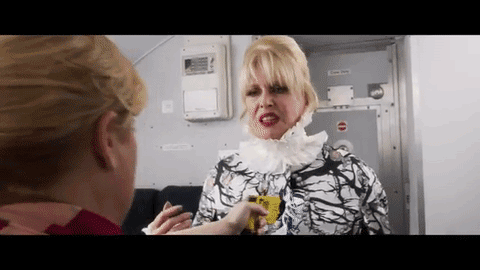 The Australian actress, known for her brilliant comic roles, turns up as a flight attendant with a penchant for tasers.
2. Lulu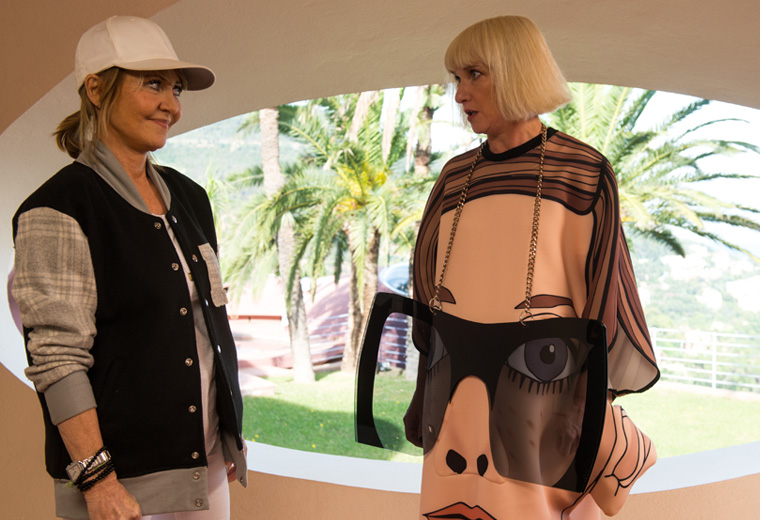 Singer Lulu has appeared on Absolutely Fabulous (the show) numerous times as Eddy's client. You'll see her a lot in the film, usually utterly exasperated by her publicity manager. Make sure you especially look out for her amazing outfit when she bumps into Eddy's assistant Bubbles in the South of France.

3. Abbey Clancy
You'll see TV presenter and catwalk model Abbey Clancy as a guest of Patsy's big fashion event.

4. Joan Collins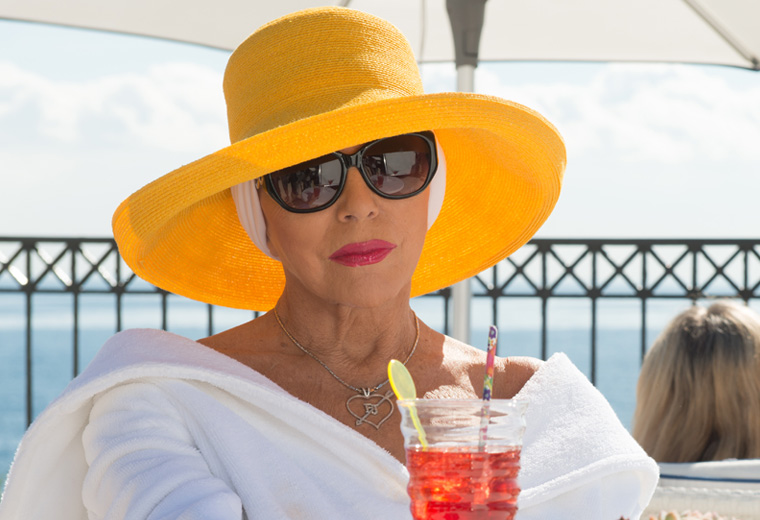 The legendary actress Joan Collins appears poolside during Eddy and Patsy's getaway to the South of France.
5. Sadie Frost
Actress and fashion designer Sadie Frost also spent a few days on the set.
6. Emma Bunton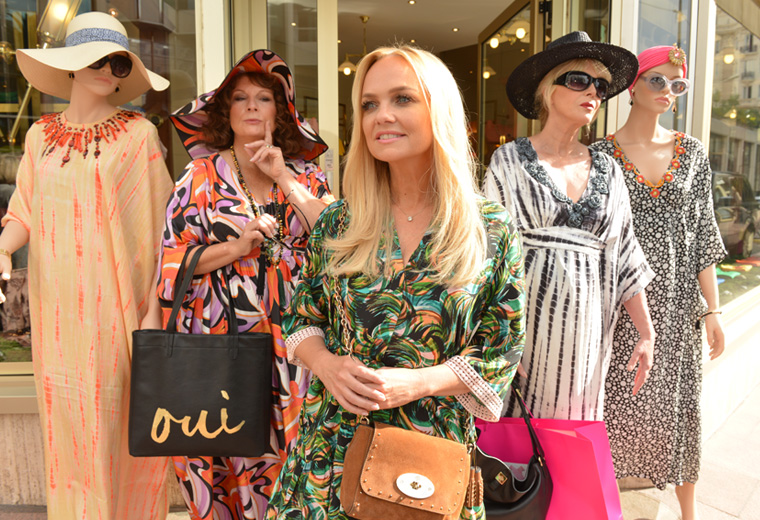 Much like Lulu, former Spice Girl Emma Bunton has appeared on Absolutely Fabulous many, many times during its run as a TV show as one of Eddy's clients. You'll see her here on a shopping trip with the troublesome two and generally getting exasperated by their antics.
7. Sophie Raworth
Journalist and broadcaster Sophie Raworth takes part to announce the maybe-death of Kate Moss on the news.
8. Stella McCartney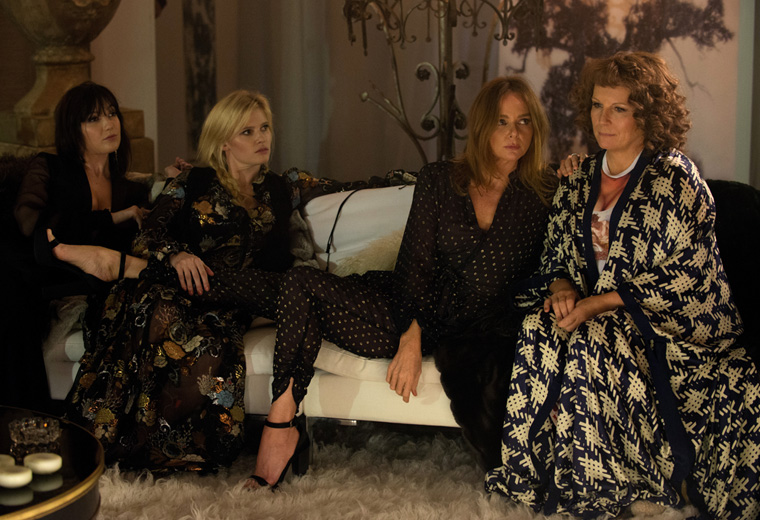 Spot Stella McCartney trying to console Eddy in an amazing outfit. That's a dream sequence. In real life, the designer just hates poor Eddy.
9. Rylan Clark-Neal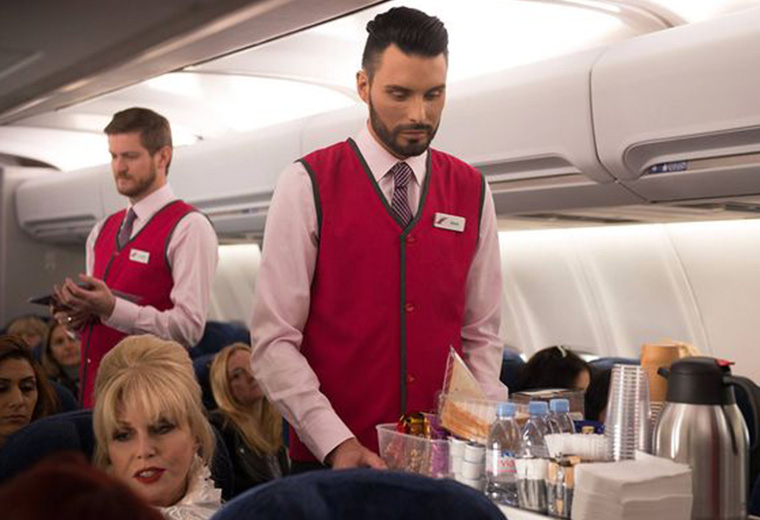 The reality TV star plays a flight attendant alongside Rebel Wilson.
10. Jon Hamm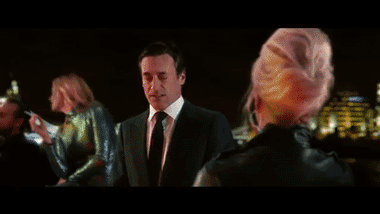 We simply love Jon Hamm's cameo - his interaction with Patsy is just pure comedy gold.
11. Jodie Harsh
DJ Jodie Harsh makes a brief appearance in the film.
12. Judith Chalmers
You'll also be able to spot Wish You Were Here…? presenter Judith Chalmers.
13. Camilla Rutherford
Actress-model Camilla Rutherford also decided to get in on the Absolutely Fabulous party.
14. Alesha Dixon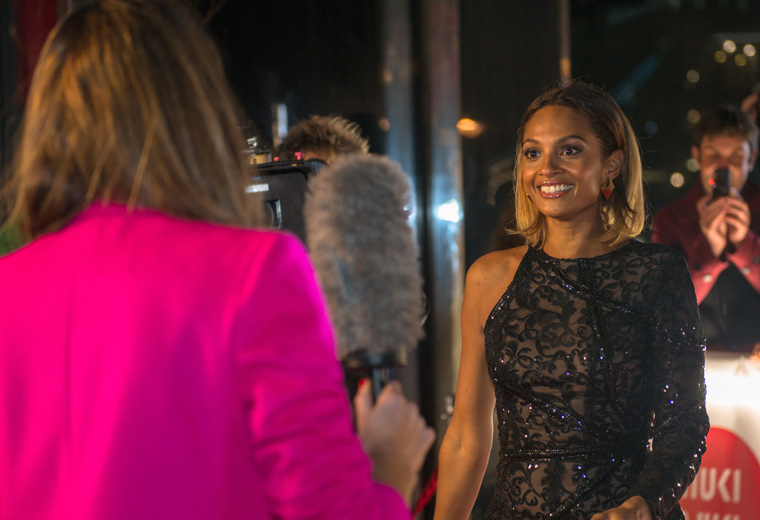 You can see singer Alesha Dixon during the film's red carpet scene, where she gets interviewed.
15. Alex Jones
One Show presenter Alex Jones also makes a turn during the film.
16, 17, 18 & 19. Alexa Chung, Lily Cole, Jourdan Dunn & Suki Waterhouse
The four models can be seen hanging out together in this dream sequence. And Jourdan Dunn gives a moving interview after the disappearance of Kate Moss.
20. La Roux
The magnetic synthpop duo Elly Jackson and Ben Langmaid were also asked to contribute to Absolutely Fabulous' celebrity count. You can see Elly singing on stage during Patsy's big do.
21 & 22. La Voix and Charlie Hides
Legendary drag queens La Voix and Charlie Hides spent a day on set.
23. Richard Arnold
Suitably, the Absolutely Fabulous crew also entertained entertainment journalist Richard Arnold. You can see him interviewing celebrities on the red carpet.
24. Robert Webb
Actor Robert Webb appears as Saffy's very earnest and awkward boyfriend.
25. Marcia Warren
Classic film/stage/TV actress Marcia Warren plays The Richest Woman in the World and Patsy's bride-to-be.
26. Wanda Ventham
The actress, who starred in Only Fools and Horses and UFOs joins Patsy and Eddy in their quest for ultimate glamour. And, oh, she's also Benedict Cumberbatch's mum. Just FYI.
27. Mark Gatiss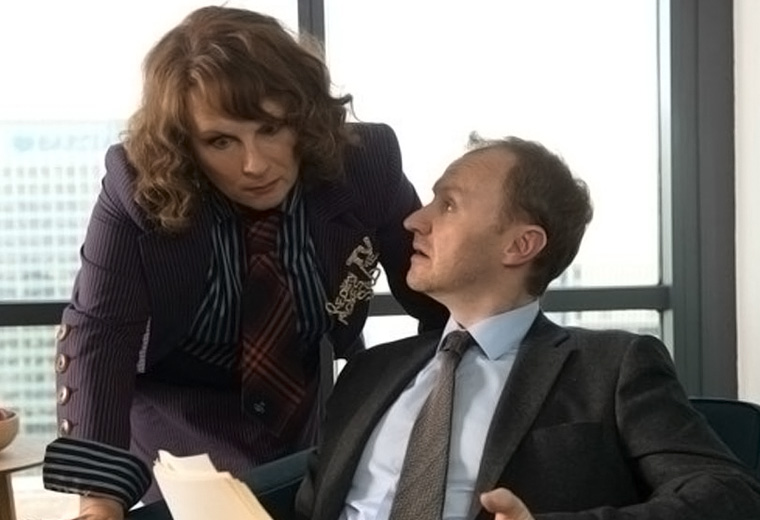 Speaking of all things Sherlock, its star and co-creator Mark Gatiss turns up as a publisher bigwig. He rejects Eddy's book proposal because it is well, terrible. And mostly says 'blah-blah'. Sorry Eddy, you can't have that advance.
28. Anya Hindmarch
Fashion creatives are well represented among the cameos, not least thanks to the contribution of accessories designer Anya Hindmarch.
29. Barry Humphries aka Dame Edna Everage
Barry Humphries' persona Dame Edna Everage is a guest in the South of France resort in which Eddy and Patsy hide away. Make sure you find her chilling in the pool (though admittedly she doesn't look too enthused). Barry Humphries also plays Charlie, Patsy's ex-lover and billionaire.
30. Beattie Edmondson
A star of TV sitcom Josh, and the daughter of Jennifer Saunders (aka Eddy), Beattie Edmonson also has a small role in the Ab Fab movie.
31. Kate Moss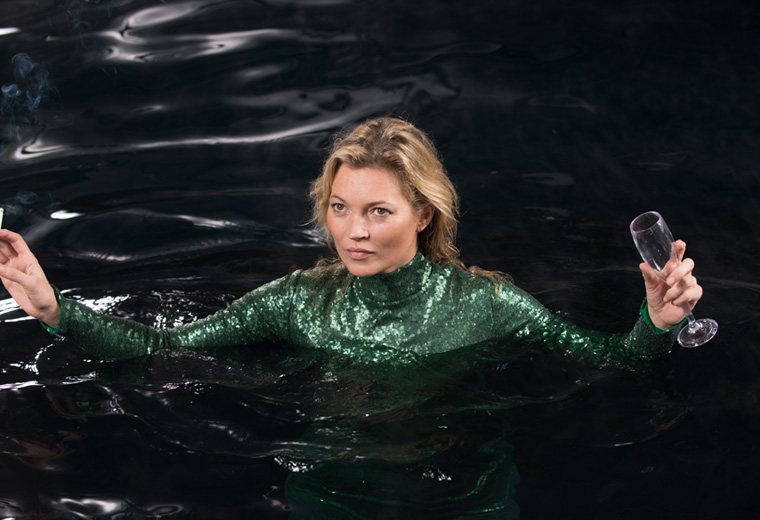 The model is pretty much what the film's plot is all about, so we'll say that her cameo is really pretty amazing.
32. Kathy Lette
There's also a prompt appearance by best-selling author Kathy Lette. She's the author of Puberty Blues and How to Kill Your Husband (and Other Handy Household tips) and we can definitely imagine Patsy or Eddy perusing one of her novels (if they took the time to read).
33. Kelly Hoppen
Interior designer and Dragon's Den 'Dragon' Kelly Hoppen turns up briefly in the film, tying back to a plot point from one of the Absolutely Fabulous specials. In the episode, it is claimed that Eddy and her friend Bettina were interned for a day at Broadmoor for stabbing poor Kelly with a glass shard during the Designer Awards.
34. Kirsty Wark
Newsnight's Kirsty Wark also turns up in Patty and Eddy's world, interviewing the above-mentioned Kelly Hoppen.
35. Brix Smith
The Ab Fab film is also graced with the presence of singer and fashionista Brix Smith.
36. Bruno Tonioli
Eddy bumps into Bruno Tonioli, one of Strictly Come Dancing's legendary judges, at Patsy's party.
37. Jean-Paul Gaultier
Fashion Emperor Jean-Paul Gaultier makes his second appearance in the Absolutely Fabulous universe here. The designer had played himself in an episode of the show in 2001, attending a baby fashion shoot. (It's a long story). In the movie he parties it up with Kate Moss during her mysterious disappearance (which, as it turns out, is not so mysterious after all).
38. Janette Tough
Actress Janette Tough here plays the fashion designer Huki Muki, a Scottish woman with a sort-of-Japanese aesthetic.
39. Jeremy Paxman
The former Newsnight journalist is only on screen for a few seconds, but he manages to deliver a biting criticism of celebrity culture in just a sentence. Let no one say that Ab Fab is just empty laughs!
40. Jerry Hall
Model Jerry Hall is briefly visible on the red carpet of Patsy's big fashion event, being interviewed by Richard Arnold and in the process giving a long speech about her love for all things Chanel. It's definitely one of the highlights of the film.
41. Chris Colfer
Glee actor and author Chris Colfer has quite a bit of screen time as Christopher, Eddy's stylist. Among other things the character helps his client's daughter, Saffy, track her down after she runs away to the South of France.
42. Christopher Biggins
We also get to see actor and presenter Christopher Biggins appear alongside Patsy and Edina.
43 & 44. Daisy Lowe & Lara Stone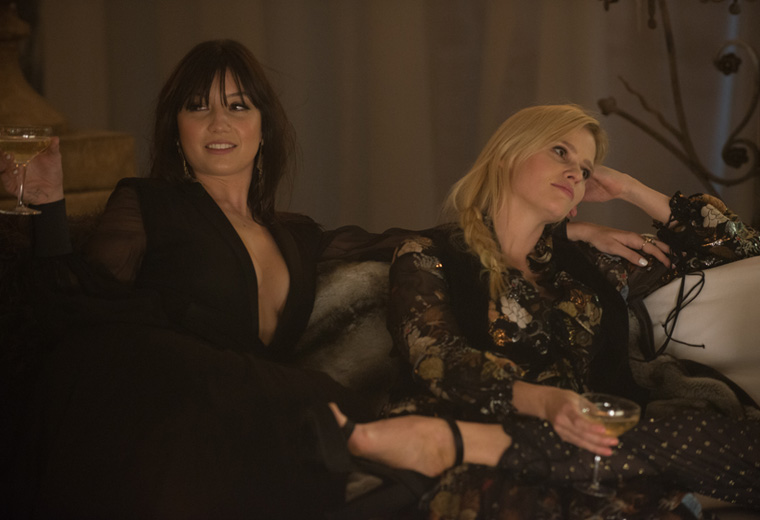 Models Daisy Lowe and Lara Stone look cosy lounging around on a sofa during their screen time. They're all part that same dream sequence.
45. Ozwald Boateng
Ozwald Boateng joins the long list of illustrious fashion designers that appear in the film.
46. Pam Hogg
And so does Pam Hogg!
47. Suzy Menkes
The fashion columnist gets right to the dramatic as she exclaims 'Fashion is Dead!'.
48. Tinie Tempah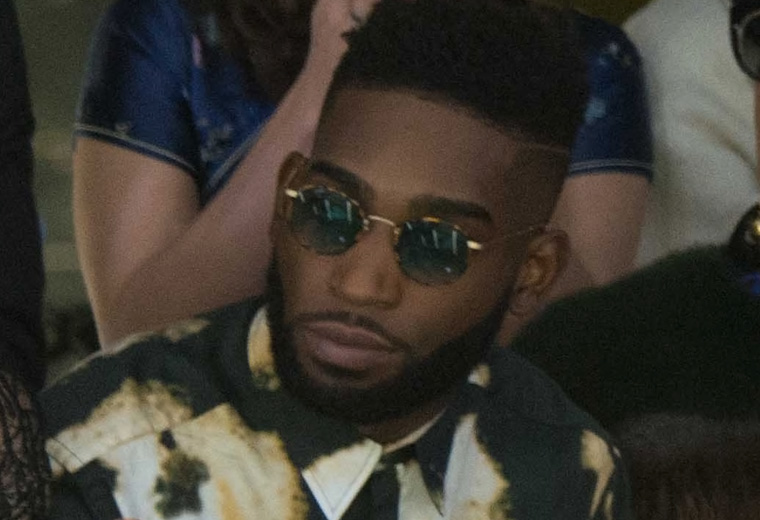 Rapper Tinie Tempah simply couldn't miss out on the Ab Fab fun. He shows up right at the beginning of the film as a spectator of a runway model show.
49. Perez Hilton
Let's face it - gossip columnist extraordinaire Perez Hilton kinda had to be in this film. He's only very briefly on screen, so make sure you pay attention about 20 minutes in.
50. Poppy Delevingne
Poppy Delevigne, a model (and Cara's older sister) turns up as one of the guests of Patsy's epic fashion show.
51. Alice Dellal
The model is also one of the attendees of Patsy's party.
52. Daniel Lismore
Daniel Lismore (aka the UK's most flamboyant dresser) is there in all of his drag glory… and it's simply glorious.
53. Dawn French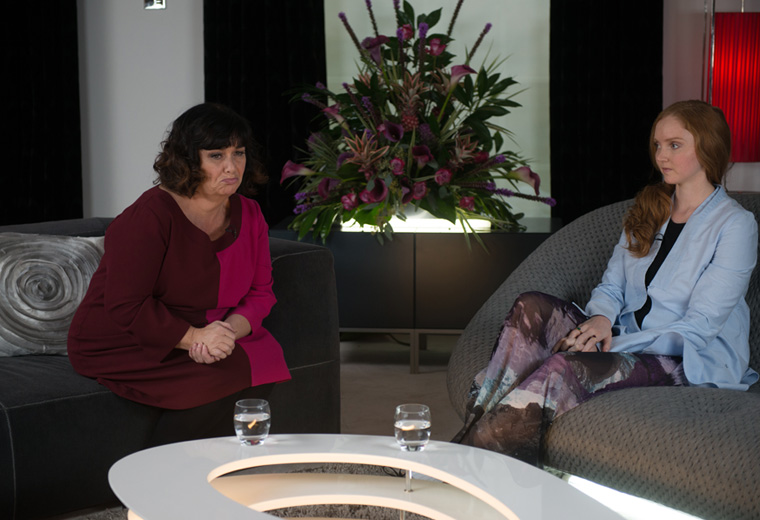 As a co-creator of the Absolutely Fabulous world, a Dawn French cameo was an absolute given.
54. Ella Eyre
Singer-songwriter Ella Eyre is another of the partygoers at Patsy's big do.
55. Nick Grimshaw
We can easily imagine Patsy and Eddy listening to Nick Grimshaw's Radio 1 Breakfast Show - if only they were ever awake at the time it airs. Don't miss him in Eddy's dream sequence.
56. Nick Mohammed
Comedian Nick Mohammed plays Patsy's long-haired party planner, and he's got all of her eccentric food and cocktail requests covered.
57. Orla Guerin
BBC foreign correspondent Orla Guerin joins the big-name journalists on the cameo list. She reports on Kate Moss's disappearance right from the field.
58. Graham Norton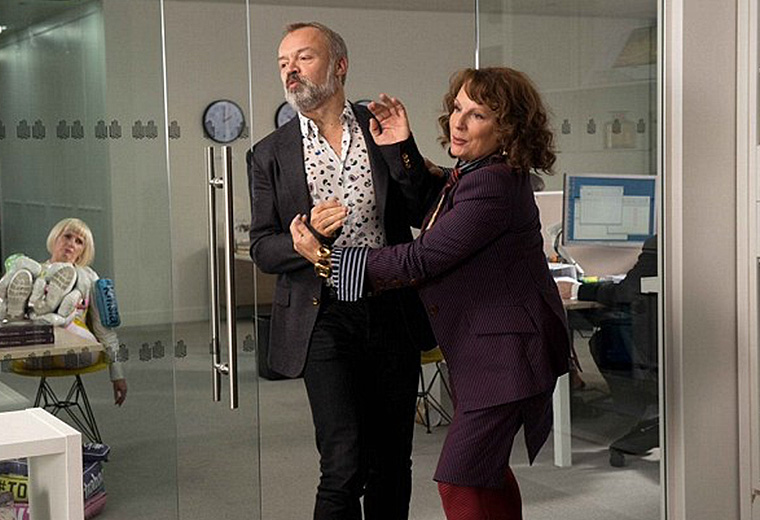 Graham Norton turns up during Eddy's publishing meeting, and she makes a last-ditch attempt to sell her idea to her very sceptical editor by trying to get the TV host to vouch for her. Knowing Eddy, you already know how it goes down.
59. Giles Deacon
On a similar note, Eddy tries to hug Giles at the end of his runway show. Let's just say that it doesn't go well.
60. Gwendoline Christie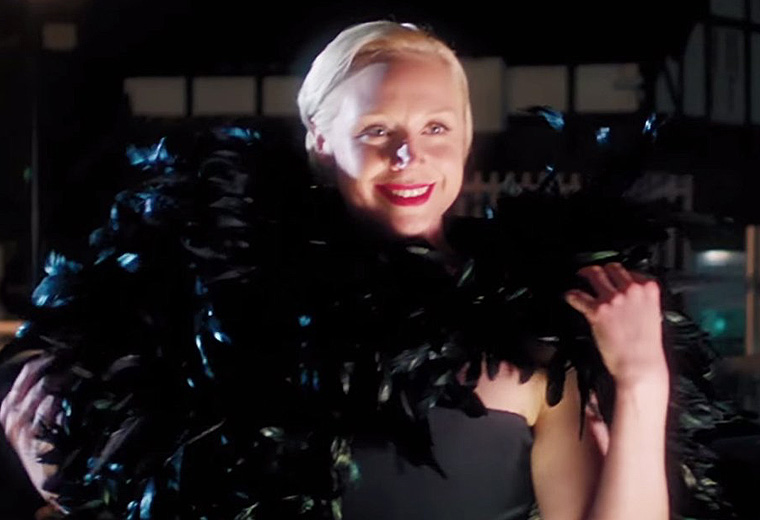 Eddy kinda sits on the Star Wars: The Force Awakens actress in the first scene of the film, and it kind of all goes downhill from there. We've got to say though, Christie plays the mean fashionista to a tee.
61. Jade Parfitt
Isn't Patsy's party brim-full of famous faces? Jade Parfitt is another of the attendees.
62. Jamie Laing
And so is Made in Chelsea star Jamie Laing.
63. Foxes
And there's also Foxes, the singer.
If you've made it this far, we congratulate you, sweetie darling!