Tis the season to get a duvet, light-up festive jumper, a bucket of Celebrations and decamp to the sofa for a Christmas movie marathon. Along the way you're guaranteed to see all manner of beardy, magical OAPs as Santa Claus pops up to spread cinematic joy to children all around the world. Or, at least, he should in theory.
Office Christmas Party, which hits cinemas this week, is a glowing example of how just because someone's wearing a red furry outfit, doesn't mean they're particularly worthy of the Saint before the Nick.
Join us as we run through the Best and Worst movie Santas of all time…
Best - Arthur Christmas (2011)
Aardman Animation's under-appreciated Christmas CGI adventure positions a family of Santas - and every one's a winner. Hunky Santa Steve, Derpy Santa Arthur, OAP Santa Grandad, and Classic Santa, erm, Santa.
Worst - Bad Santa (2003)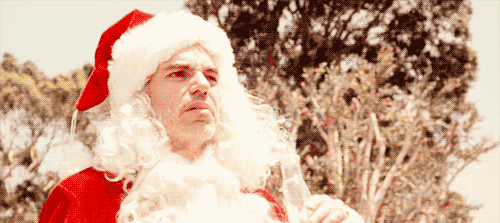 If the title didn't give it away, Billy Bob Thornton plays an alcoholic, womanising, criminal mall Santa in this classic R-rated comedy. Jolly, he is not.
Best - Miracle On 34th Street (1947 and 1994)
They don't come much more classic, archetypal or downright adorable as the Santa Clauses (Clausi?) who stand in as a department store's Santa, and are - through circumstances just a little too ludicrous to go into in-depth - argued in a court of law to be the one, true Father Christmas.
Richard Attenborough played Kris Kringle in the 94 reimagining, while Edmund Gween portrayed him in the 47 original. Both are marvellously twinkly eyed and preposterously huggable.
Worst - Rare Exports (2010)
2010's Finnish horror is completely ridiculous and completely addictive viewing. Based on the brilliantly barmy Scandi urban legend that Santa is in fact a demonic child-snatching (and eating!) monster-man, it takes the B-Movie idea and runs with it. The old man may look the part, but he's really not fussed if you're naughty or nice when it comes to his dinner plans.
Best - The Santa Clause (1994)
Tim Allen's businessman-turned-actual Santa may start off a Platinum-Grade douchebag, but when St. Nick falls off his roof, his character Scott puts on the suit and inadvertently agrees to the titular magical/legal bind that slowly transforms him into the fat, beardy and compassionate stereotype beloved by kids all over the world.
Worst - Santa With Muscles (1996)
There is a reason you, we, and pretty much the entire planet forgot this movie ever existed. The plot: Hulk Hogan is Blake Thorn, a criminal who decides to dress up as Santa to get away from the police. When he's hit over the head, he develops amnesia, believes himself to be ACTUAL SANTA and then turns into an ass-kicking good guy. Yup.
Best/Worst - Santa Claus Conquers the Martians (1964)
Depending on your love of irony and surreal psychedelica, this 1964 sci-fi - in which Santa is abducted by Martians (motive: adult Martians are annoyed that their child Martians are watching too much Earth TV, so decide to kidnap him to create a false inspirational idol) and proceeds to beat them all up on his mission to escape - is either the best or worst Santa you've ever seen. Completely, unashamedly mad.
Worst - How The Grinch Stole Christmas (2000)
Sure, he's not technically a real Santa, but when The Grinch embarks on a mission to steal Christmas, he straps on a Santa suit, builds a sleigh with his dog and ventures out to steal the gifts and presents of all the Whos in Whoville.
Best - The Nightmare Before Christmas (2003)
Santa mainly plays the role of tubby victim in Henry Selick's 1993 stop-motion classic. But his ineptitude thankfully leads to one of the movie's best song and dance numbers, as the Boogie Man proceeds to capture and torture him through the art of toe-tapping jazz awesomeness.