If you're going to make any impact at all in Hollywood, then you need to dress to impress – and nothing stays in the memory than a sharp, slick suit. Viggo Mortensen rocks a quite improbably fantastic red two-piece in this month's Captain Fantastic, hitting Virgin Movies this week, but he's not alone in bringing some sartorial style to the big screen. Gaze upon these threads and tremble, but never – we repeat: never – look at the price tags.
Viggo Mortensen – Captain Fantastic (2015)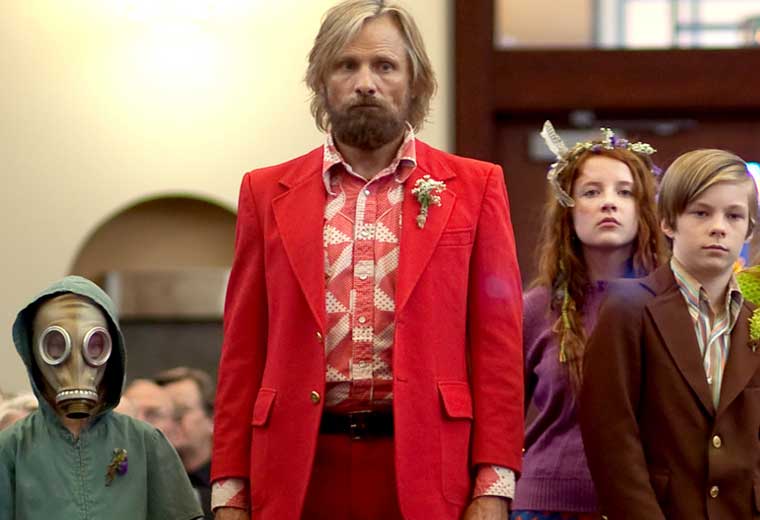 The former Lord Of The Rings actor is better red than dead in this charmingly offbeat comedy about a father of six, rocking a bright scarlet pressed suit to a family funeral. The look is offset with brown brogues and a red patterned floral shirt, behind which there is a story: it's the exact same shirt Mortensen wore in the little-seen 1992 movie Indian Runner, officially making his costume older than most of his co-stars.
Find Captain Fantastic in On Demand > Movies > Virgin Movies
Jon Heder – Napoleon Dynamite (2004)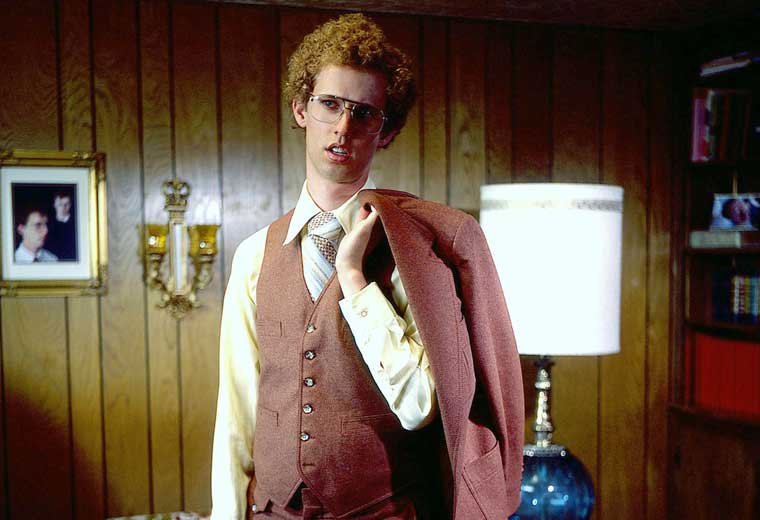 Gosh. Who'd have thought Idaho no-hoper Napoleon Dynamite could pull such a fantastic look out of the bag? The brown three-piece and mustard shirt that Napoleon dons for the prom is a quite incredible piece of tailoring, ruined only slightly by Jon Heder's gormless face peeking out the top. The flared trousers are perfect for anyone who wants to cut some rug, perhaps to the sounds of Jamiroquai.
Steve McQueen – The Thomas Crown Affair (1968)
Pierce Brosnan has been known to wear a suit or twelve in his time, including in The Thomas Crown Affair remake, but even he isn't fit to touch the hem of Steve McQueen, the original don of Hollywood fashion. McQueen's wardrobe was provided by Savile Row's Doug Hayward, who also dressed Michael Caine in The Italian Job; the most striking of Crown's suits is this grey three-piece matched with light blue shirt. Woof.
Michael Douglas – Wall Street (1987)

When you think of 80s yuppie fashion, you probably conjure up one very specific image: that of Michael Douglas' ruthless trader Gordon Gekko, resplendently decked out in full pin-stripe get up with a big fat stogie in his hand/mouth. The collars might have been ridiculous and that bunch of bankers might have ruined the economy, but damn, Douglas and friends made greed look good.
Jim Carrey and Jeff Daniels – Dumb & Dumber (1994)

If you really want to make an impression at a social event or gathering, veer away from the usual male colour palettes of black/grey/brown – just be careful you don't take it too far. Dimwits Harry and Lloyd somehow manage to pull off the look of the century, however, by rocking up to a charity gala wearing bright orange and pale blue tuxedos, a unique look which says "I am either insane or disgustingly rich". Do not attempt if you're neither.
Christian Bale – American Psycho (2000)

Taking that Wall Street look and adding a splash of colour (say, a dash of red), Patrick Bateman really knew how to fill out a good pin-stripe suit. Best matched with braces, sunglasses worn indoors and an expression that reads 'I am a serial killer', the Bateman look is one you can't afford and shouldn't emulate unless you have front-row tickets to see Huey Lewis and the News. In the 80s.
Find American Psycho in On Demand > Movies > Virgin Movies
Robert De Niro – Casino (1995)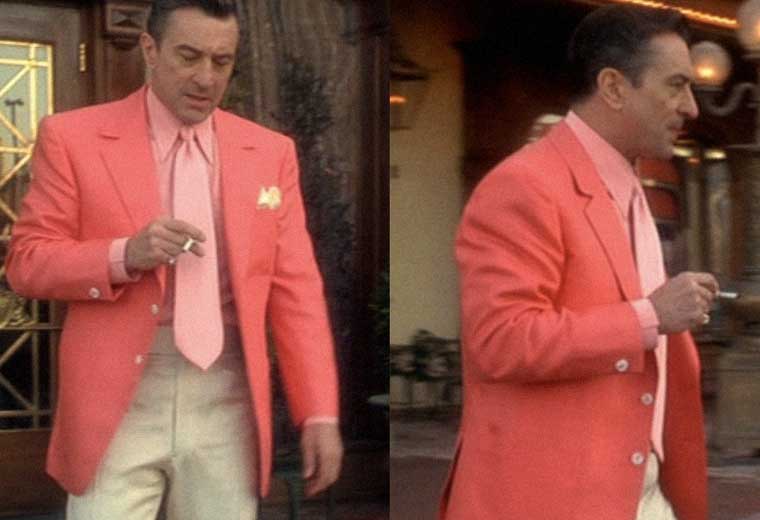 Real gangsters can wear pink – because who's going to tell them they look stupid? De Niro's gangster Sam 'Ace' Rothstein pulls off a quite incredible coup in Martin Scorsese's Casino, managing to make a bright puce two-piece suit look positively manly. The cream trousers set off the look nicely, although they will tend to stain any time Ace has to roll up his sleeves for 'business reasons'.
Sean Connery – Goldfinger (1964)

James Bond never looks less than impeccable, even when man-mountain Daniel Craig is testing every stitch of a Tom Ford three-piece. Every Bond outfit owes a debt to Sean Connery's sartorial style, which goes all the way back to Goldfinger – black, grey or white, there wasn't a single kind of tux he couldn't pull off. If we attempted a white tux at an event, it'd have chicken wing stains on it in mere minutes. Who knows, maybe that's what the red carnation is covering up?
Ryan Gosling – Crazy, Stupid, Love. (2011)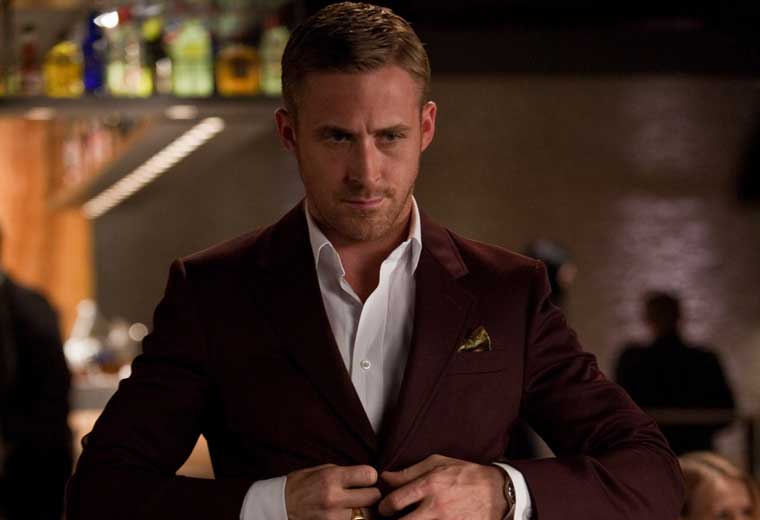 Of course, it helps when you're as good-looking as Ryan Gosling, but the man manages to make wearing a suit look like an art-form in this under-appreciated romantic comedy. As a chat-up expert well-versed in the art of seduction, Gosling's look has to be sharp, and you could practically cut yourself on the lapels of the suits he wears. Still, they'd look better on your bedroom floor, right girls? Girls?
Find Crazy, Stupid, Love. in On Demand > Movies > Virgin Movies
Batman – The Dark Knight (2008)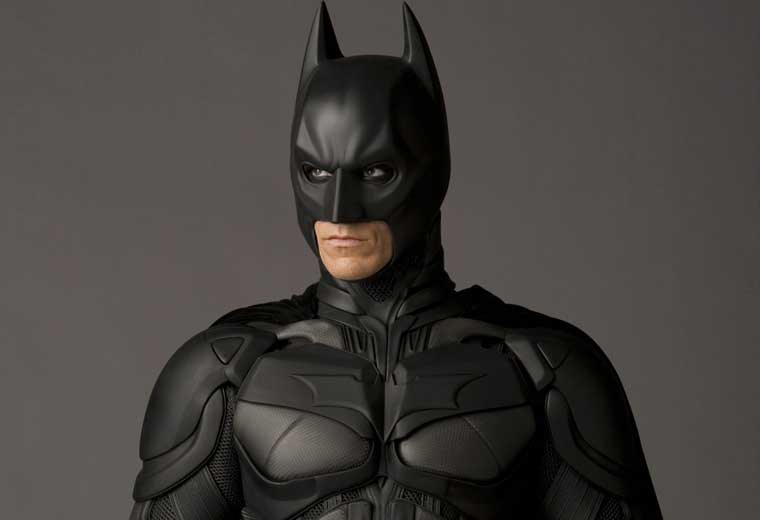 Bruce Wayne knows his way around a nicely tailored suit (as he should, he can afford to) but he's got nothing on suits compared to his crime-fighting alter-ego. The Bat-suit comes equipped with kevlar body armour and all manner of cool gadgets, striking fear into the eyes of his opponents. Its only fault is that early models lacked the appropriate flaps for toilet access, leading to a few very dark nights indeed.
Find The Dark Knight in On Demand > Movies > Virgin Movies