Are you ready for dodgy crematorium owners, fake paramedics and budgie-stealing yobs? Well you'd better be, because Manchester's finest are back with eight brand new, brazen episodes. The cheek of it! No Offence, Paul Abbott's award-winning and anarchic cop drama, kicked off its second series this week and it's never looked better. If you missed episode 1, you can catch it right now in Catch Up > Channels > All 4.
Picking up several months after the, erm, heart-stopping events of series 1, we welcome back the full Friday Street cop shop, headed up by the woman warrior that is DI Viv Deering (The Thick Of It's Joanna Scanlan). Rejoining her are DC Dinah Kowalska (The Paradise's Elaine Cassidy), DS Joy Freers (Utopia's Alexandra Roach), DC Spike Tanner (In The Club's Will Mellor) and everybody's favourite eccentric forensic expert, Randolph Miller (Friday Night Dinner's Paul Ritter).
We head to the police station (or, in reality, a youth centre that used to be a legendary boxing gym for the likes of Ricky Hatton) in Manchester to get some secrets from the set and find out more about this must-watch series. Be warned: spoilers ahead!
1. The secret is safe, for now…
If you haven't caught up on series 1 yet, look away NOW.
Still in? OK. So here's the deal: After young Cathy Calvert (Charlie May-Clark) bumped off Viv's husband Laurie at the end of series 1, the off-screen investigation into his death went nowhere. "In this business," Will Mellor tells us, "cases can be put on the back burner and become a cold case. It's basically filed as No Available Budget so they're not looking for Laurie's killer any more."
So can Cathy, Dina and Viv breathe a sigh of relief?
2. …not if Mellor's Spike has anything to say about it!
"He thinks he owes it to Deering to help find who killed Laurie. Deering wants to move on with her life and doesn't want stones turned to find what's underneath, whereas Spike wants to do some digging. Honestly, I don't know how that pans out but we'll see…"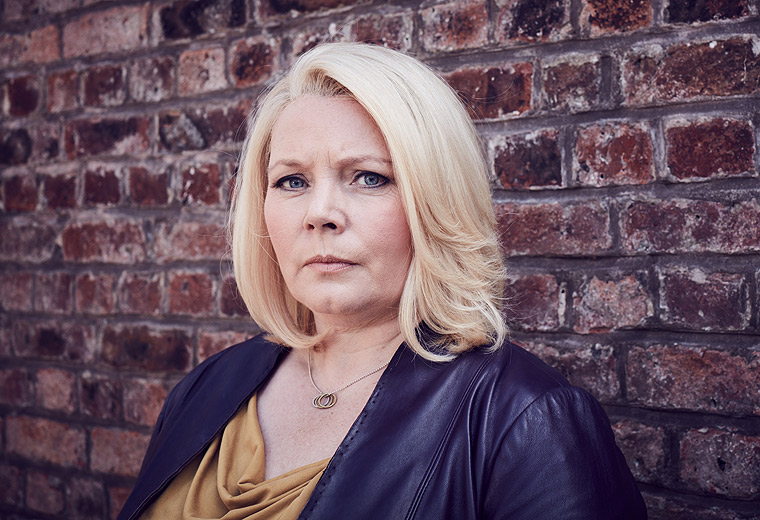 3. There ain't no rest for the wicked
Just because Laurie's case is closed (for now) don't think for a moment that creator Paul Abbott doesn't have an even more explosive ace up his sleeve. And when we say explosive – well, just wait until you watch episode 1! "Everything kicks off as soon as Viv's back, with the biggest calamity that's ever befallen the Manchester crime scene," Scanlan tells us. "It immediately provokes a gangland set of reprisals that Deering has to try to control."
4. There's a new big bad in town
Scanlan wasn't using the term "gangland" as just an expression. The aforementioned "explosive" events of this first episode take place at the funeral of a member of one of Manchester's most feared crime families – the Attahs. They're headed up by matriarch Nora, played to perfection by a No Offence newbie, Holby City's Rakie Ayola (below). "Her main business is illegal gambling and prostitution with a bit of people-trafficking thrown in," Ayola casually tells us. "Basically anything that makes money, and a lot of it, quickly. She's arrogant, self-possessed and very sure of herself."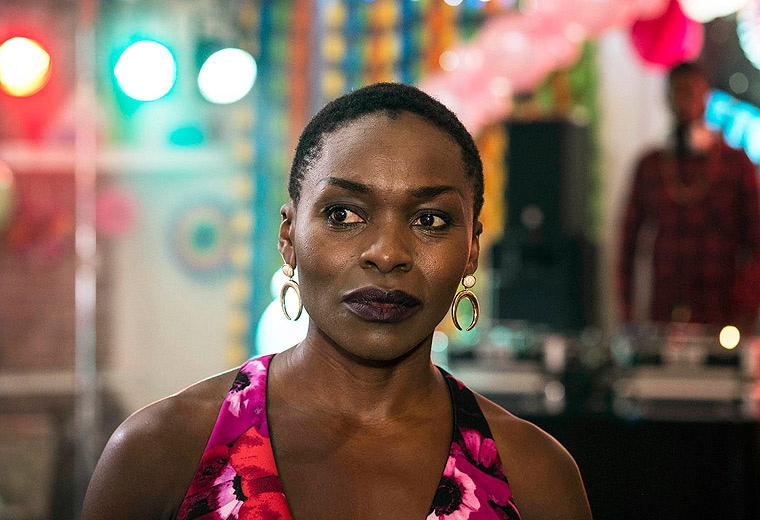 Surely she's no match for daring Deering? "Nora is convinced she's always one step ahead. She has incredible respect for Deering but thinks she's worked her out." And what does Viv has to say about that? "Deering does seem to make mistakes with Nora," says Scanlan. "She doesn't see the similarities between them – she can't see it's like looking in a mirror."
5. Nora's not the only newbie giving Deering a headache
It's out with Detective Superintendent Darren Maclaren (Colin Salmon) and in with new DS Christina Lickberg, played byHim & Her's Sarah Solemani (below). Solemani explains: "Deering and Lickberg are opposites in so many ways. They're as committed to the job as each other but have very different ways of operating. Viv likes to think outside the box and take risks. Lickberg likes to plan; she's meticulous, detailed. She's not a people person. There's a respect for each other but often they're rubbing each other up the wrong way."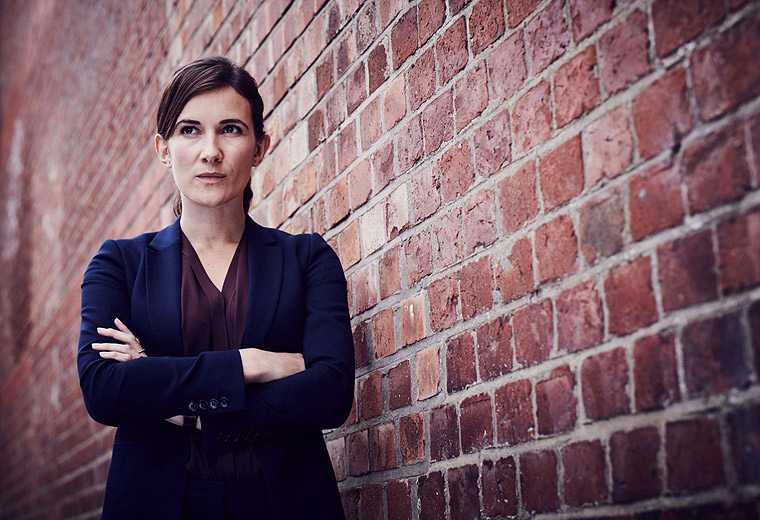 6. No Offence isn't trying to prove a point about diversity
Female protagonists? Check. Mostly female directors? Check. Roles for people in minority groups, including people of colour and those with disabilities? Check, check! "There were jobs for Down's Syndrome actors, Dina's representing the Polish community, and this year we've got an amazing deaf actor. I don't think there's a box we haven't ticked," says Elaine Cassidy. "When we were at the BAFTAs after being nominated for series 1, everyone kept hammering on about diversity and more opportunities for women and I just thought, 'have they not watched No Offence?'. Because it's so well done, so cleverly interwoven and there's no, 'Hey, look at us!', I don't think anyone picked up on it."
7. The supporting roles are played by real ex-cops
We chatted to Abigail Lambert, a former PC in Avon and Somerset, about working on the show. "I'm with a TV extras agency that's made up of all ex- or retired police officers. We're trying to make shows as realistic as possible so, if there's a query about an arrest or a particular procedure, we then advise. You don't get to see us in the office after hours doing the paperwork but we've done arrests, burst into a house in full riot gear. The more dramatic side of the job."
Do they have to bring their own uniform? "They provided us with one for No Offence but normally, yes, you do have your own uniform as well!"
8. Just don't wander off set wearing the uniform!
Lesson learned, Saira Choudry (Hollyoaks), who plays tough PC Tegan Thompson. "I popped out for a coffee and totally forgot I had my police costume on! As soon as I went into the shop, everyone looked at me and kept shifting in their seats. I didn't know what was going on. When I got back, the wardrobe lady cornered me: 'I can't believe you've just been off set with your police costume on! You're impersonating an officer; you could get arrested!'". Oops.
9. TV life isn't like you see in the movies…
No luxury trailers here. Behold… the green room!*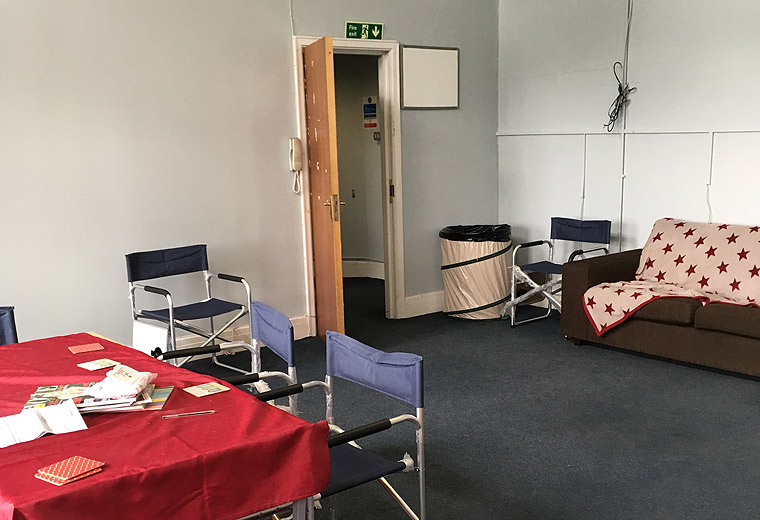 *That's showbiz talk for the place actors hang out when they're not on set.
10. … But Will Mellor is reaching for the stars
"I used to play Jack The Lad and now I play Jack The Dad. I'm embracing it. I'm 40 now and they say, once you get to that age, that's leading man time. So I'm trying to keep in shape and work towards my own series. I want to be the Liam Neeson kind of character, saving the day. I'd love to do that. I'd love to do some theatre, too. I've never done a play but I'm dying to get on stage!"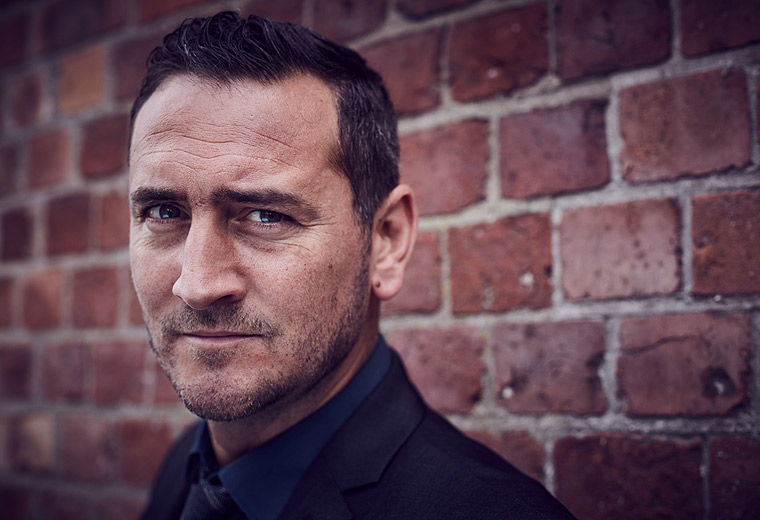 Want to relive all the drama of series 1?
Well now you can. The complete first series is available now on All 4 too.
No Offence airs on Wednesdays at 9pm on Channel 4 (CH 104) and Channel 4 HD (CH 141). Also available for 7 days in Catch Up > Channels > All 4.