Chris Pratt makes up one seventh of The Magnificent Seven this month, and to celebrate the film's arrival on Virgin Movies from the 23rd January, we thought we'd create a little corner of the internet to show you our seven most favouritest Chris Pratt online thingies. Any correspondence regarding the magnificence of Chris Pratt can be addressed to the Virgin Movies rubbish bin (please mark envelopes with sender's name: Guy Who Is Wrong).
When he exchanged playground insults with Jennifer Lawrence
Promoting his new movie Passengers with co-star Jennifer Lawrence, Pratt was called upon to dish out the most childish insults he could muster to belittle his friend. The results are gold; highlights include the diss "You act like Adele sings... I hate Adele" and "How does it feel being in the stupidest Marvel movie?" SICK BURN!
When he revealed himself to be a TOWIE fan on Graham Norton
Easily the most famous fan of ITV's hit reality TV show The Only Way Is Essex, Chris Pratt revealed himself to be quite adept at mastering the accent of "Some little town... Essex, I guess" on The Graham Norton Show. In fairness, his Essex accent is absolutely spot on: we bet TOWIE's Gemma Collins still has hot flushes thinking about this video.
When his Magnificent 7 gif perfectly illustrated how drunk you needed to be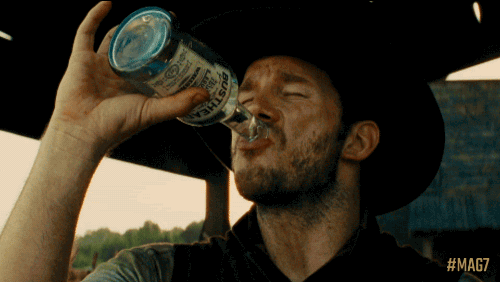 You're online, you've got a nice drink buzz going and you need an animated gif that will tell your followers exactly how much you plan to keep drinking. There's no need to use words, stupid words, they just keep getting blurrier by the bottleful. This all-purpose Chris Pratt never-ending drinking gif from The Magnificent 7 has you covered. Hic!
When he did his Reddit AMA hungover and still nailed it
Many actors keep their cards close to their chests on the PR circuit and never let fans see the real them. Not Chris Pratt. He announced on Twitter that he would be doing a Reddit Q&A and that he'd be doing so with a stinking tequila headache. Thankfully, it led to some great responses: when asked what Parks & Rec character Andy would be doing now, he replied: "Here's something you might not have known about those characters. They smoked a lot of weed. They'd probably be doing that right now." Pratt also revealed his perfect sandwich to be comprised of "two slices of white bread, mustard, mayo and a platinum American Express card". Read the whole thing here.
When he gave us drunk acting lessons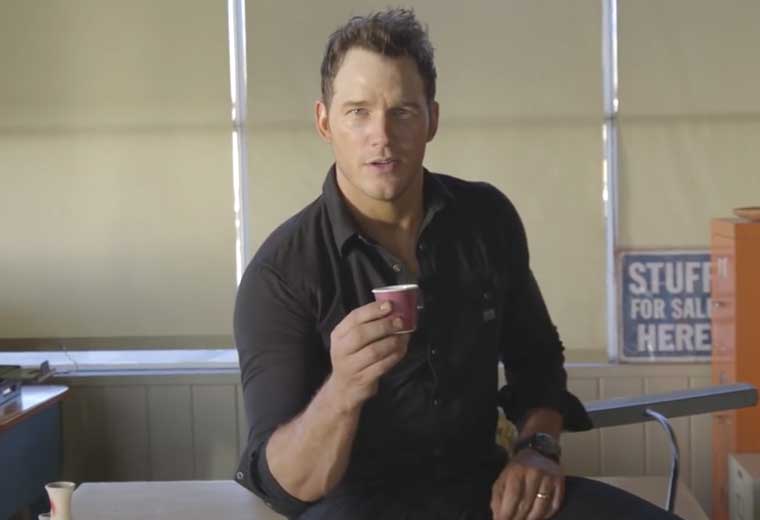 Half-cut on Fireball Whisky downed during a GQ photoshoot, Pratt was supposed to do a standard to-camera scripted bit on acting lessons for a YouTube video. What we got what so much better: a visibly drunk Pratt improvising acting lessons, necking more whisky shots and nearly having a heart attack when a nearby curtain shoots up. Watch the full (NSFW) video here
When he proved that anyone can run in heels
Jurassic World controversy be damned: Chris Pratt proved 'Heelsgate' was a lot of fuss over nothing when he donned a pair of ruby red high heels on James Corden's Late Late Show and proved that it was indeed possible to run wearing stilettos. Co-star Bryce Dallas Howard could only sit and watch in sheer admiration. Damn he makes those shoes look good.
When he tried to drink his way out of the Ice Bucket Challenge
Boy, most of Chris Pratt's most magnificent moments have revolved around alcohol in some way, huh? It's okay guys: he's a responsible adult, as proved by the Ice Bucket Challenge video he shot to raise awareness of ALS. As he puts it himself: "Mmm... Refreshing."
Watch brand new movies on demand every week with Virgin Movies. To find out the latest releases, press Home on your Virgin TV remote, then On Demand > Movies.
Not a Virgin Media customer? Click here find out more.