Find it in On Demand > Movies > Virgin Movies
The wondrous Kubo and the Two Strings hits Virgin Movies this week. An animated action adventure fantasy, it tells the story of a young boy named Kubo (voiced by Art Parkinson) who accidentally summons a vengeful spirit, triggering a series of extraordinary events and an epic adventure.
Kubo flees the spirit and with the help of his friends Monkey (Charlize Theron) and Beetle (Matthew McConaughey) and sets out on a quest to unlock his destiny by discovering the truth about his father, the greatest samurai warrior who ever lived.
Around every corner lurks danger and enemies who want to stop Kubo, including the merciless Moon King (Ralph Fiennes) and his evil twin sisters (Rooney Mara). Kubo must summon every ounce of strength and bravery to save his family and solve the mystery surrounding his father.
What do we think?
Allow your imagination to take flight and immerse yourself in Kubo's thrilling adventure. The painstaking stop-motion animation was lovingly created by gifted animators at the top of their game. One scene alone (the boat sequence) took 19 months to shoot. The care and devotion poured into this film is clearly visible on screen, it's a mesmerising visual feast.
This is the perfect antidote to brash Hollywood kid's films. It has depth and substance as well as being an exhilarating adventure story. It champions kindness, integrity and forgiveness. It's a touching, thoughtful family film, with the origins of the tale rooted in Japanese myth, weaving a rich tapestry as the story unfolds.
It boasts an impressive voice cast too, featuring the vocal talents of Charlize Theron, Art Parkinson, Ralph Fiennes, Rooney Mara, George Takei, and Matthew McConaughey.
Kubo and the Two Strings is a hugely rewarding film with cross-generational appeal. It's captivating and truly original, one to really treasure.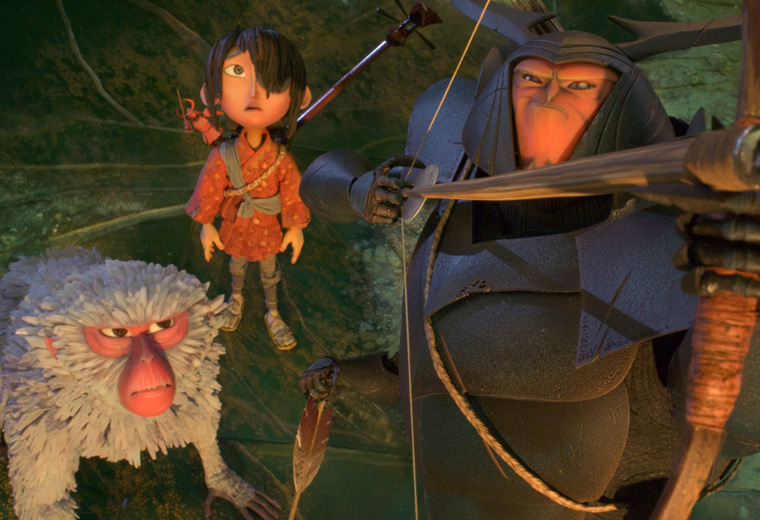 Kubo and the Two Strings trivia
Kubo and the Two Strings has been nominated and for a Golden Globe and a Bafta for Best Animated Feature Film. Could it make it a hat trick with an Oscar nomination too?
This is the fourth animated feature from the Laika studio, who also made the 2009 hit, Coraline.
Kubo and the Two Strings is rated 97% fresh on Rotten Tomatoes.
This is Matthew McConaughey's first animated film.