Find it in On Demand > Movies > Virgin Movies
Saddle up partners, because The Magnificent Seven are riding on to your Virgin TV. In the heyday of the Wild West, the townspeople of Rose Creek are sick of living in fear under the brutal control of powerful industrialist Bartholomew Bogue (Peter Sarsgaard). After a group of locals are slaughtered for standing up to Bogue, the townspeople plot their revenge, clubbing together to hire seven misfits to protect them.
The Bounty Hunter (Denzel Washington), the Gambler (Chris Pratt), the Outlaw (Manuel Garcia-Rulfo), the Sharpshooter (Ethan Hawke), the Assassin (Lee Byung-hun), the Warrior (Martin Sensmeier) and the Tracker (Vincent D'Onofrio), all dangerous and unpredictable men in their own way, hold the fate of Rose Creek's citizens in their hands.
As the inevitable showdown with Bogue's men looms, the seven go about training the townspeople to defend themselves and they begin to feel an attachment to the community. But can these mercenaries learn to put aside their differences and work together, and will they all make it out alive?
What do we think?
The Magnificent Seven is true to the spirit of classic Westerns, but gives it a modern twist resulting in an adrenaline-fuelled action movie. It draws on a rich movie heritage - the original 1960 The Magnificent Seven starring Yul Brynner and Steve McQueen, which was itself inspired by the classic Japanese epic, Seven Samurai, made in 1954.
Director Antione Fuqua, a huge fan of Westerns, is a high-calibre action movie director, bringing the panache he exhibited in Training Day to The Magnificent Seven. This is a good looking film, with majestic scenery framing spectacular action sequences.
The performances are all a knock-out. Denzel Washington in particular brings gravitas and poise to his role as the leader of the seven, but it's the camaraderie between the central seven that makes the film shine. Peter Sarsgaard is also gloriously vile as the villain of the movie.
The Magnificent Seven is a perfect slice of entertainment, powered along by heart-stopping, gun-toting action and characters you can really root for, all topped off with a sprinkling of witty banter. Fans of classic Westerns will not be disappointed and for newbies to Westerns, this is the perfect doorway to the genre.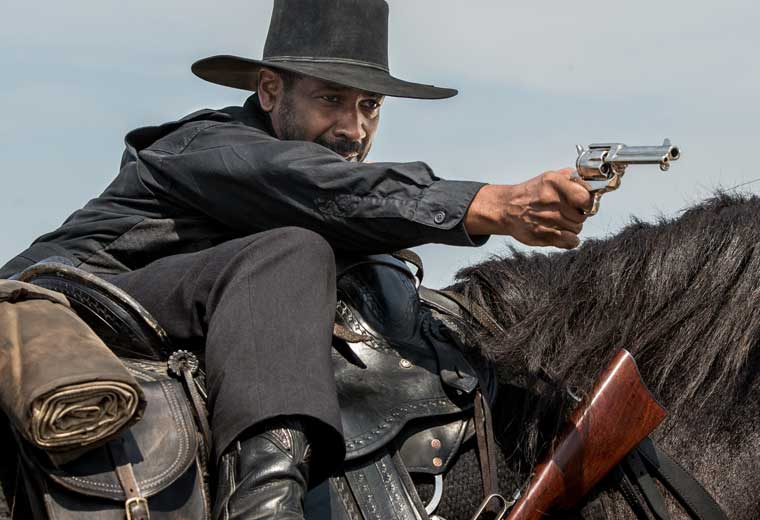 The Magnificent Seven trivia
Tom Cruise, Kevin Costner, Morgan Freeman and Matt Damon were all rumoured to have been attached to the film before filming began.
The theme song from the original The Magnificent Seven is played during the closing credits.
This is the third collaboration between Denzel Washington and director Antoine Fuqua, following Training Day (2001) and The Equalizer (2014). Ethan Hawke has also worked with Fuqua on two previous films, Training Day and Brooklyn's Finest (2009).