This week sees the release of animated comedy Sing, the latest venture from Illumination, the studio responsible for the Minions. The appeal of the film is immediately obvious from its hilarious trailer – basically, it's X-Factor, but with cute cartoon animals. British director Garth Jennings (Son of Rambow) has assembled a note-perfect voice cast, most of whom do their own singing, to impressive effect. But who's playing who? Here's our handy guide, so that when your viewing companion leans over and asks you 'Who's voicing that koala?', you can confidently offer up the correct reply, and maybe even add a bit of trivia.
Character: Buster Moon the koala
Voiced by: Matthew McConaughey
Shared traits: With an infectious energy that belies his short stature, impresario and theatre owner Buster Moon is part smooth-talking hustler and part dreamer, which makes honey-tongued McConaughey the perfect choice to voice him.
Trivia: McConaughey appears to have caught the voice acting bug – he filmed Sing back-to-back with his first ever animation role, 2016's Kubo and the Two Strings, which is available now on Virgin Movies.
Character: Rosita the pig
Voiced by: Reese Witherspoon
Shared traits: Put-upon pig Rosita has her hands full during the day looking after her 25 children (and an oblivious husband), but being extremely resourceful, she invents a series of Wallace & Gromit-style machines to feed and clothe her kids in her absence, so she can attend the talent show audition and rehearsals. Witherspoon's two most famous film roles – Election's Tracy Flick and Legally Blonde's Elle Woods – were both super-capable and basically unflappable characters, so Rosita is very much in her wheelhouse. She also has previous onscreen singing experience, having played June Carter Cash in Walk the Line.
Trivia: Sing is Reese Witherspoon's first animated movie since Monsters vs. Aliens in 2009. Would make a good trivia question, that.
Character: Mike the mouse
Voiced by: Seth MacFarlane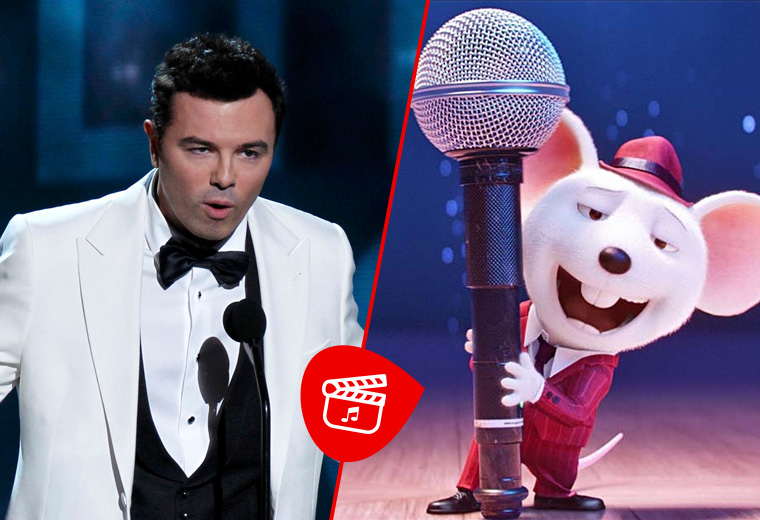 Shared traits: Like Seth MacFarlane (Family Guy, American Dad), pint-sized crooner Mike the Mouse has an impressive, Sinatra-like voice. Also like Seth MacFarlane, Mike has a tendency to be...well, a little on the obnoxious side. Okay, a lot on the obnoxious side. Basically, he has a gigantic ego, which is funny because he's, you know, a mouse. But oh boy, can that mouse belt out a Rat Pack number.
Trivia: According to his IMDb page, MacFarlane received voice training from a 90-year-old couple who also trained Frank Sinatra. Also, crooning is clearly in his blood, because he's a distant cousin of Star Trek: TNG actress Denise Crosby, grand-daughter of Bing Crosby.
Character: Ash the porcupine
Voiced by: Scarlett Johansson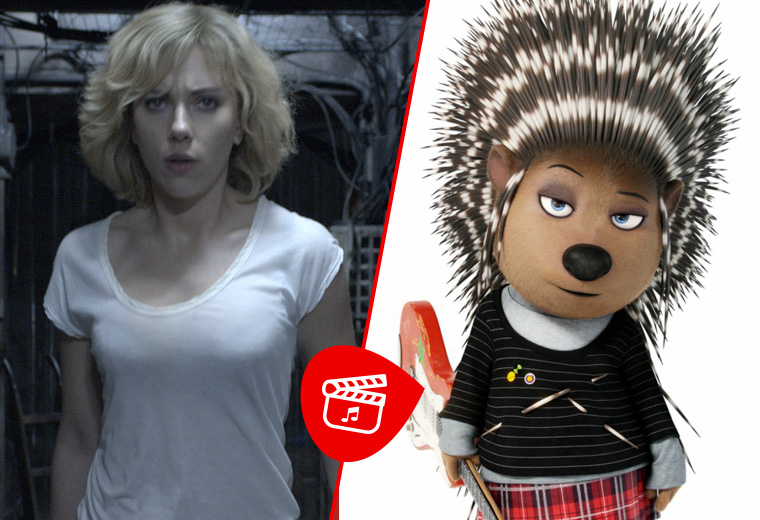 Shared traits: Punky porcupine Ash is initially part of a rock duo with spotlight-hogging boyfriend Lance (no comment), until he fails to make the cut at the audition, which drives a wedge between them. Forced to branch out on her own, Ash begins to write and perform her own original song, Set It All Free. While it's fair to say that Scarlett Johansson is neither prickly nor punky, she did surprise both fans and critics by displaying hitherto unsuspected musical ambitions and releasing an album of Tom Waits songs (Anywhere I Lay My Head) in 2007. She's also currently in a band, who released a single called Candy in 2015.
Trivia: Like co-star Matthew McConaughey, Johansson also seems to have caught the voice-acting bug, filming Sing shortly after she made The Jungle Book, where she voiced Kaa the Snake and sang "Trust In Me".
Character: Johnny the gorilla
Voiced by: Taron Egerton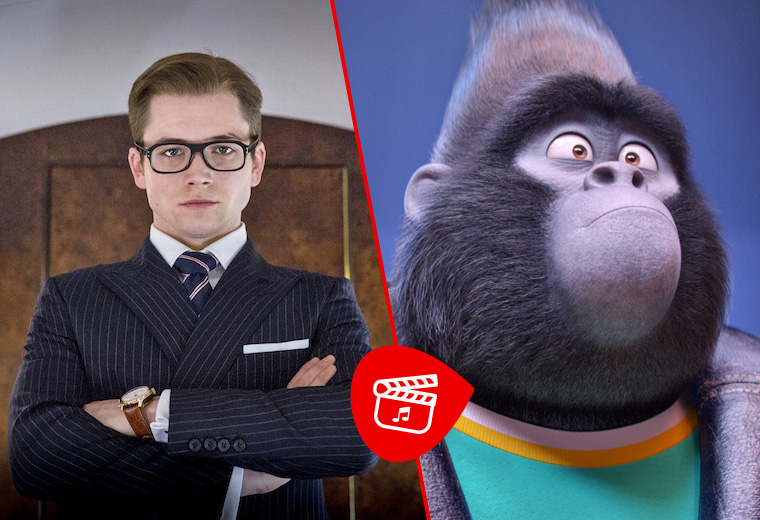 Shared traits: Kind-hearted and loyal, Johnny the Gorilla is the quintessential example of a character who's hiding his light under a bushel. His bank-robbing father wants him to join the family firm, so Johnny has to keep his musical ambitions a secret, lest his father find out and disapprove. It's fair to say that Egerton has had significant success playing similar outsiders – think of his street-thug-turned-secret agent in Kingsman: The Secret Service or plucky no-hoper Eddie Edwards in Eddie the Eagle.
Trivia: The songs that Johnny sings in the trailer are 'The Way I Feel Inside' by The Zombies and 'Stay With Me' by Sam Smith.
Character: Meena the elephant
Voiced by: Tori Kelly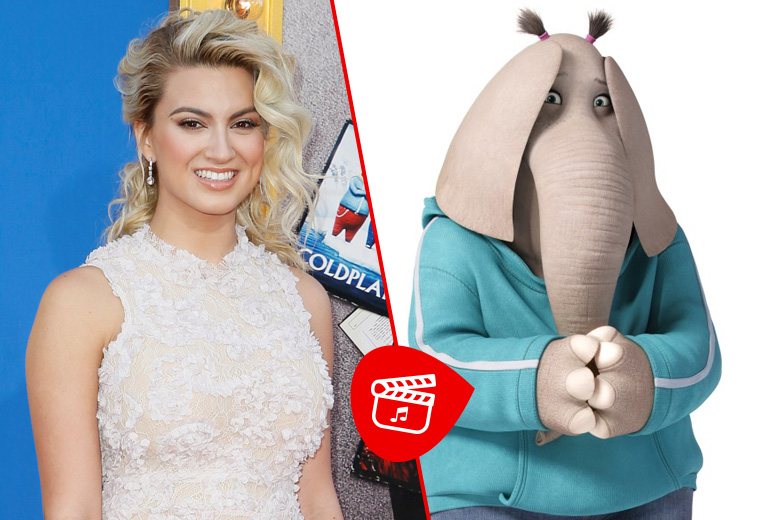 Shared traits: A cleverly conceived opposite to Mike the Mouse, Meena the Indian Elephant has a talent that's as big as she is, but her crippling shyness prevents her from sharing her gift with the world. That's clearly not a problem shared by YouTube-star-turned-singer-songwriter-producer Tori Kelly, though she has spoken about relating to Meena's teenage insecurity and stage fright.
Trivia: The singing style of Meena is modelled after the Italian singer Mina who is quite well known in the US. Apparently Liza Minnelli is a big fan.

Character: Miss Crawly the chameleon
Voiced by Garth Jennings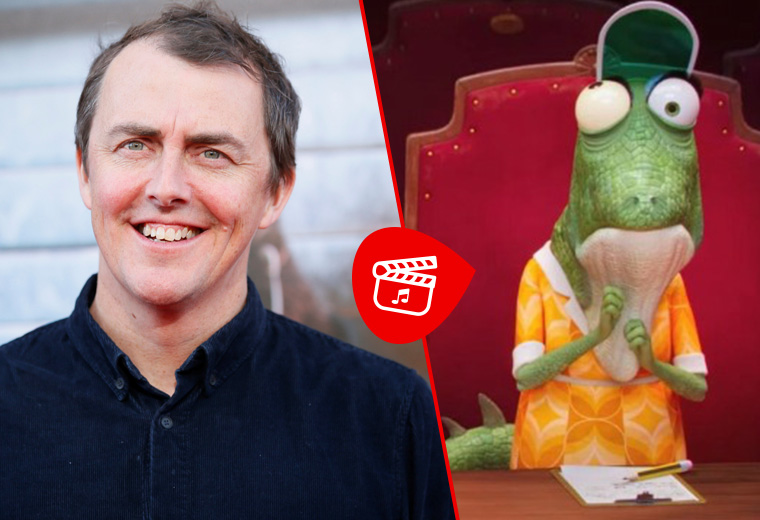 Shared traits: Voiced by director Garth Jennings, Miss Crawly is Buster's loyal, albeit slightly doddery secretary. It's Miss Crawly's clumsiness that results in the prize money accidentally being listed as $10,000, rather than $1,000, thereby causing the entire town to audition...
Trivia: In addition to voicing Miss Crawly, Jennings enlisted his aid of his four children ( Oscar Jennings, Leo Jennings, Caspar Jennings, and Asa Jennings) to play Rosita's 25 kids.