Find it in On Demand > Movies > Virgin Movies
Tom Hanks returns to his role as Professor Robert to complete the trilogy of films adapted from Dan Brown's monster bestsellers, which began with The Da Vinci Code and continued with Angels & Demons.
Waking up in a hospital bed with a bullet wound, Professor Robert Langdon has no recollection of the previous few days, but is plagued with terrifying apocalyptic visions. When an assassin tracks him down, Langdon flees with the help of Doctor Sienna Brooks (Felicity Jones).
As Langdon struggles to piece together his memories, it becomes apparent that his memory loss is linked to the recent suicide of a wealthy geneticist, Zobrist (Ben Foster). Obsessed with the writings of Dante and with the notion that the world's population must be reduced, Zobrist had created a lethal virus with the potential to cause a global catastrophe on an unprecedented scale.
Only Professor Langdon possesses the knowledge to prevent a devastating epidemic with the potential to wipe out millions of lives. With the help of Doctor Brooks, he starts to follow a trail of clues, but can he crack the code before it's too late?
What do we think?
You know you're in safe hands with double Oscar-winning director Ron Howard (A Beautiful Mind), he knows his craft. Inferno is a pacey, twisting thriller that will keep you on your toes throughout.
Tom Hanks is reliably brilliant, perfect in the role of the tormented Professor who holds the fate of the planet in his hands. Felicity Jones (The Theory of Everything / Rogue One) is plucky and courageous as Professor Langdon's trusty sidekick. There's also fantastic supporting performances from Ben Foster, Omar Sy and Irrfan Khan.
This is a stylish movie with heart-pumping action sequences, with more than enough substance to keep your brain engaged. Dan Brown's bestselling page-turner translates into compulsive viewing in cinematic form, it's riddled with intrigue and tension.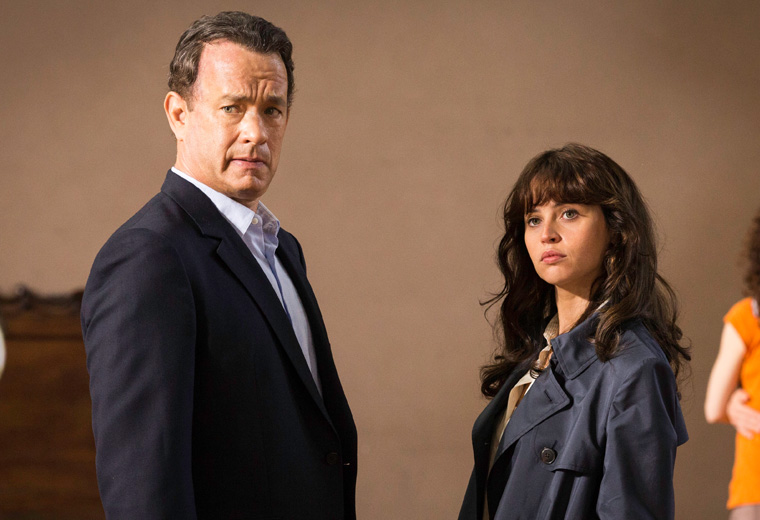 Inferno trivia
A few weeks before Inferno was released, Dan Brown announced another book in the Robert Langdon series, titled Origin
Inferno is the fifth collaboration between Tom Hanks and director Ron Howard.
You may recognise Ron Howard as teenager Richie Cunningham from 1970s sitcom, Happy Days.
The release of the film was deferred in order to avoid clashing with the release of Star Wars: The Force Awakens.
Tom Hanks has been nominated for five Academy Awards in total, with two wins for Philadelphia and Forest Gump.