Fancy working for MI5? Or just love a good crime series? Either way, you should watch Quantico. The thriller looks at the lives of young FBI recruits from across the globe, with one in particular getting noticed for all the wrong reasons. Alex Parrish – played by Bollywood star, former Miss World and the first South Asian actress to lead a US network show, Priyanka Chopra – finds herself at the centre of a terrorist witch hunt. We'll let you tune into the first season with ABC Box Sets to discover the rest for yourself. Find it in On Demand > Box Sets > ABC Studios.
Somehow, amid starring alongside Dwayne Johnson and Zac Efron in the new Baywatch film and appearing in a string of movies in her native India, Chopra has managed to don her leather jacket and get back into action as Parrish for Quantico's second season. She's joined by our very own Russell Tovey (Him & Her), who plays an Artful Dodger-esque character called Harry Doyle.
And you don't have to wait to get stuck into season 2. You can watch the first two episodes in On Demand right now! Before you do, though, read our chat with Chopra, who told us what we can expect…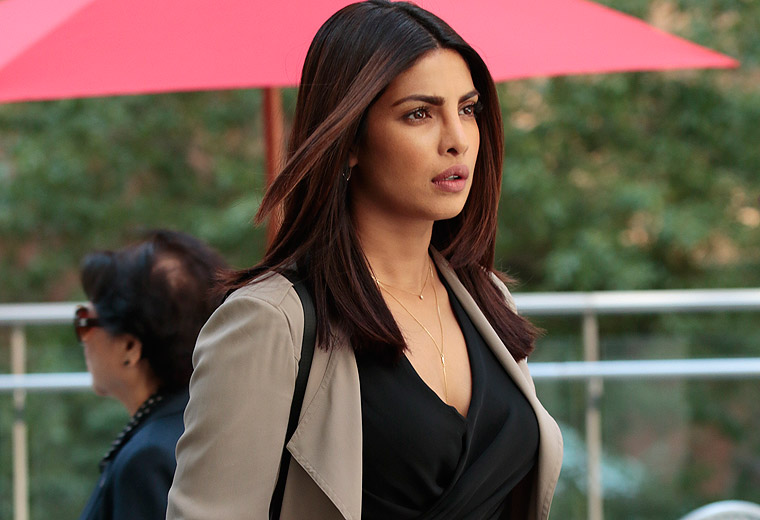 Hi, Priyanka. What makes Quantico stand out from other crime shows?
It's the kind of cat-and-mouse whodunit you can't take a break from to go and get pizza. You can't tell where the show is going to go. It still surprises me – and I'm in it.
Where does season 2 pick up?
The show starts afresh, but with the same characters people fell in love with in the first season. It's moved to the streets of New York.
Is Alex up to no good in this series?
All of us have secrets. We have a public life we project and a dark side that we don't want the world to know. Your deepest darkest secret can become your vulnerability.
So we see a more sensitive side to her? She's a bit of a tough cookie…
Alex is damaged, but not broken. Her vulnerability comes out when she's alone. She definitely has trust issues. Self-preservation kicks in and so she emotionally shuts off.
Do you see yourself in Alex?
She's very different to me. I cry at the drop of a hat in front of anyone. My characters have nothing to do with me. It's like opening up a new book when I arrive on set. I think of them as best friends. But I don't believe I have to pinch myself to feel pain. It comes from somewhere deep inside of you.
Your filming schedule must be insane – how do you switch off?
I've created a life for myself where I don't need a vacation from it. I love it, and I'm good at it. But I'm not superhuman – I get exhausted and snappy. There's no such thing as a free lunch. And if you want global domination, you have to give up some sleep. There's a price to pay for everything.
What are your favourite shows?
I'm a connoisseur of pop culture. I watch Grey's Anatomy and Castle. I get my crime fix once in a while from Criminal Minds and CSI. And I love Narcos.
You have good taste!
Find the first two episodes of Quantico season 2 in Catch Up > Channels > alibi or watch from the start from Thursday 2nd March at 10pm on alibi (CH 126) and alibi HD (CH 200)