This weekend sees the advent of the 89th Academy Awards at the Dolby Theatre in Hollywood, California. If you have even a passing interest in cinema, you'll probably know the movies battling it out to be named Best Picture, but it's looking like a being a scrap between classic movie musical La La Land and moving black drama Moonlight. The bookies reckon a La La Land clean sweep is most likely: the film is 1/7 to win Best Picture, and should pick up a fair few of the other 13 awards it has been nominated for. To celebrate the biggest night in film, we rounded up all our fave Oscar facts and fed them into our infographic machine - check out the results below: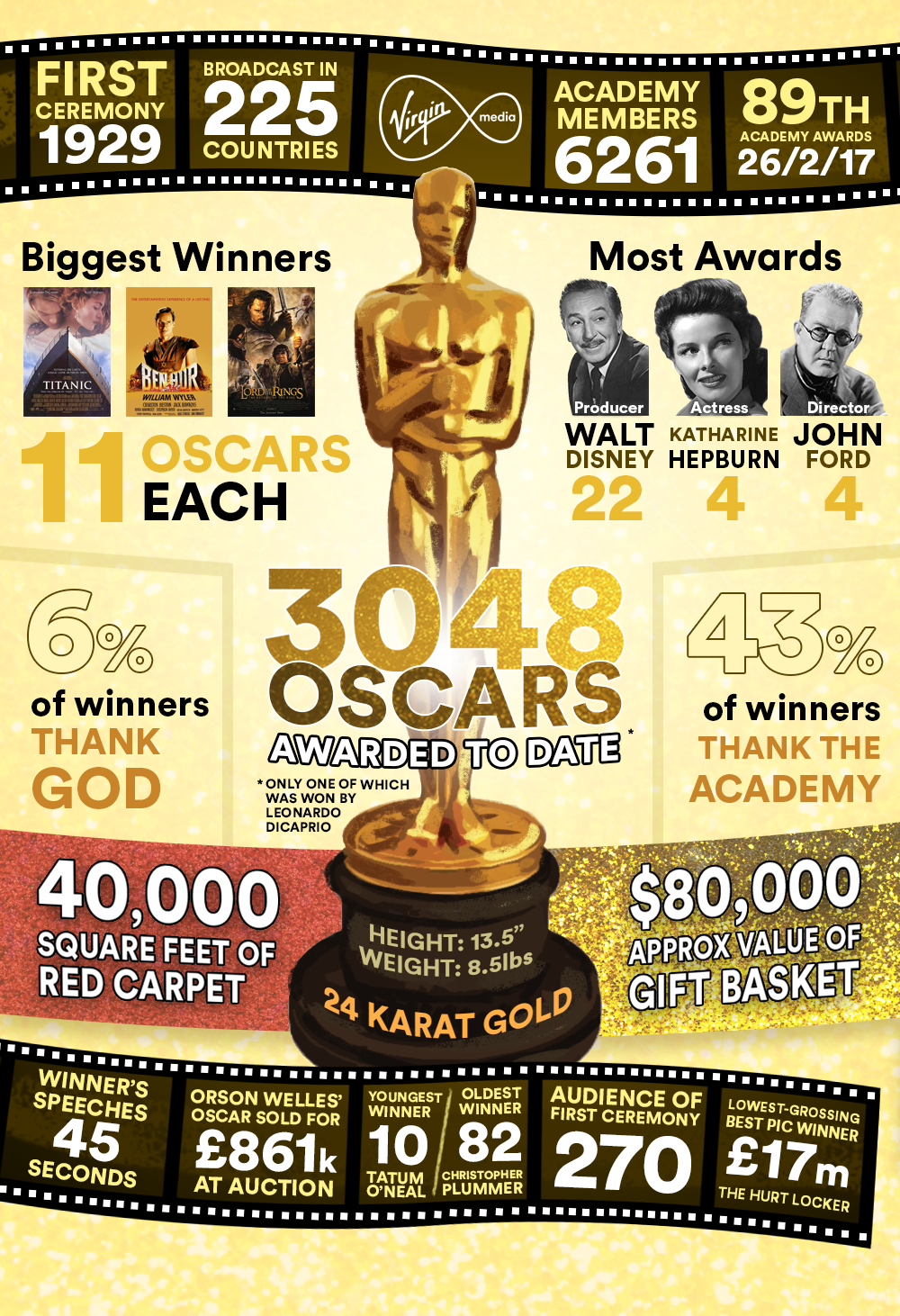 Does breaking the Oscars down by numbers help us make a more educated guess at which films are likely to succeed?
Yes and no. For example, a few obvious stats apply: the more nominations a film receives, the more likely it is to win even one award. Movies with male leads tend to win Best Picture more often than movies with female leads (although they are scarce everywhere, not just in the race for Best Picture). And if your movie stars Meryl Streep, you are almost certainly guaranteed an acting nomination: Streep has been nominated 20 times in her career, including seven nominations in the last ten years.
Really though, you can't read too much into the numbers
The night's big winners are usually decided in the weeks and months building up to the glitzy awards ceremony, in the various other award season shows. There's one simple rule that almost always applies: if your movie is about Hollywood, or acting, or the movie business in general, Academy members start to pay attention; if La La Land wins Best Picture on Sunday, that'll be four out of the last six winners of the top prize that tell stories set in the movie industry (although to be fair, Birdman, Argo and The Artist are all very different films).
Money doesn't matter
Last year's victor, Spotlight, didn't manage to break $100m at the domestic box-office. Audience numbers don't matter: last year's ceremony was down almost 10 million viewers from the previous year. Maybe, just maybe, the membership of the Academy will matter: following the #OscarsSoWhite controversy last year, AMPAS have radically changed their membership policy to strive for a more diverse governing body. For a ceremony that's been running since 1929, that's probably the most important shift in numbers in Oscar history.
Watch the 89th Academy Awards live on Sky Oscars on Monday 24th February, from 1.30am.