Case in point, this amusing, weird and downright brilliant list of the best Oscar memes/internet jokes in recent memory. Here's hoping the 89th Academy Awards (a-happening on Sunday 26th February) give us half as many as great…
The Selfie Seen Around The World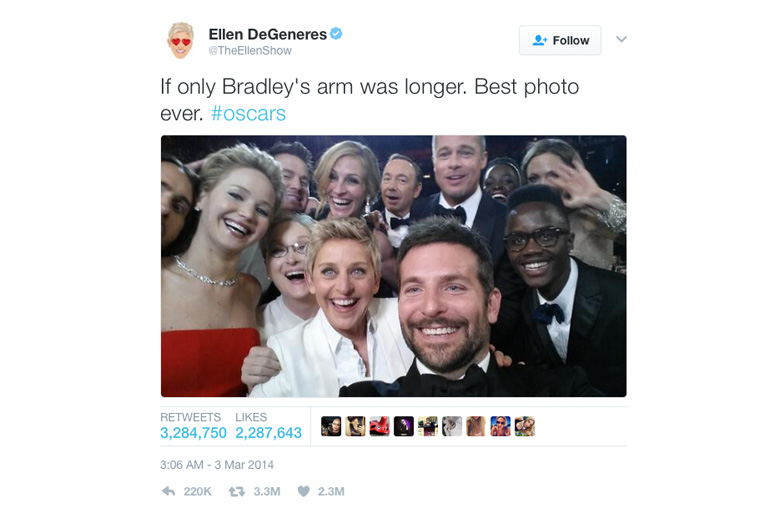 When Ellen hosted the 2014 Oscars, you knew she was going to bring some ridiculously random dazzle to the razzlematazzle. By grabbing a host of A-Listers, including Jared Leto, Jennifer Lawrence, Bradley Cooper, Meryl Streep, Brad Pitt, Julia Roberts and many more for a mega-selfie, she broke all kinds of records - the most retweeted picture ever (at the time), the most celebs in one selfie (probably) etc.
It was a picture as perfect as it was parody-able. Cue the idiocy.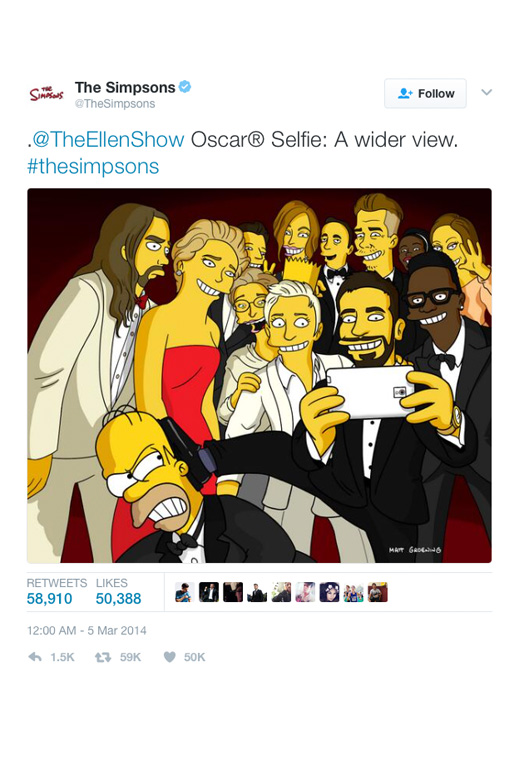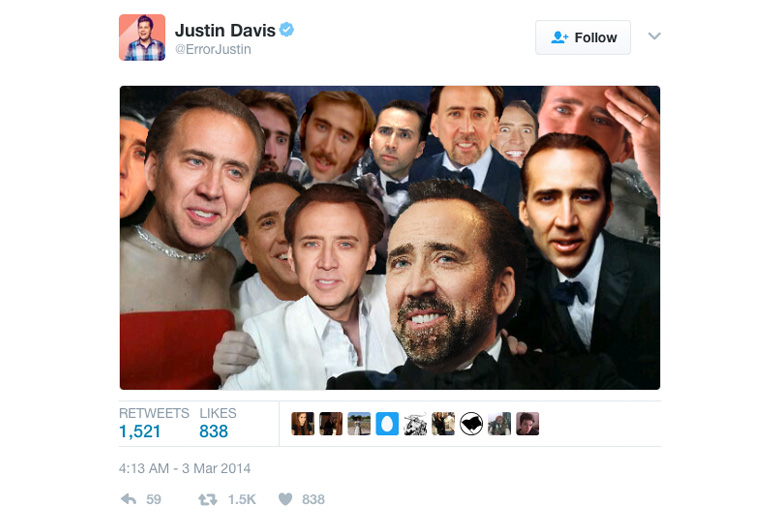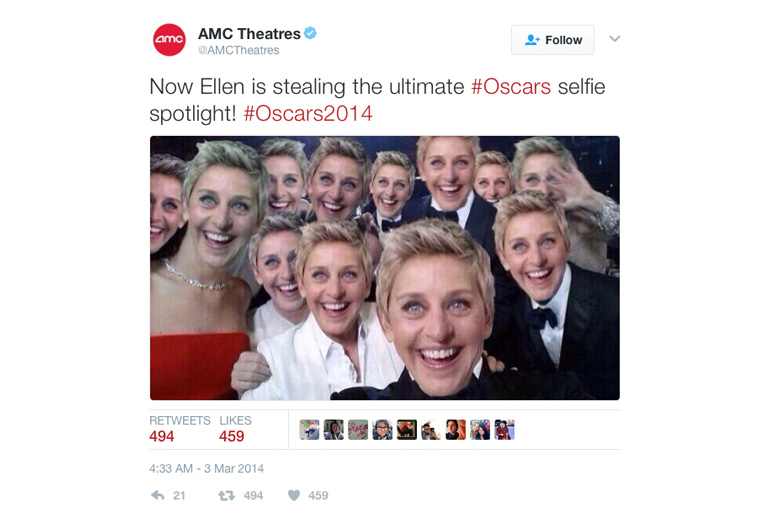 Even better was another angle that showed Liza Minelli was also desperately trying to get in on the action, only she was, you know, a little too tiny.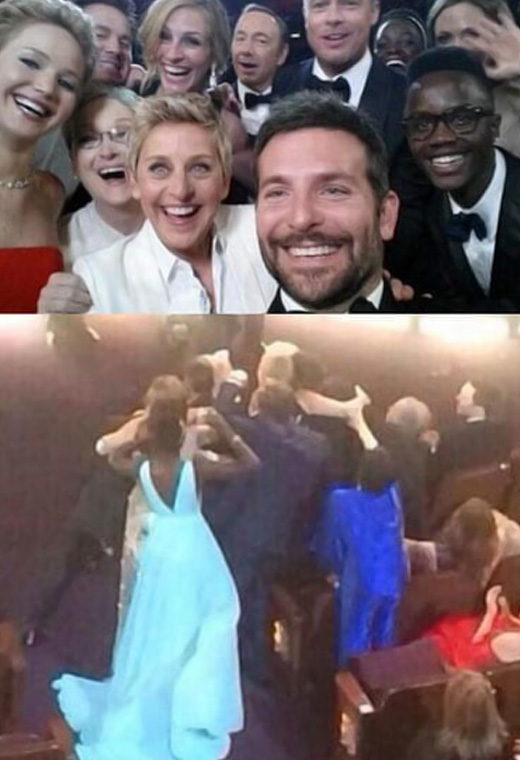 Which led to the inevitable LIZA STRIKES BACK genius…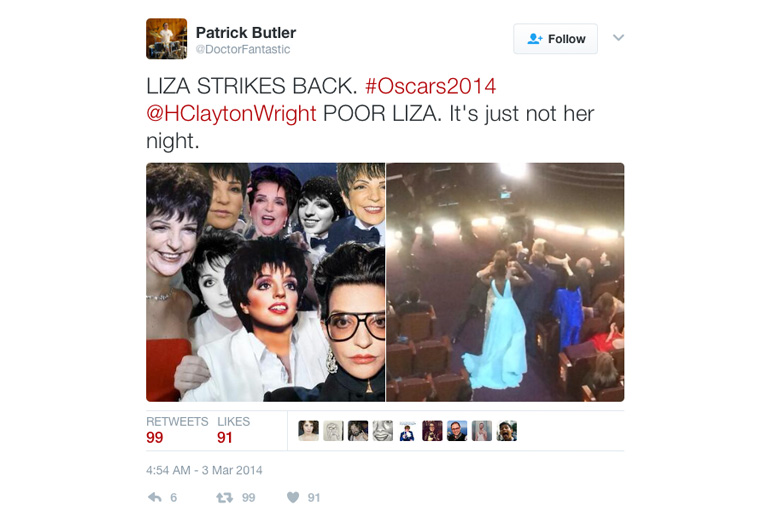 Leonardo DiCaprio Struggling to Win An Oscar
It was a tale as old as time.
Boy meets Hollywood. Boy falls in love with Hollywood. Boy gives Oscar-worthy performance time and time again, but Hollywood kinda ignores it's happening. Sure, now we live in a post-Oscar-winner-Leo world (HAI 2016's The Revenant), but rewind to the beginning of 2016, and the internet meme machine was in full force, hilariously ribbing Leo on the lead-up to his fifth nomination.
Whether it was the bear from The Revenant getting in his way….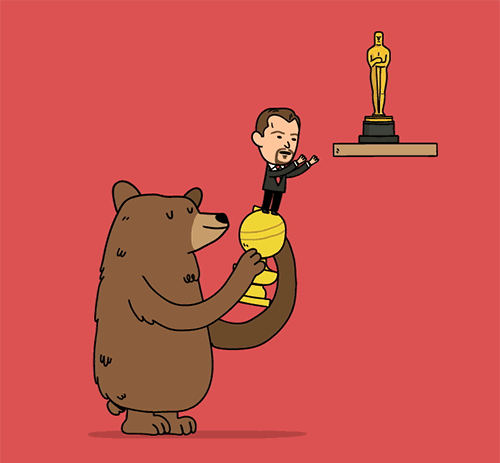 Source: Tumblr
Some familiar animated faces…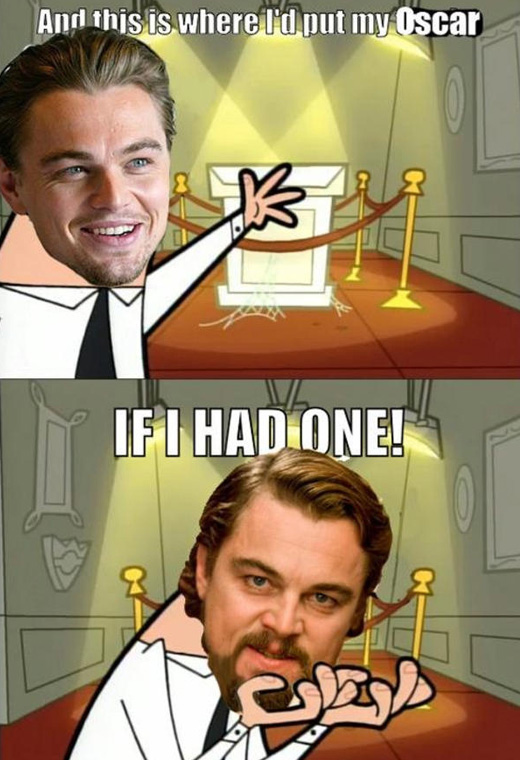 Adele…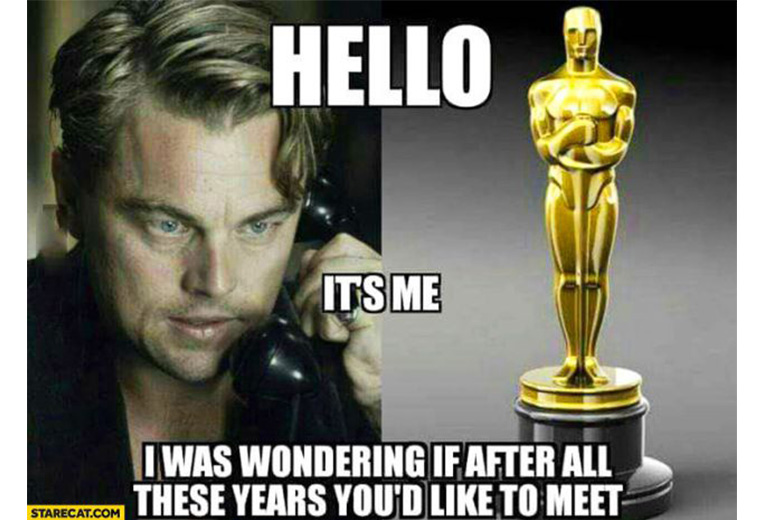 Source: Tumblr
Or even flashbacks to his Romeo days…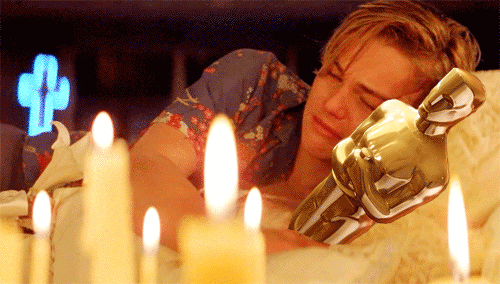 Source: Tumblr
There were more than enough obstacles in his meme-y way. But it was worth the wait.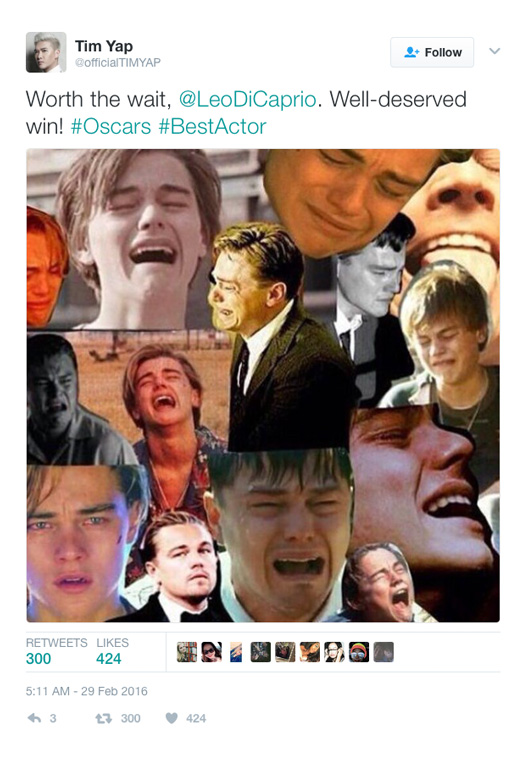 ADELE DAZEEM
It was impossible to avoid 'Let It Go' in early 2014. Idina Menzel's Frozen mega-hit won literally all the awards, and scored gazillions of views and streams all over the interwebs.
It was so infamous in fact, that you'd think it'd be impossible to forget. Not so, for one Mr John Travolta, who introduced the songstress ahead of her Oscars performance in a gloriously fudged way. That's right, ADELE DAZEEM.
It was a 'heavy burtation' so beautiful that it spawned widespread LOLing, and this absolutely genius interpretation of Travolta's other supposed mispronunciations.
The Travolta/Johansson Snogathon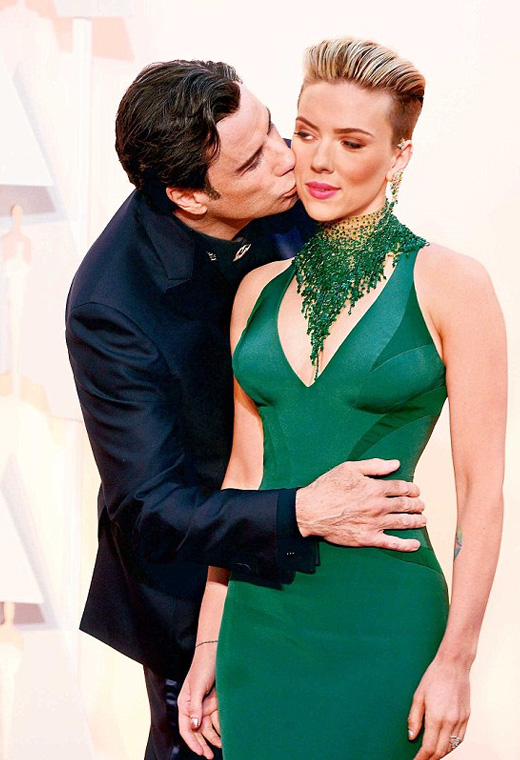 Source: dailymail.co.uk
God bless Mr Travolta. When he's not Adele Dazeeming, he's more than happy to share the love via mildly inappropriate hugging. It doesn't take a genius to work out why this particular photo went viral on the red carpet of the 2015 Oscars.
What came afterwards was an Intro to the Joy of Photoshop 101.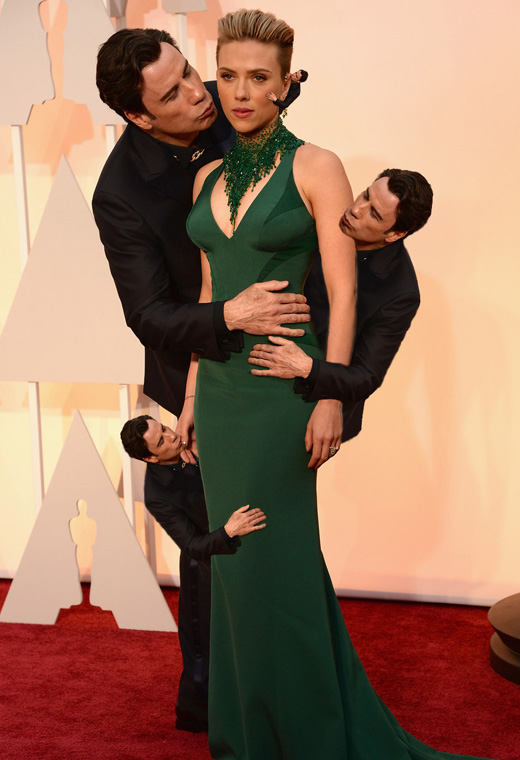 Source: Imgur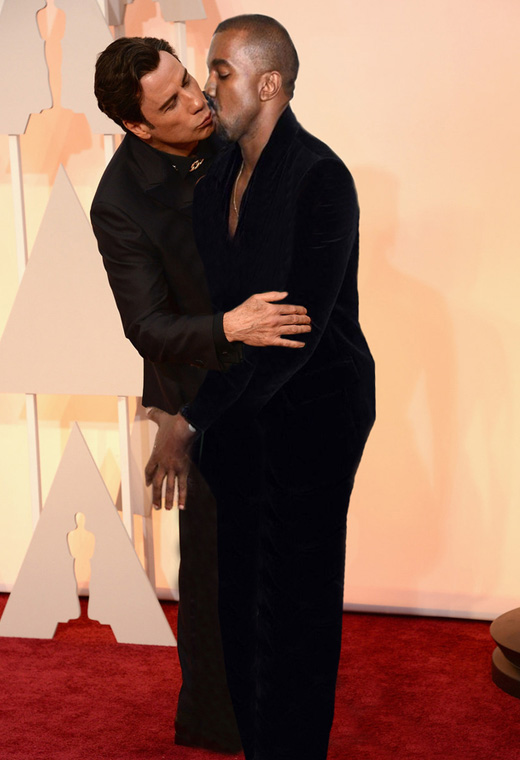 Source: Imgur
Source: Imgur
Angelina Jolie's Right Leg
Angelina Jolie knows how to make a statement. So when she rocked up to the 2012 Oscars, she strutted her leg out with stylish aplomb. She looked AMAZHING, but that didn't stop people going to town mocking her stance.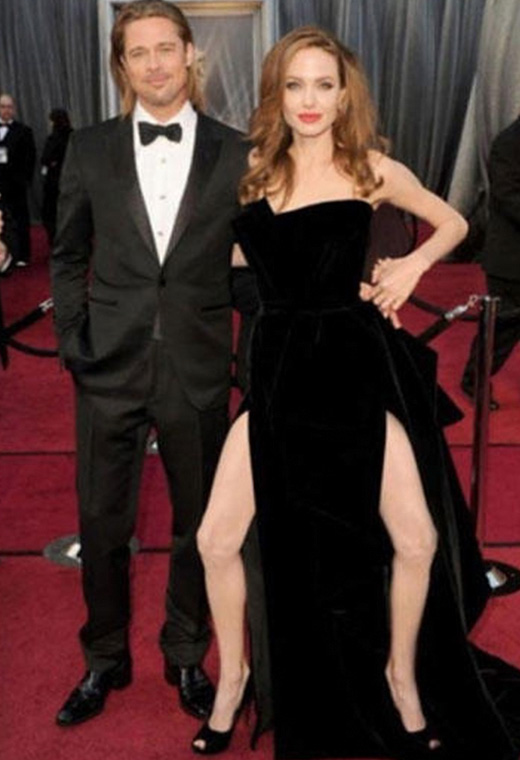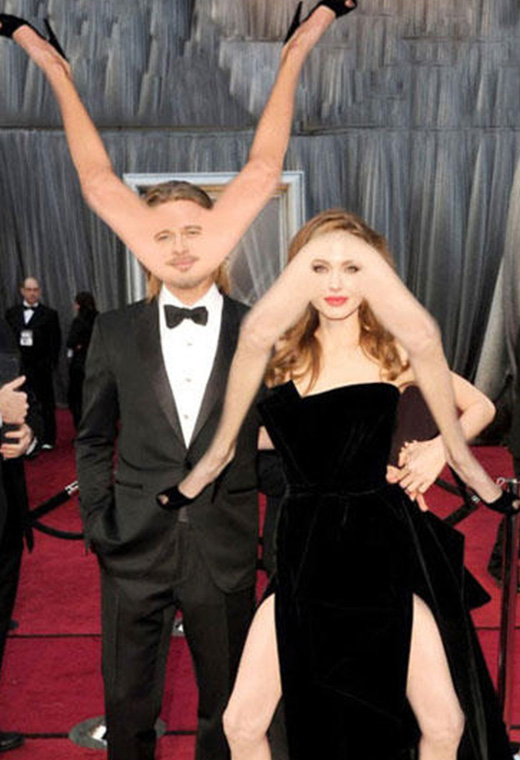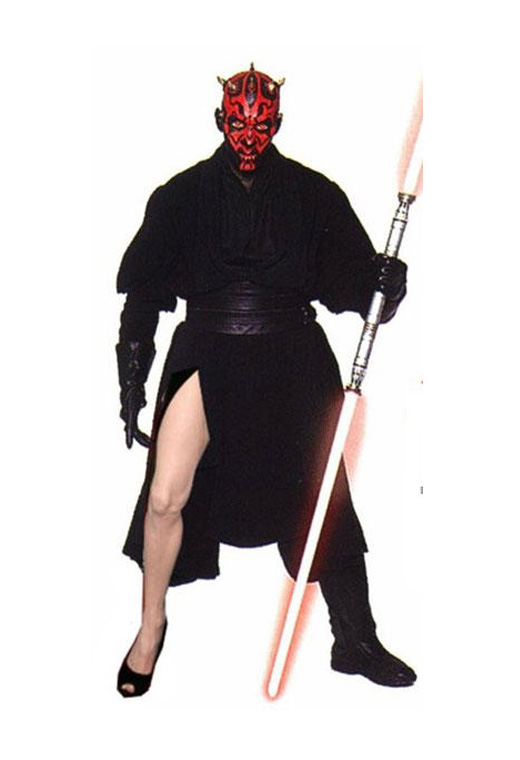 Chrissy Tiegen, Walking Meme
Chrissy Tiegen is a delight. If you could shape the internet into human form, it'd be her (check out her surprisingly hilarious Twitter account if you don't believe us).
So when Stacey Dash walked on stage at the 2016 Oscars for a very bizarre, meta-self-mocking speech about Black History Month (that fell utterly flat), Tiegen reacted like we all felt.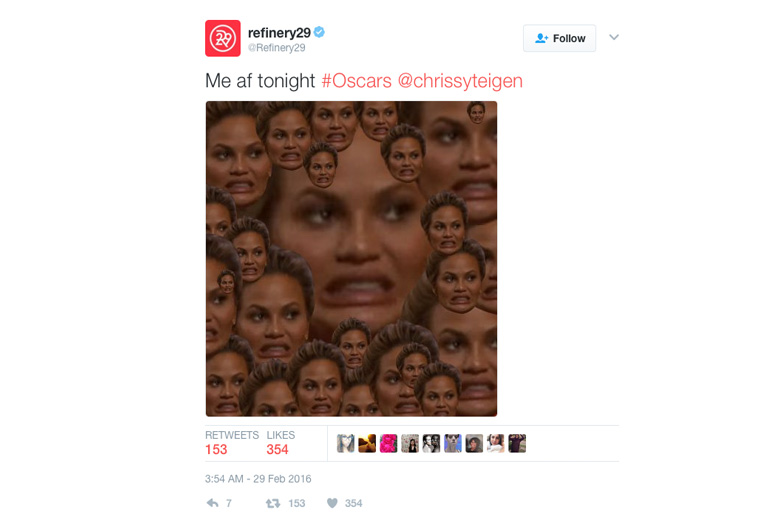 Brilliantly, it wasn't even the first time her face ruled the Oscars. Rewind a year to the 2015 Oscars, and her cry face during husband John Legend's speech with Common won all the Tumblr awards.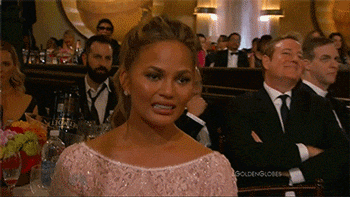 Wonderful.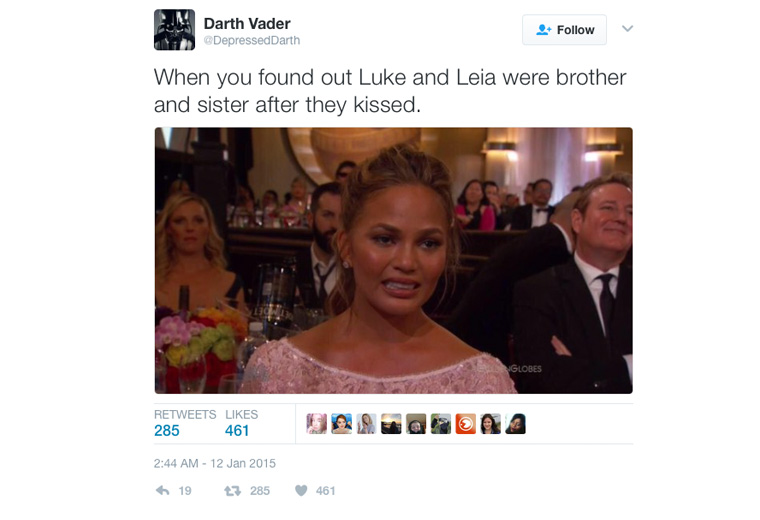 J-Law Down!
We all heart Jennifer Lawrence because she's eerily similar to one of us, if we suddenly became super-hot and mega-famous. But we loved her even more after she faceplanted on the way to accepting her Oscar in 2013 for Silver Linings Playbook.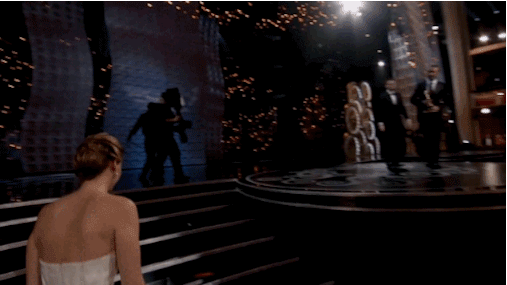 It was understandably instantly seized upon - from those who joked it was such a perfect, graceful fall it could've adorned fashion houses..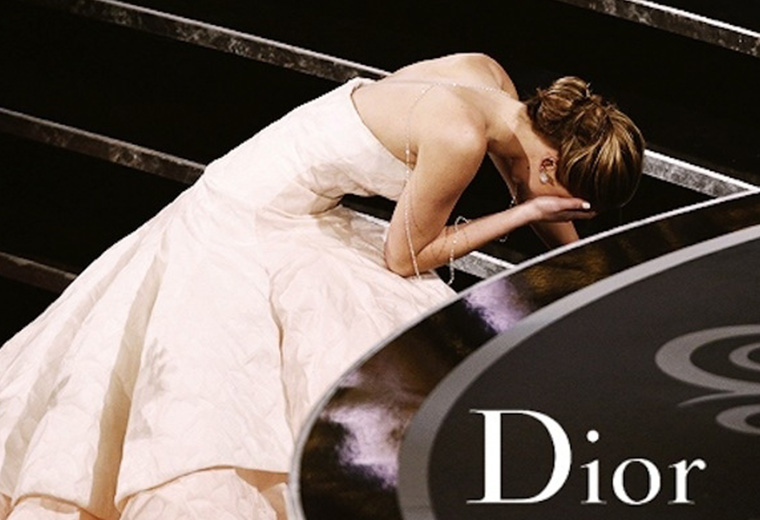 To the inevitable Hunger Games mockery…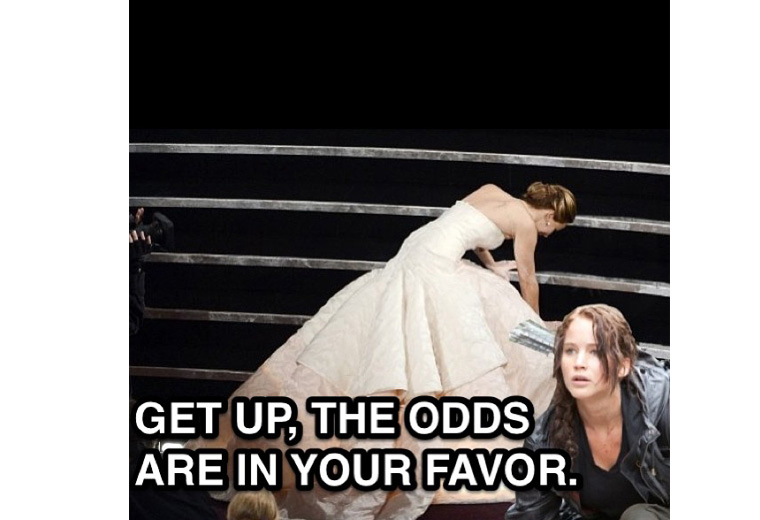 Source: Mashable
LONG LIVE CLUMSY J-LAW.
The 89th Annual Academy Awards are live on Sky Oscars, from 1.30am on Monday 27th February (avaiable to Sky Cinema customers)