Take six young ravers, their respective grandparents, one Geordie Shore star called Gaz, jet them off to Cancún and what do you have? A very messy reality show.
These pensioner party animals will spend four weeks painting the town grey with their grandkids in the Mexican city. To keep their place in the villa, they must obey one instruction – "party hard or go home" – with Gaz and his grandpa Raymond on hand to judge.
Are there any rules? Is there a prize? Frankly my dear, we don't give a damn. So, kick off those slippers, unbutton that cardigan and leave the thermal vests at home for this scorcher of a show (seriously, it's 28°C in Cancún), which starts on Monday 6th February at 10pm on MTV.
Just to get you even more pumped for the madness, we've amassed a list of some reality shows from around the globe that'll make your jaw hit the floor. We've got the weird, the wonderful and the just plain why?

The Wheel
What is it? The toughest gap year ever
Tell me more: Bear Grylls, eat your heart out. Participants have to endure six punishing South American landscapes across 60 days, from scorching desert to freezing tundra. And just when they start to get used to an environment, the wheel will turn without warning, thrusting them onward to their next location. And it's coming to Discovery on 7 February. We. Can't. Wait.
Watch it Tuesdays, 10pm, Discovery/HD (CH 250/251)
Ultimate Beastmaster
What is it? Gladiators meets the Olympics
Tell me more: Netflix's first reality show is hosted and executive produced by none other than Sylvester Stallone, bringing together athletes from six regions around the world to compete in extreme obstacle courses. It's sure to become a cult hit.
Find it on Netflix from Friday 24 February
Total Blackout
What is it? Total Wipeout in the dark
Tell me more: This Danish show from 2011 saw contestants complete a series of challenges in a dark room, including smelling and feeling things. It didn't take long for the show to descend into a parade of increasingly disgusting tasks. And the suffering didn't end in Denmark – a US version of the show got made – hosted by voice of Sonic The Hedgehog Jaleel White, naturally.
The Great Game Of The Goose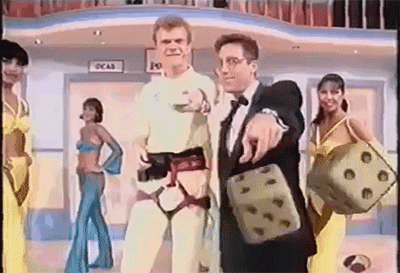 What is it? Every game show that's ever happened, rolled into one
Tell me more: Spanish game show The Great Game Of The Goose, or to use its even catchier name El Gran Juego De La Oca, was a big hit in the 90s. It's based on a giant board game that's hundreds of years old, and contestants had to roll a dice to reach space 63. Don't yawn – it's about to go loco. Cash prizes and entirely unrelated challenges – including mud wrestling, watermelon chopping, leg waxing and escaping a snake pit – made for the ultimate schadenfreude viewing.
The Intercept
What is it? Top Gear goes rogue
Tell me more: This show involved Russians intercepting cars. Contestants were given the opportunity to steal a vehicle. If the thief managed to stay away from the police for 35 minutes, they won a car. If not, pack your bags – you're off to jail. It ran from 1998 to 2000.
Prize Contest Life
What is it? A real-life The Truman Show
Tell me more: This series got so out of hand that the government had to step in and cancel it. The Japanese programme ran from 1998 to 2002, and saw Nasubi – an aspiring comedian – put into solitary confinement, without clothes or supplies. He had to win provisions by entering magazine competitions. Producers set up a 24-hour live feed going out to 16 million viewers, which Nasubi was apparently not aware of. It all got even weirder when producers relocated him to South Korea after reporters discovered his location, where he then had to continue playing the game to win his plane ticket back to Japan.
Man Vs Beast
What is it? Literally does what it says on the tin
Tell me more: Navy SEALs competed against chimpanzees in obstacle courses, Olympic sprinters took on giraffes, and hot dog-eating contests were had against brown bears in this 2003 show. Not to be outdone by America, ITV commissioned a British version, hosted by John Fashanu. Lobbying by animal rights groups meant it never saw the light of day.
Armed & Famous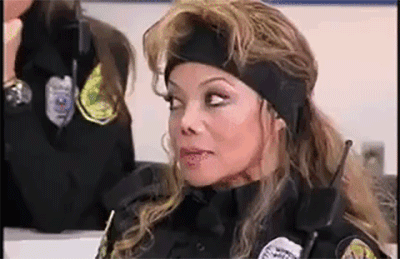 What is it? Celebrity MasterChef, but with weapons
Tell me more: Five celebs trained to become reserve police officers in Indiana. They even had a graduation. How cute. Erik Estrada (who obviously already knew what he was doing, having played a police officer in CHiPs), La Toya Jackson, Jack Osbourne, WWE star Trish Stratus and Wee Man from Jackass were all on the beat. It was cancelled after its one 2007 series.
Shattered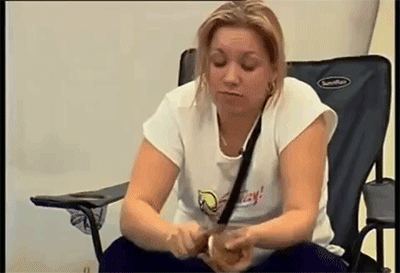 What is it? Big Brother for insomniacs
Tell me more: Hosted by Dermot O'Leary, this British show from 2004 was the ultimate test of endurance. Ten contestants had to go without sleep for seven days, while doing tests and completing challenges. There was £100,000 up for grabs – although if a contestant closed their eyes for more than ten seconds, £1,000 was taken from the prize fund. You snooze, you literally lose. One contestant believed he was the Prime Minister of Australia, and another got angry when the others wouldn't put on their Japanese armour and play with an imaginary ball.
Kid Nation
What is it? Real-life Lord Of The Flies
Tell me more: In 2007, 40 children aged 8 to 15 were tasked with creating their own society in New Mexico, with the promise of monetary prizes. Surprisingly, only three of them left before the 40 days of filming were over.
Flockstars
What is it? Strictly with sheep
Tell me more: A bunch of celebs with some time on their hands tried to master the art of sheep herding, with varying degrees of success. Participants included Corrie star Wendi Peters, Tony Blackburn, A Place In The Sun presenter Amanda Lamb and Fazer from N-Dubz. Strictly Come Dancing's Brendan Cole won, along with his dog, Hoggy. It was shear bliss, but sadly got cancelled after its only series in 2015.
Watch Spring Break With Grandad, Mondays, 10pm, MTV (CH 134) and MTV HD (CH 183)