Valentine's Day is upon us, which means flowers, chocolates and — of course — dates. First dates, dinner dates, movie dates, bed dates… the only thing all these dates have in common is the pressure you're under to have a good one, to be cheerful, charming and disarming. But don't stress too much: at least you're not having these awful movie dates…
The phone conversation - The Invention of Lying (2009)
They say the best relationships should start with full honesty. They are not telling the truth. In The Invention of Lying's world without fibs, Mark undergoes a brutally deflating in-date evaluation when his evening's date Anna takes a check-in call from her mum. "Yes, I'm with him right now. No, not very attractive. No, doesn't make much money. He's all right though. Kind of funny. A bit fat. He has a funny little snub nose. No, I won't be sleeping with him tonight. Nope, probably not even a kiss."
The face explosion - Hitch (2005)
Most 'romance doctors' will say you should aim to get a big reaction. Not this sort of reaction though. While out at a 'food rave', Alex 'Hitch' Hitchens accidentally eats Coquilles St. Jacques, which unfortunately for the shellfish-allergic dating consultant is a scallop-based dish, quickly redirecting the date to the pharmacy for some emergency anti-histamine treatment. Soon the results are written all over poor Hitch's face...
Hitch is available now on Sky Cinema
The overreaction - Knocked Up (2007)

"Maybe I've reacted unfavourably." No kidding. Having arrived at the posh restaurant expecting his romantic evening with out-of-his-league one-night-stand Alison would again end up boudoir bound, Ben Stone's night instead climaxes with him finding out that he's going to be a dad. Remarkably, Knocked Up's newly expectant parent manages to make this situation even worse by swearing at the mother of his unborn child and then getting into an argument about their contraceptive misunderstanding.
Find Knocked Up in On Demand > Movies > Virgin Movies
The unhappy ending - It Follows (2014)
There's a reason your folks warned you about giving up the goodies too early in a relationship, and it's got nothing to do with being classy. No, after It Follows' Jay steams up her oh-so-sweet boyfriend's back car-window, she finds herself chloroformed, tied up and informed by the devious so-and-so that he's just passed on to her a quite-literally killer STD – a curse that will relentlessly pursue her unless she can pass it on to some other poor sucker to buy herself some more time.
Find It Follows in On Demand > Movies > Virgin Movies
The "too much information" - Baby Mama (2008(
"I want a baby now. I'm 37." There's fast, Kate, and then there's too fast. While the future Baby Mama's biological clock might be ticking like Big Ben, it's also sounding a big clanging alarm for anyone sitting on the other side of the posh restaurant's table — which isn't going to be too long judging by the terrified look on that dude's face. Taxi for one, please!
The stomach complaint - Along Came Polly (2004)
'Be yourself' is standard advice for the perpetually lovelorn, and it certainly holds up. We'd certainly not recommend pretending to be someone who likes eating spicy Moroccan food if it reduces you to a bucket-sweating, intestine-evacuating parp-monster. Still, Along Came Polly's risk-averse Reuben thinks the juice is worth the squeeze when on the other side of the tagine is Jennifer Aniston's hot-if-hygiene averse free-spirit. You're going to need some industrial antacids, pal.
The action adventure - Date Night (2010)
What do you do to add a little romantic pep into your semi-comatose grind of married life? Well, stealing someone else's dinner reservations is a start. Unfortunately for 'The Tripplehorns' the original owners of that name are a little light-fingered themselves, having nicked a compromising flash drive belonging to the local mafia boss. Being pursued by Date Night's murderous gun-totin' cops might spice up your love life but maybe try the scented candle option first.
The boozed-up sulk - Rushmore (1998)
Rushmore's 'finest' student Max Fischer's bubble pops with a big splash of booze and bitterness. Fired up on scotch and success after the opening of his new school play, the charming celebration dinner rendezvous Max's arranged with his adored teacher Miss Cross is gatecrashed by her oblivious current boyfriend, fresh from his job at the hospital. Still, Max does crack one zinger out at his medical love rival. "I like your nurse's uniform, guy." "These are O.R. scrubs." "O, R they?"
Find Rushmore in On Demand > Movies > Virgin Movies
The totally inappropriate - Back to the Future (1985)
There are some people you just shouldn't go on a date with. At the very top of that list, we'd say, would be your mum. Still, this is the predicament that Back to the Future's Marty McFly finds himself in on the way to The Enchantment Under The Sea dance, part of his cunning scheme to get his future-mum to fall in love with his dad-to-be. You know you're having a bad date when being beaten up and locked in a car boot by Biff Tannen and his gang of hoods isn't the worst thing that happens.
Back To The Future is available now on Sky Cinema
The whole damn thing… - There's Something About Mary (1998)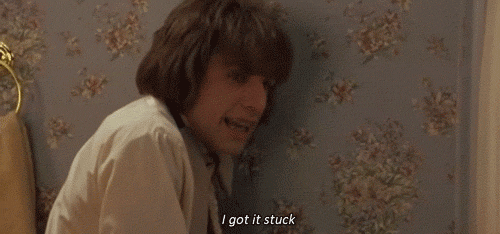 Poor Ted Stroehmann will not be attending his prom, as his dream date turns into a spectacular gush-mare of precision-heaped embarrassment. From the moment Ted knocks on Mary Jensen's door to the second he's dropped into the ambulance after the disastrous attempt to extricate his franks and beans from his zipper goes spurtingly wrong, every agonising misstep and piled on misery notches up There's Something About Mary's comedy level a little bit more.
Are you not in the mood for love? Think romance is for losers? Celebrate the alternative to Valentine's Day with the Down With Love Collection now on Virgin Movies. Find it in On Demand > Movies > Movie Collections