Find it in On Demand > Movies > Virgin Movies
From the creators of Shrek comes this sunny, colourful, animated adventure, available now on Virgin Movies. The Trolls are tiny technicolour creatures who live in a perpetual state of happiness spending their days joyfully singing and dancing. They are led by the happiest of them all, Princess Poppy (Anna Kendrick), who decides to throw a big party.
The noise of the party attracts the attention of the Bergens, large glum creatures who are never ever happy, except for when they eat a Troll. The Bergens kidnap a group of partying Trolls with the intention of gobbling them up. Princess Poppy manages to escape and is the only one brave enough to attempt a rescue mission for the captured Troll.
Meanwhile, living on the outskirts of Troll society is a grey and unhappy Troll named Branch (Justin Timberlake) whose unhappy memories prevent him from joining in the happiness of his fellow Trolls. Branch finds himself caught up in Poppy's mission and reluctantly agrees to help her. The two unlikely comrades set out on the perilous quest and along the way, they discover that they actually quite like each other…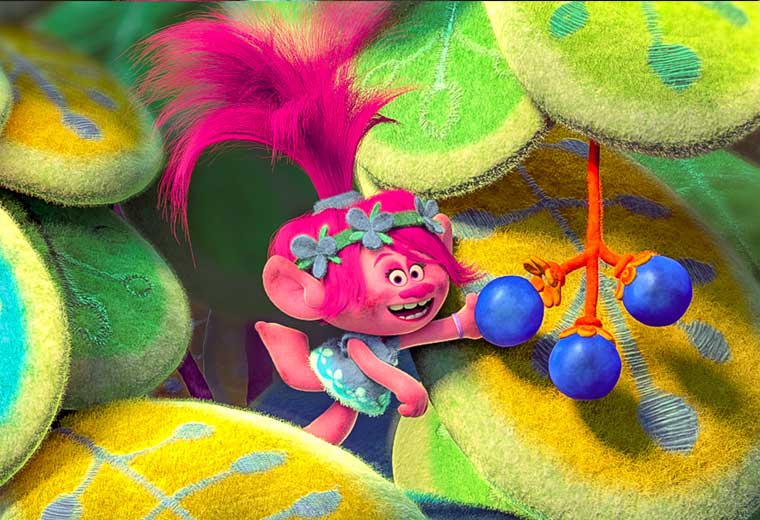 What do we think?
This lively, engaging animation features a tip-top voice cast of Hollywood and music stars, including Anna Kendrick, Justin Timberlake, Zooey Deschanel and Gwen Stefani, alongside British comedy stars Russell Brand, James Corden and John Cleese. This extremely talented bunch bring the characters to life with sparkle and wit.
You'd be hard pushed to find a movie with a more catchy soundtrack than Trolls, with Justin Timberlake's massive hit, Can't Stop the Feeling, as the crowning glory.
Trolls is a huge, exuberant dose of giddy happiness, sit back and enjoy the fun.
Trolls trivia
The film's signature song, Can't Stop the Feeling, reached number one in 17 countries. It also received an Oscar nomination for Best Original Song.
Originally Chloë Grace Moretz and Jason Schwartzman were said to have been cast in the lead roles.
The subplot featuring Zooey Deschanel's character, Bridget, is loosely based on Cinderella.