Ben Affleck stars as the titular pencil pusher in The Accountant, which lands on Virgin Movies from Monday 13th March. But Affleck isn't your usual charcoal suit wearing, coffee swilling, tax return filing professional however. Instead he's a banking badass, who's as good at crushing skulls as he is at crunching the numbers.
Amazingly for a job that revolves around spreadsheets, this isn't the first time accountants have starred at the multiplex. So from prison breakers to the demonically possessed, join us as we look back at the best bookkeepers to make it to the big screen.
Christian Wolff (Ben Affleck) - The Accountant (2016)
Ben Affleck's titular bookkeeper is no mere pen-pusher. Instead he's a military trained badass, with high functioning autism, a criminal history, and a penchant for uncorking the books of mob bosses. Oh and he's a whiz at tax returns too.
Find The Accountant in On Demand > Movies > Virgin Movies
Henry Sherman (Danny Glover) - The Royal Tenenbaums (2002)


Playing against type as a softly spoken accountant, Danny Glover is perhaps the standout star of Wes Anderson's oddball comedy, precisely because he is the most normal character in what's otherwise a kaleidoscope of kooks.
Leo Bloom (Gene Wilder) - The Producers (1968)

Sure Matthew Broderick is great in the 2005 remake; but for sheer goggle-eyed, maniacal movie magic you can't beat Gene Wilder's incredible performance as the bent Broadway bookkeeper in Mel Brooks' sidesplitting comic caper.
David Stephens (Christopher Ecclestone) - Shallow Grave (1994)

Future Timelord Christopher Ecclestone is excellent as a chartered accountant who is gripped by paranoia in Danny Boyle's big screen debut. Of course he has every reason to be apprehensive. After all he and his friends did dismember and bury the body of their housemate after discovering he's hiding a suitcase full of cash. Nevertheless Ecclestone is simply superb, entirely eclipsing his co-stars, which is no mean feat when you remember they include Ewan McGregor, Keith Allen and Ken Stott.
Andrew Dufresne - The Shawshank Redemption (1997)

An honest man on the outside, it's somewhat ironic that wrongfully convicted killer (and former accountant) Andy Dufresne becomes a crook on the inside as he uses his tax-evading know-how to make himself invaluable to his incarcerators. And the fact that he eventually bests them with his bookkeeping brilliance makes this movie one of the more fist-pumping examples of financial wizardry on the big screen.
Louis Tully (Rick Moranis) - Ghostbusters (1984)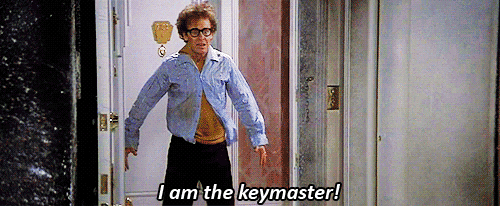 Accountant by day, demonically possessed Keymaster intent on ending the world by night, Louis Tully is the definition of the geeky movie accountant. In fact he's so financially savvy that he invites clients to a party at his apartment just so he can write it off as tax deductible. In lesser hands he could have been two dimensional, but thanks to a never-better Rick Moranis Tully is still one of our favourite parts of one of our favourite films.
Loretta Castroni (Cher) - Moonstruck (1987)

Cher won herself an Oscar for Best Actress for her turn as a widowed accountant who finds love with her fiancee's brother (who just happens to be Nic Cage) in this laugh out loud rom-com, which is just as funny today as it was on its original release in 1987.
Oscar Wallace (Charles Martin Smith) - The Untouchables (1987)

"You wanna know how to get Capone? They pull a knife, you pull a gun. He sends one of yours to the hospital, you send one of his to the morgue. That's the Chicago way!" Sean Connery's advice might be one of the most quoted lines from Brian DePalma's dramatic take on Al Capone's capture, but it's not how the feds really caught Capone. Instead that honour goes to Oscar Wallace, the bookish accountant who helped collar the infamous mobster in this iconic 80s movie.
Detective Allen "Gator" Gamble (Will Ferrell) - The Other Guys (2010)

In something of a high watermark for the actor's own unique brand of big screen LOLs, Will Ferrell is brilliant as the seemingly mild-mannered forensic accountant with a dark history as a pimp called Gator.