Fed up with watching whatever nonsense your no doubt adorable young children are currently obsessed with on TV? Fear not, because help is at hand in the form of We Bare Bears, Cartoon Network's delightful cartoon about three bears just trying to fit in.
Combining great characters, charming animation and warm humour with positive messages, We Bare Bears is something that adults can enjoy just as much as children. And better yet, We Bare Bears is now available in Catch Up meaning that there's no excuse not to give it a try.
Here are nine reasons why you need to get your kids watching this brilliant show.
The characters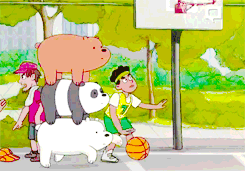 The show revolves round three bears who live in a cave just outside the San Francisco Bay Area: Grizz the grizzly bear, Panda the giant panda and Ice Bear the polar bear. Of the three, Grizz is friendly, extroverted and loves meeting new people but is somewhat lacking in social graces, Panda is tender-hearted, obsessed with social media and easily embarrassed, and Ice Bear is stoic, speaks in the third person and has exceptional cooking and martial arts skills. They also have a unique way of travelling known as a #bearstack!
The relatable storylines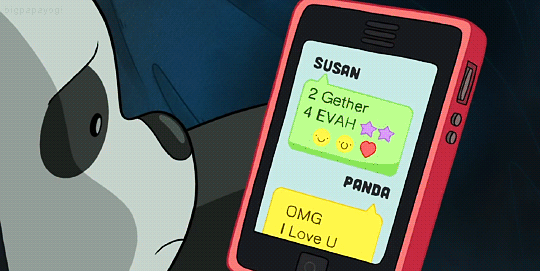 Most of the storylines revolve around the bears getting into hilarious scrapes of one sort or another, but their situations are often highly relatable, particularly Panda's obsession with social media and finding a girlfriend. Early highlights include "Viral Video", in which the bears attempt to become internet famous, and "Shush Ninjas", in which the bears try to quiet noisy cinema audiences while they're trying to watch a film. See? Relatable.
The gorgeous animation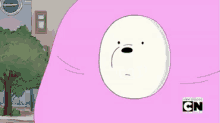 Creator Daniel Chong is a former Pixar story artist (so you know you're in safe hands here), but his animation style is often reminiscent of Japanese anime, particularly when the characters display their adorably wonky smiles. The animation also contains a lot more detail than you expect on other cartoon shows, particularly when it comes to food preparation (Ice Bear is a culinary expert). We defy you to watch the "Food Truck" episode without wanting to go out for a calzone afterwards.
The supporting cast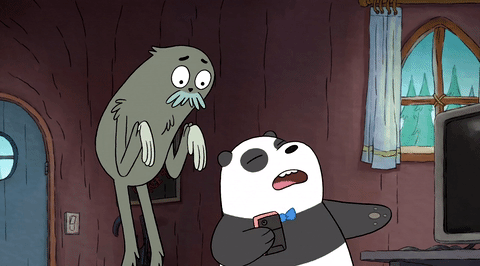 There are three main supporting characters: Nom Nom, an internet-famous koala who's extremely obnoxious; Chloe Park, a 10 year-old Korean-American child prodigy who befriends the bears after making them the subject of a college presentation; and Charlie, a socially inept bigfoot who's constantly harassed by people trying to take photos of him. However, the show has an interesting approach to its supporting characters, in that it rotates them, individually, rather than having them appear in each episode, so every so often you get "a Charlie episode" or "a Nom Nom episode".
The flashback episodes
Just when you think the show can't possibly get any cuter, they hit you with the flashback episodes, which detail the story of how the bears came together and found their cave home. The majority of the flashback episodes feature baby versions of the bears and have them travelling across the world. A particular highlight is "Yuri and the Bear", which effectively tells Ice Bear's origin story, including where he learned to speak in the third person and who taught him how to cook and wield an axe.
The fabulous theme song
Performed by Britain's own Estelle, the theme tune to We Bare Bears is infectiously catchy and guaranteed to be bouncing around your head all day. We present the full theme above for you to learn and sing along:
It can deliver an emotional sucker punch
Take the "Burrito" episode. One minute you think you're watching an amusingly silly, slightly surreal episode about Grizz forming an inexplicable attachment to a giant burrito. Then, right at the end, we flash back to an incident in Grizz's young life that perfectly explains his obsession and it's utterly devastating. If you watch this one with your kids, be warned - you may have to deal with them asking you why you're crying afterwards.
It has a strong underlying message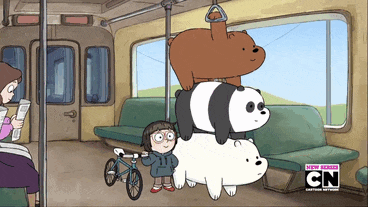 Though clearly not brothers, the bears refer to each other as "bros" and behave, to all intents and purposes, like family. They're both supportive and understanding of each other, even if their attempts to help each other out often end in disaster. They're also friendly to everyone they meet and always ready to believe the best in people. And if that's not a charming take-away message, then we don't know what is.
Ice Bear's lines are endlessly quotable
"Ice Bear bought these legally". "Ice Bear settled that out of court". "Ice Bear feels shame". "Hashtag Ice Bear for President". Ice Bear has fewer lines per episode than either Grizz or Panda, but every one of them is endlessly quotable, thanks to his habit of speaking in the third person and comedian Demetri Martin's note-perfect delivery. Watch enough We Bare Bears and you'll find yourself repeating Ice Bear lines on a daily basis.
New episodes of We Bare Bears are airing weekdays at 7.30am and 6pm on Cartoon Network (CH 704) and Cartoon Network HD (CH 732). Also available in Catch Up > Channels > Cartoon Network