If you've watched anything on BBC One lately, you will no doubt be aware that on March 24, the stars of Richard Curtis' Love, Actually are reuniting for a one-off special for Red Nose Day. Details are being kept firmly under wraps but with such a massive cast, it's going to be fun to tick them all off as they show up. At any rate, the reunion special is an inspired idea (regardless of your opinion of Love, Actually) and it got us thinking about other TV show reunions we'd love to see, so we've compiled a handy list, actually.
1. Cheers (1982 - 1993)

One of the all-time great sitcoms, the show about the regulars of a Boston bar ran for eleven years, before finally closing its doors in 1993. A Cheers reunion, set 24 years later, would be a terrific idea, not least because all the actors are still alive and still working. The way the show ended, it's actually very easy to imagine that Sam, Carla, Norm, Cliff and the gang just carried on as normal, so a reunion show would be exactly like going back to a bar full of old friends. Incidentally, Ted Danson's Sam Malone would now be 69 years old, nine years older than Nicolas Colosanto's Coach was in his final appearance on the show.
2. This Life (1996 - 1997)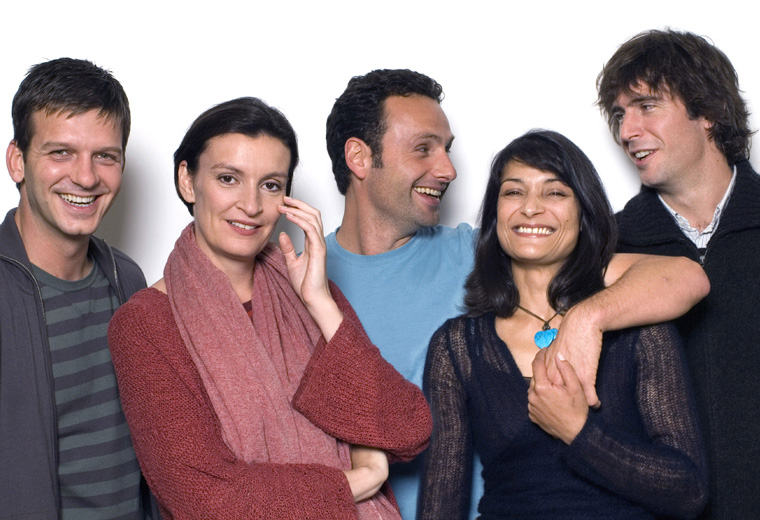 Technically, the much-loved British comedy-drama about a group of twenty-something law graduates (including Jack Davenport as Miles, Andrew Lincoln as Egg and Daniela Nardini as Anna) already had a ten-years-later reunion show, back in 2007, called This Life +10. However, it was poorly received, so let's forget that happened and have a 2017 +20 reunion instead. The characters would all be in their 40s now, and there's no reason to suggest they wouldn't be every bit as messed up now as they were when we last saw them. Miles' story in particular, needs resolution, as we last saw him divorced and penniless and deciding to travel the world.
3. Moonlighting (1985 - 1989)

Running for four seasons in the 1980s, the comedy-drama about a will-they-won't-they pair of private detectives launched Bruce Willis' career and proved a comeback hit for Cybil Shepard. Unfortunately, the on-set relationship between the two leads was so frosty that it severely impacted the fourth season of the show, to the point where whole episodes would go by without the stars appearing at all. If Willis and Shepard could be persuaded to bury the hatchet for a reunion show, it could provide some much-needed closure. Who knows, perhaps David and Maddie might even finally solve the Anselmo case?
4. Friends (1994 - 2004)

The long-running sitcom about a group of New York twenty-then-thirtysomethings ended in 2004 with Monica (Courtney Cox) and Chandler (Matthew Perry) moving to the suburbs with their two kids, Ross (David Schwimmer) and Rachel (Jennifer Aniston) finally getting back together, Joey (Matt LeBlanc) moving to L.A. to pursue an acting career, and Phoebe (Lisa Kudrow) happily married to her boyfriend Mike (Paul Rudd). Some of the actors have guested in each others' projects subsequently (e.g. Jennifer Aniston appearing on Cougar Town), but a full-on (and oft-mooted) reunion show is surely on the cards at some point. Could it BE any more of a no-brainer?
5. Dynasty (1981 - 1989)

Rival 1980s soap Dallas recently enjoyed a moderately successful reboot that reunited four of the original cast members (Victoria Principal was the notable hold-out), so why shouldn't Dynasty get the same treatment? In fact, a Dynasty reboot is currently in the works on the CW network in the U.S., but it's unclear exactly how many, if any, of the original cast members will return, despite the fact that several of them – notably Joan Collins (Alexis), Gordon Thomson (Adam), Jack Cole (Steven) and John James (Jeff) - are still working. Let's face it, Dynasty isn't Dynasty without Joan Collins, so here's hoping the producers are sweet-talking her into it as we speak.
6. Freaks and Geeks (1999 - 2000)
It's impossible to watch Freaks & Geeks without falling madly in love with it, so it's utterly baffling that the show got cancelled even before its first season had finished airing. Created by Paul Feig and executive produced by Judd Apatow, the high school comedy-drama was set in the early 1980s and starred a veritable who's who of up-and-coming talent that included Seth Rogen, James Franco, Linda Cardellini and Jason Segel. The actors are now too old to reprise their teenage roles, but there's nothing to stop them doing a high school reunion show, set 17 years later, in 1998.
Freaks and Geeks is available to stream on Netflix
7. My So-Called Life (1994 - 1995)
Sharing the same cancelled-too-soon fate as Freaks & Geeks, My So-Called Life centred on the emotional ups and downs of teenager Angela Chase (Claire Danes) and her circle of high school friends, including heart-throb Jordan Catalano (Jared Leto), rebellious Rayanne (A.J. Langer) and sensitive, socially awkward Brian (Devon Gummersall). Again, a high school reunion episode (set in the present day, with the characters in their late '30s) would be a real treat for fans, but in the meantime we can pretend Angela changed her name to Carrie Mathison and got a job with the CIA on Homeland.
8. The Wonder Years (1988 - 1993)
Running between 1988 and 1993, nostalgia-heavy comedy-drama The Wonder Years was set exactly twenty years in the past, covering the years 1968 to 1973 and taking its young protagonist, Kevin Arnold (Fred Savage) from the ages of 12 to 17. A reunion show would therefore have to be set in 1997 (yeah, that's right – 1997 was TWENTY YEARS AGO), with the characters now aged 41. The voiceover in the show's final episode did a pretty good job of explaining what happened to the characters, but it would still be fun to catch up with Kevin, his best friend Paul (Josh Saviano) and high school crush Winnie Cooper (Danica McKellar).
9. thirtysomething (1987 - 1991)
It would be worth making a reunion episode just so they could call it sixtysomething. In addition to popularising its titular phrase, thirtysomething (a domestic drama about a group of baby boomers) was hugely influential at the time, winning praise for its stylistic and storyline innovations. Given that thirtysomething is 30 years old this year, it's the perfect time for a reunion show, but in the meantime, there's the next best thing – a reunion book titled Thirtysomething at Thirty: An Oral History (due later this year), which features the entire cast talking about the show and publishes the original, unaired script that was supposed to end the series.