Find it in On Demand > Movies > Virgin Movies
Moana (voiced by Auli'i Cravalho) is the free-spirited daughter of the Chief of a small island called Motunui. When Moana sees the vegetation on the island dying and the fishermen coming back empty-handed from their fishing trips, she knows that something is seriously wrong and drastic action is needed.
Moana discovers that the island is suffering because long long ago, the demigod Maui (voiced by Dwayne Johnson) stole a mystical stone belonging to the island goddess Te Fiti, and balance will only be restored to the island by reuniting the goddess with the stone.
Hungry for adventure, Moana makes it her mission to find Maui and put things right. And so begins an epic, life-changing journey that will take Moana far from home and require every ounce of strength and skill she possesses.
What do we think?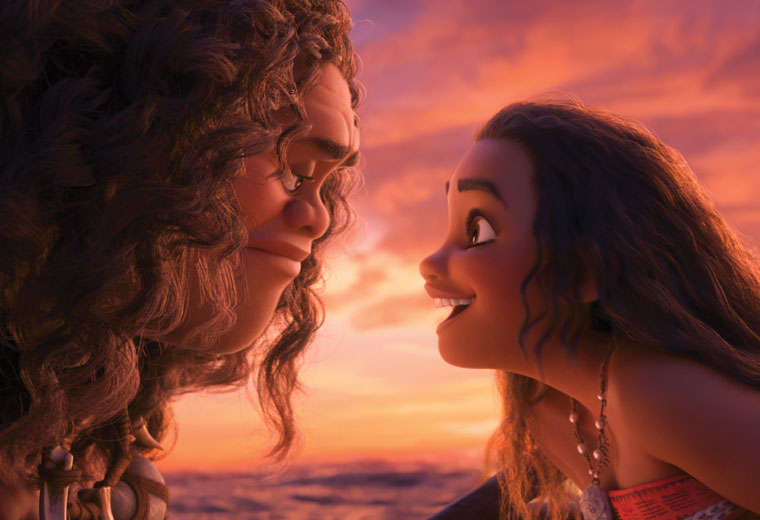 Moana is a refreshingly modern heroine, far from the traditional Disney princess. She can navigate the ocean and overcome any obstacle life throws at her. Dwayne Johnson brings to star power as the voice of demigod Maui. Moana and Maui make an entertaining double act as they zip from one escapade to the next. Other familiar voices among the cast include Jermaine Clement and Nicole Scherzinger. But it is newcomer Auli'i Cravalho who steals the show, bringing a fresh and determined quality to the voice of our heroine, Moana.
Directors Ron Clements and John Musker know how to create that special Disney magic, having previously made The Little Mermaid, Aladdin and The Princess & The Frog. The film is a delight from start to finish, beautifully animated, with plenty of catchy songs for kids to sing along to. You know you're in safe hands with a Disney movie and true to form, they've delivered another belter to be enjoyed by all, regardless of age.
Moana trivia
- Moana was nominated for two Oscars – Best Animated Feature and Best Original Song (for How Far I'll Go).
- The story for the film is based on Polynesian mythology.
- The striking physical similarities between Moana and Auli'i Cravalho, who voiced the character, are purely coincidental. Cravalho was cast after Moana had been created by the animators, though some of Cravalho's mannerisms were incorporated into the character.
- The film is rated 95% fresh on Rotten Tomatoes, putting it ahead of megahit Frozen, which scored 89%.
- Lin-Manuel Miranda, who co-wrote the songs in Moana, is the writer of Broadway phenomenon Hamilton and will star in Disney's upcoming film, Mary Poppins Returns.