Find it in On Demand > Movies > Virgin Movies
Teleporting to Virgin Movies this week, Benedict Cumberbatch dons the Cloak of Levitation, the Eye of Agamotto and the greying sideburns of distinguished gentlemen everywhere to become Marvel's mystic superhero Doctor Strange.
After a devastating car accident, neurosurgeon Stephen Strange (Benedict Cumberbatch) desperately searches for a cure for his hands that will mean he can perform surgery again. When he hears of a miraculous case of a paralysed man able to walk again, his investigation leads him to a sorcerer, which in turn leads him to the Ancient One (Tilda Swinton).
This meeting transforms Strange's life beyond all recognition, his reality is completely turned upside down. The Ancient One explains that the reality he knows is one of many. Determined to master the Mystic Arts, Doctor Strange persuades the Ancient One to mentor him and under her guidance, he embarks on a mind-bending journey.
The Mystic Arts are a dangerous thing and not everyone who masters them has noble intentions. It is not long before Doctor Strange must confront a dangerous enemy, Kaecilius (Mads Mikkelsen), a Master of the Mystic Arts. Has Strange mastered his new powers enough to defeat such a formidable foe?
What do we think?
This is a superior brand of superhero movie, as the calibre of the cast indicates. Benedict Cumberbatch brings his trademark brooding charisma to the role of Doctor Strange. He plays it both for laughs and for serious dramatic impact, making both look effortless. Cumberbatch is surrounded by an outstanding supporting cast, featuring Chiwetel Ejiofor, Tilda Swinton and Rachel McAdams. Mads Mikkelsen is on fine form as the sinister Kaecilius, proving to be an impressive villain for Doctor Strange to contend with.
Following in the prestigious footsteps of Christopher Nolan's Inception, the special effects in Doctor Strange bend time and space in the most fantastical of ways – this is what CGI was invented for, it truly is spectacular. It's a mind-boggling, eye-popping, trippy experience.
Doctor Strange is a strikingly ambitious addition to the Marvel franchise, one that adds a layer of complexity and downright weirdness to the Marvel universe in the best possible way.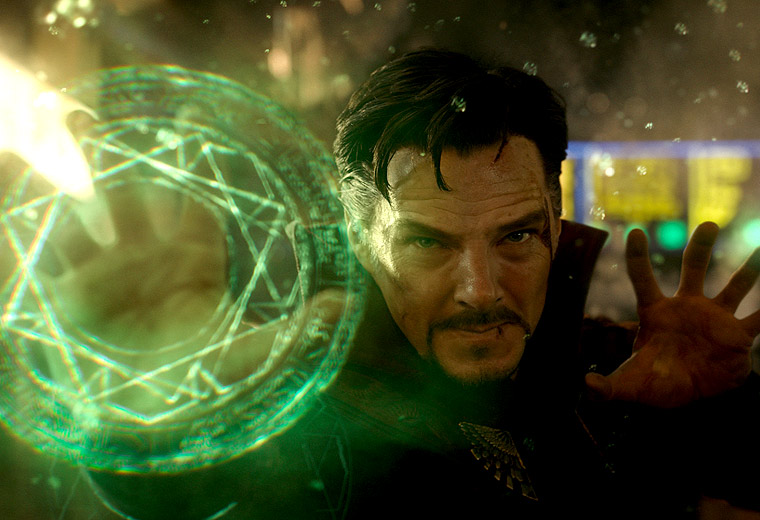 Doctor Strange trivia
- Benedict Cumberbatch also portrays a villainous entity, Dormammu in the film, for which he is uncredited.
- Mads Mikkelsen's makeup took 2-3 hours to apply.
- Look out for a cameo appearance from Chris Hemsworth as Thor.
- Numerous other actors were considered for the role of Doctor Strange before Benedict Cumberbatch was cast, including Tom Hardy, Jared Leto, Joaquin Phoenix, Ethan Hawke, Oscar Isaac, Ewan McGregor, Matthew McConaughey, Jake Gyllenhaal, Colin Farrell, Keanu Reeves and Ryan Gosling.
- The film's stunning visual effects earned it an Oscar nomination.
- In the Doctor Strange comics the Ancient One is an elderly man, but in the film the character is played by Tilda Swinton.