Available now in On Demand > Movies > Virgin Movies
Harry Potter fans rejoice! Here is the fix you have been waiting for. Fantastic Beasts and Where to Find Them plunges us back into the Harry Potter universe, but long before Harry, Ron, Hermione and co. were even born.
Newt Scamander (Eddie Redmayne) arrives in 1920's New York to study magical creatures. He is writing a book all about them, which unbeknown to him, will go on to be read by Harry Potter and hundreds of other Hogwarts' students.
However, things don't go according to plan when there is a mix-up and a number of fantastic beasts escape from Newt's magical suitcase and go on the rampage.
Newt soon finds himself embroiled in the escalating tension between the secret wizard community and the ordinary citizens of New York, known as the 'No-Maj', some of whom are beginning to suspect there may be magic in their midst…
What do we think?
Fantastic Beasts and Where to Find Them builds on the rich mythology of the Harry Potter universe and adds another dimension to it. It's a dazzling, action-packed adventure, crammed with eccentric characters and, of course, fantastic beasts. It's great fun meeting all the weird and wonderful animals that sprung from the extraordinary imagination of J.K. Rowling.
Eddie Redmayne is perfectly cast as the odd and introverted Newt Scamander who is swept up in an epic adventure he hadn't vouched on. Surrounding Redmayne is a terrific ensemble cast, featuring Colin Farrell, Katherine Waterston, Samantha Morton, Dan Fogler, Alison Sudol, Ezra Miller and Johnny Depp.
Having directed the last four films in the Harry Potter franchise, David Yates knows exactly what he's doing and he works his magic on Fantastic Beasts and Where to Find Them, creating a magnificent action caper full of warmth, humour and spectacular visuals.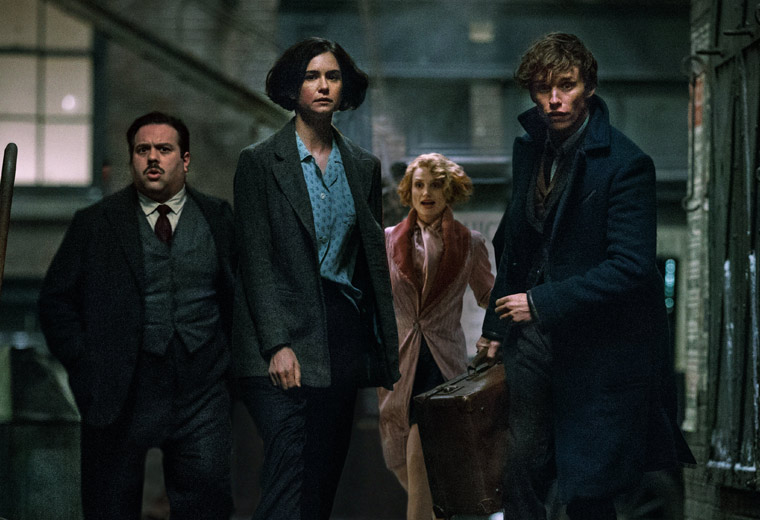 Fantastic Beasts and Where to Find Them trivia
- J.K. Rowling wrote the novel of Fantastic Beasts and Where to Find Them back in 2001 as a fundraiser for Comic Relief. She later adapted it into a screenplay.
- Fantastic Beasts and Where to Find Them was nominated for five BAFTAs and two Oscars.
- It won the Academy Award for Best Costume Design, making it the first film in the Harry Potter franchise to scoop an Oscar.
- Matt Smith and Nicholas Hoult were also considered for the role of Newt Scamander, but J.K. Rowling always wanted Eddie Redmayne to play the part.
- This was originally intended to be the first film in a trilogy, but it has now been confirmed that there will be five films in the series.
- Eddie Redmayne auditioned for the role of Tom Riddle in Harry Potter and the Chamber of Secrets.
- J.K. Rowling provided a very detailed back-story for Newt Scamander, which was revealed only to Eddie Redmayne.