You've been summoned to watch a gripping new courtroom drama on Virgin TV this week – Chicago Justice. The latest addition to Dick Wolf's hugely popular Chicago franchise (Chicago Fire, Chicago P.D. and Chicago Med), it follows the State's Attorneys as they sink their teeth into a whole host of juicy cases. And who's this on the team? It's none other than Carl Weathers!
Having made his name flexing his muscles in classic movies like Rocky and Predator, Weathers will be playing Cook County State's Attorney Mark Jefferies in this unmissable new series. Here comes the man himself to tell us all about it…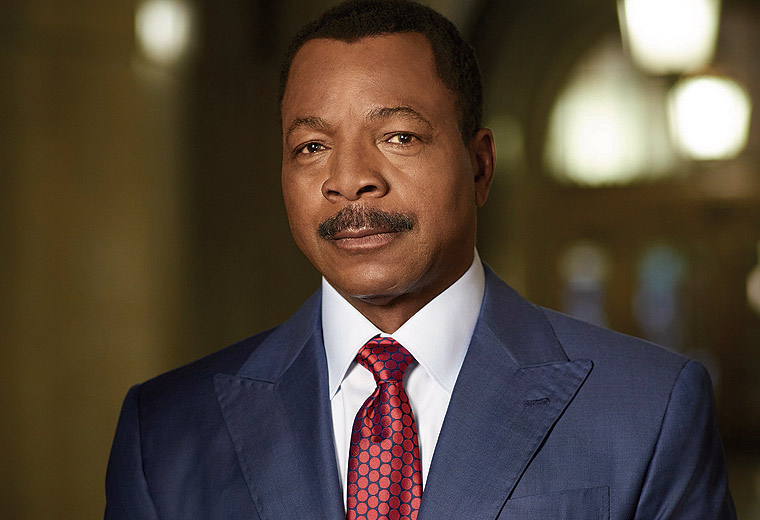 Hi, Carl! What kind of guy is Mark Jefferies?
"He's smart, strategic and ambitious. He's a politician and he's been elected to be State's Attorney. He ran as a Republican, purely because he thought that would give him the best chance of getting the job."
Mark wields a lot of power. Does that kind of role put an extra spring in your step on set?
"It's a challenge playing someone like Mark Jefferies. He has so much power but he's still socially conscious. He wants to do right by all people, not just the rich and powerful. But he walks a fine line between right and wrong."
We love a good legal drama. Why do you think they remain so popular?
"I think people like to see right and wrong played out on screen. But I think there's also something about pulling the curtain back on areas of society that people don't usually get a chance to see. We're also interested in the personal lives of these people. They deal in life or death situations, but who are they? I think there's a fascination with how they operate."
Was it all business on set?
"It was professional, but not too buttoned-up. When you're on a set all day it can get monotonous, so you've got to try to keep some levity when you're working. It's good to enjoy the people you're with and enjoy the work. I like to have fun!"
What do you watch on the box?
"I like our show! I watch shows where the characters have a lot at stake, and where the stories reflect the world as it is – not just fantasy. I've got to say I loved Luther. I wanted to see more of it!"
Anyone you'd like to work with that you haven't already?
"There's a host of people that would be fun to work with, but it's not like I have a burning desire to work with any particular person. So many good people work on this show – whether that's guest stars or directors – that it ups the ante from episode to episode."
You have a huge list of acting credits. How important is it to stay busy in your profession?
"For me, it's important to work. That doesn't mean you're always in front of the camera, though. I'm always studying. That might mean watching TV, watching movies, reading, studying production and lighting. It all feeds into what I do for a living. And then there's the skill of observing people. I think observing people can be very useful."
Where's the weirdest place you've been recognised?
"I took a trip to a quiet part of Italy once, and as I was getting out of the car one day a couple of little kids were walking in my direction. They started making these boxing movements with their fists and all they could say was 'mountain of muscles'! I thought that was hilarious. And it was so sweet, because when you've done something so recognisable as Rocky it connects with people all around the world."
Watch Chicago Justice, Thursdays, 9pm, Universal Channel (CH 137) and Universal Channel HD (CH 164). Also available for 30 days in Catch Up > Channels > Universal Channel