Got the blues because the series finales of both The Walking Dead and Legion are coming up on FOX? We feel your pain. But here's some good news for you – season 2 of the awesome supernatural series Outcast starts on FOX this Monday, and we can't wait to jump back in. If you missed season 1 last summer, you don't have to miss out – you can catch it right now in Box Sets. Then get ready to be terrified all over again!
Tell me more
It's based on a comic book co-created by Robert Kirkman (The Walking Dead) and follows Kyle Barnes (Patrick Fugit, Gone Girl), a young father in the small town of Rome, West Virginia, who just so happens to have been plagued by demons since childhood.
Poor lad. How's that working out for him?
Following a traumatic life that's seen both his mother and wife possessed by evil forces, Kyle wants to find out why all kinds of malevolent spirits continue to hound him. What's worse, his half-sister and other residents of the town are having some demonic problems of their own. In season 1 he teamed up with local men Chief Giles (House Of Cards' Reg E Cathey) and Reverend Anderson (Life On Mars' Philip Glenister), but discovered that the reasons for his troubles could be darker than he ever thought possible. Yep, that was a chill that just went up your spine.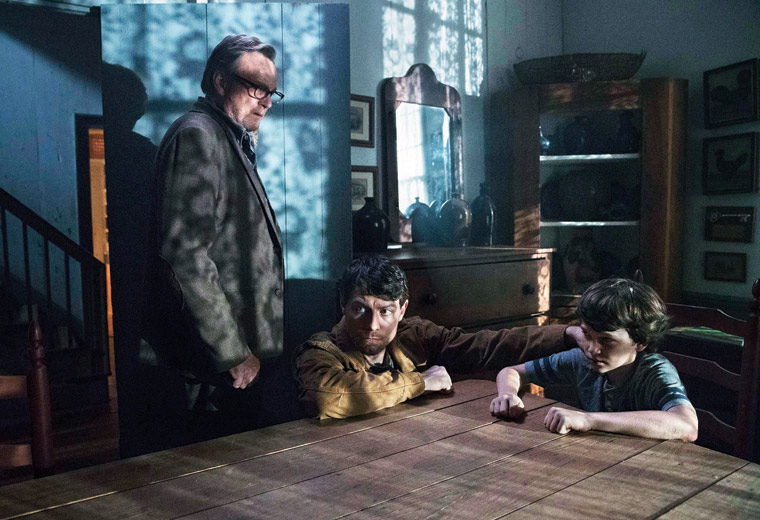 Tingly! What's going to happen in season 2?
In a nutshell – paranoia, fear and mistrust. Yay! The residents of Rome are waking up to the fact that anyone is capable of being possessed, sending a ripple of fear throughout the town. Are all these possessions just happening in Rome, or could they affect anywhere in the world? And then you've got Sidney…
Sidney who?
Played by Brent Spiner (Star Trek: The Next Generation), he's the resident bad guy, who the Reverend thinks might be the Devil. Whatever he is, he's harbouring secrets and could reveal them in season 2.
It all sounds super freaky…
You bet it does. There are plenty of demonic spirits at play in this little town – and no citizen is safe. Kyle and his cohorts must do everything they can to stop the place from unravelling at the seams, but these demons are a persistent bunch. If you're looking for genuine, white-knuckle, edge-of-your-seat scares, Outcast has them by the bucketful.
I'm in!
Boom! Before season 2 kicks off this Monday, we chat with Reverend Anderson himself, Philip Glenister, to talk Outcast, life in the States and why green tea is really boring…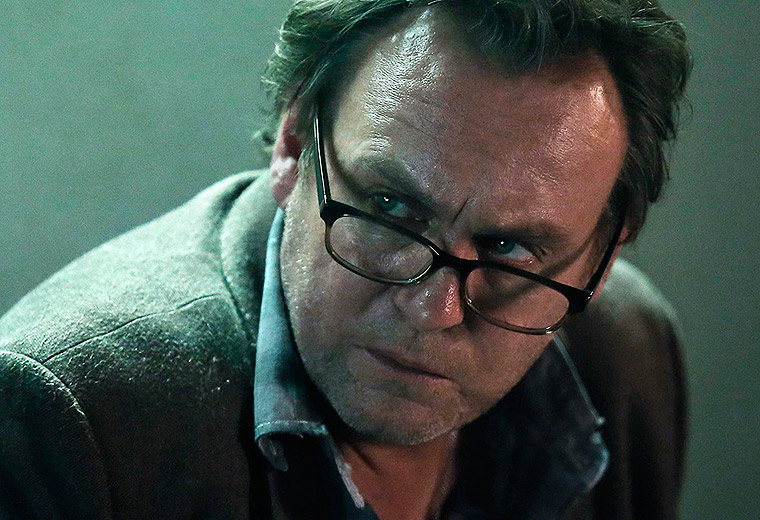 Hi Philip! Let's get straight to it – what's in store for the Reverend in season 2?
He hits rock bottom and starts to question everything he believes in. He has nothing in his life. When we come to see him at the start of season 2, he's living in his car. He's got nowhere to live and is a bit of a lost soul.
And what about his relationship with Kyle?
Whereas the first season was about Kyle trying to get the Reverend on side, this series is more about the opposite. People thought the Reverend was crazy, but now people start to see him in a different light.
Can we expect any new characters?
Doctor Park is one of them. But I can't say too much about him. What I can say is that he's quite a divisive character. There's another guy called Junkyard Bob...
Be honest – were you desperate to work in the States before signing up for the show?
It was never in the scheme of things for me to do. My wife convinced me to give it a go. I'm not part of that leading man generation anymore. If you go to Hollywood, all of these guys are young, ripped and drinking green tea. It's boring! It's nice that one can go in as a character actor and not feel threatened by too much competition.
Can you see yourself moving to America?
I have no intention of moving to the States!
Do you stay in character when you're filming?
I stayed in the accent all day. It's much easier and a lot of fun to see if you can fool people when you're in the mall. I should say shopping centre, really.
Where did you take inspiration from for the role?
I watched some of the evangelical channels you get in America. People buy into that stuff. It shows how easily brainwashed they are. Some of these preachers are like rock stars and the pulpit is their stage.
Finally, what's the best thing about working in the USA?
It's fun being pretty much the only Brit on the set. I got the mickey taken out of me for Brexit, but I had the last laugh when Trump was elected President.
Outcast season 2 starts on Monday 3rd April at 10.15pm on FOX (CH 157) and FOX HD (CH 199). Also available for 30 days in Catch Up > Channels > FOX. Season 1 available in On Demand > Box Sets > FOX > Outcast