Dry your eyes, mate. Wipe away them tears. The new series of Doctor Who kicks off this Saturday, but its triumphant return is tinged with sadness. Why? Because this will be the last series that features Peter Capaldi as The Doctor and the brilliant Steven Moffat as showrunner. Talk about the end of an era…
But let's not get too down. There's also cause for celebration! The Doctor has a new companion in Bill Potts (Pearl Mackie) and it looks as if she and our dear Time Lord will be getting along like a TARDIS on fire.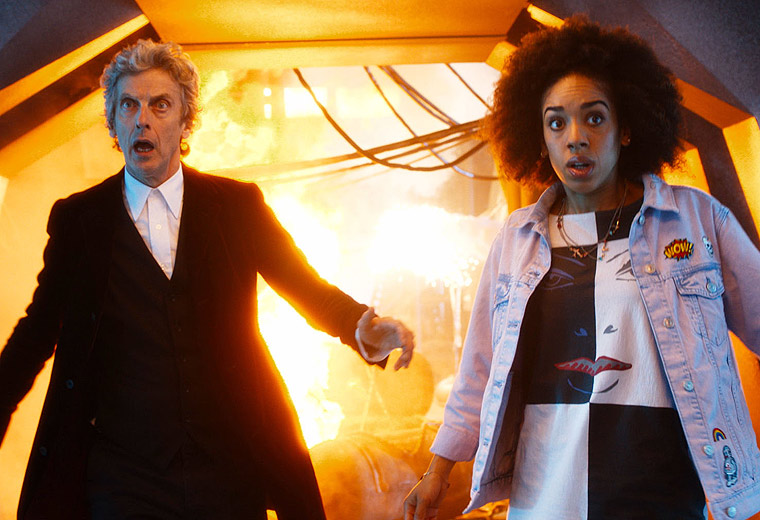 Potts is integral to this weekend's heart-thumping series opener "The Pilot". Having unofficially enrolled at the university where she works in the canteen, Potts gets caught up with the mysterious Heather (Stephanie Hyam) – a relationship that could have perilous consequences. Whatever will she do? Well, enlisting the help of The Doctor and his assistant Nardole (Matt Lucas) might help.
The beauty of this explosive episode is that it caters perfectly to both hard-core Whovians and complete newbies to the show. Can't tell your Daleks from your Cybermen? No worries! Often bore your buddies to death with pointless trivia? Splendid! Everyone's welcome here.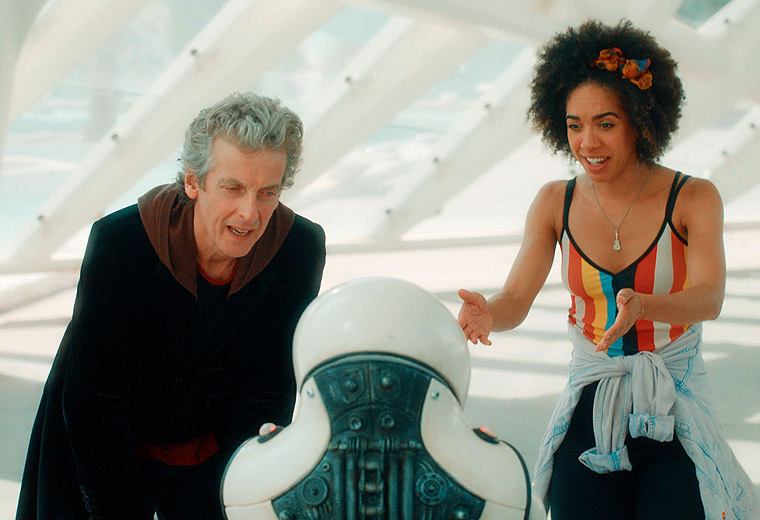 Ahead of the series premiere, we chat to Capaldi, Mackie, Lucas and Moffat about joining the show, leaving the show and who might be the next Doctor…
Hello! Steven, what can you tell us about the new series?
Steven Moffat: The new series very much starts again. I know it's my last series but that doesn't matter. We wanted to start with an episode that explains the entire format, so you can jump on with episode one having never seen it before.
Pearl, how would you describe Bill?
Pearl Mackie: She's quite normal. She hasn't had an extraordinary life; it's been quite average and lacking in excitement. All of a sudden, she's presented with this amazing man and she's completely fascinated.
And how have you found joining a worldwide phenomenon like Doctor Who?
PM: I didn't sleep at all before my first day of filming. I was more nervous than I've ever been in my entire life. I've relaxed into it more now, but it's still been such a roller coaster.
There's been a lot of comment about Bill being The Doctor's first openly gay companion. What do you say to that?
SM: We're not expecting a pat on the back for this. It's a minimal level of representation and it's been a long time coming. This is not a major plot strand – it's just there. We've been astonished at the level of attention it's got. It's important to stop making a fuss about it. She's not "the gay companion". She's Bill Potts.
Pearl, were you a fan of the show before you got the gig?
PM: I was told not to watch when I got the job. I haven't watched that much of it – a couple of episodes here and there – but watching someone do the job you're about to do helps, so I studied the other companions.
Peter and Matt, how has it been working alongside Pearl?
Peter Capaldi: It's great fun. I can barely remember anything after filming for ten months, but it's good!
Matt Lucas: She's incredible. I could tell there was something special going on with Pearl instantly. She's magnificent, contemporary, honest and real.
And what's Pearl's relationship with The Doctor like?
SM: He's quite a different Doctor with Bill, in ways that are hard to define. The Doctor is dealing with someone who questions him and skewers him from time to time. There's a kindness that he has around Bill.
We see a lot more of Nardole in this series – what was the thinking behind that?
SM: I thought Peter's Doctor would appreciate having a butler or a valet! Matt was in LA when I chatted to him about it and he was keen to just show up and be in as many episodes as possible.
What are your favourite moments from the new series?
PC: There are some new monsters and there are some old monsters – and it all looks amazing. I love when we do really creepy things and give people nightmares!
ML: The nice thing about working on the show is working with new people from episode to episode. We've worked with some great actors in this series, including David Suchet.
PM: There have been so many favourite moments for me. Doing some stunts has been fun, but it's been good to do the emotional stuff, too.
Any thoughts on who should play the next Doctor?
PC: I'm sure whoever that person is will be wonderful. The people behind the show will make – if they haven't already – a wonderful choice. The main thing is that they're right for the part.
ML: I think The Doctor should be played by twins speaking in unison.
Steven, are there any plans to make more episodes of Class?
SM: We don't know right now. We'd love to get more Class made. I'd say you should wait and see what happens. It's a great show.
Finally, Steven and Peter, how are you feeling about leaving?
SM: It's been the most perfect time of my life. Not because I did it perfectly but because I learned so much from it, worked with some amazing people and made some wonderful friends. It's my favourite show and I got to run it for a few years.
PC: When I walk around, people don't see Peter anymore. It's Doctor Who they see and he gets many more smiles than I do. It'll be sad to say goodbye to him.
Doctor Who airs on Saturdays at 7.20pm on BBC One (CH 101) and BBC One HD (CH 108). Also available for 30 days in Catch Up > Channels > BBC iPlayer